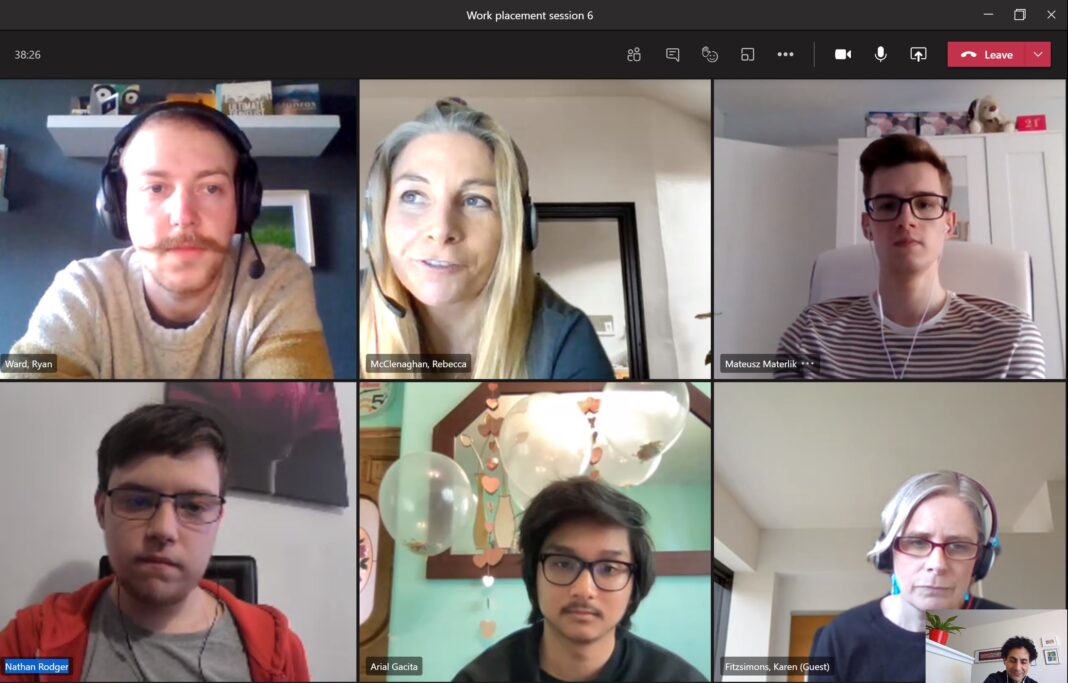 STUDENTS at New College Lanarkshire (NCL) have completed 'virtual' work experience placements with engineering and architecture consultancy Sweco, after Covid-19 restrictions stopped their usual plans from going ahead.
NCL is working with North Lanarkshire Council to provide students with outdoor teaching and learning opportunities, including work experience placements via community benefit contracts for the Ravenscraig Park Community project.
Sweco is currently contracted by the council to carry out the environmental impact assessment and consenting requirements for the Ravenscraig access infrastructure south development, and this includes providing Community Benefit Commitments.
Prior to the lockdown in March 2020, office-based placements were set up between Sweco and the college. However, these were put on hold when Covid restrictions were imposed.
Alternative virtual placements were developed with the aim of minimising impact on the students' learning and reducing disruption to the placement timetable. Three students on NCL's HNC Bioscience course – Mateusz Materlik, Nathan Rodger and Arial Gacita – started a 6-week virtual placement where they learned the role that environmental impact assessment plays in developments like Ravenscraig.
Michael Balzo, lecturer in science, who organised the placements, said, "I had set up 'physical' work placements with Sweco last year, but obviously because of the pandemic they couldn't happen. Due to the continuing restrictions, I got together with the team at Sweco to try to find a way to adapt the placements so they could go ahead. We came up with the idea of the students working from home, just like many of the Sweco staff currently are, on a 'virtual' placement.
"It's the first time we've done this, but I'm really pleased with how it has gone. Environmental Impact Assessments are an expanding field, with more and more companies being required to do them. This has been great opportunity for our students to get hands on experience and give them an insight to what work may be like in the future, with online collaboration, video conferencing and home-working becoming more common."
To deliver the virtual work placements, weekly assignments were set and sessions were held on Teams with the students, lecturer and the Sweco specialists. Sweco contributors included ecologists, hydrogeologists, active travel specialists and environmental impact assessment specialists who provided mentoring and feedback on assignments. The final session was a presentation from the students to the Sweco team, to sum up what they had learned.
Student Nathan Rodger said, "I've really enjoyed the placement – the work we've done has been no different to what it would be during normal times, apart from site visits which have been replaced with videos and webcam footage. It's really made me think about the responsibility we have to ensure what we build isn't damaging to our environment."
Student Arial Gacita added, "The overall experience was great – my favourite part was the ecology sessions, as it was really interesting to learn about all the surveys Sweco do in the field to find all the potential adverse effects of a project on the environment, and how they work out solutions to lessen the impact. It has really helped me broaden my perspective, and I'd like to go on to study zoology at university next year."
Karen Fitzsimons, Sweco consultant and community benefit lead, said, "The virtual placements have been a real success and have illustrated what collaboration, innovation and thinking outside the box can achieve, despite new challenging conditions. The students were committed to the placements and applied themselves well to the programme assignments every week. We at Sweco very much enjoyed their final presentation on what they had learned, and it showed they can work together and plan professionally. We wish them all the very best in their future studies."
Rebecca McLean, Sweco EIA technical director, commented, "It was great to work with the students and be able to provide them with an 'introduction to EIA'.  The potential for future employment in 'green jobs' is growing and hopefully this has given them an insight into the potential opportunities that could exist. Their commitment and enthusiasm was fantastic and I would like to thank them for all their hard work. Being able to deliver this type of work experience virtually opens up the possibility to be able to try and provide these opportunities to others."