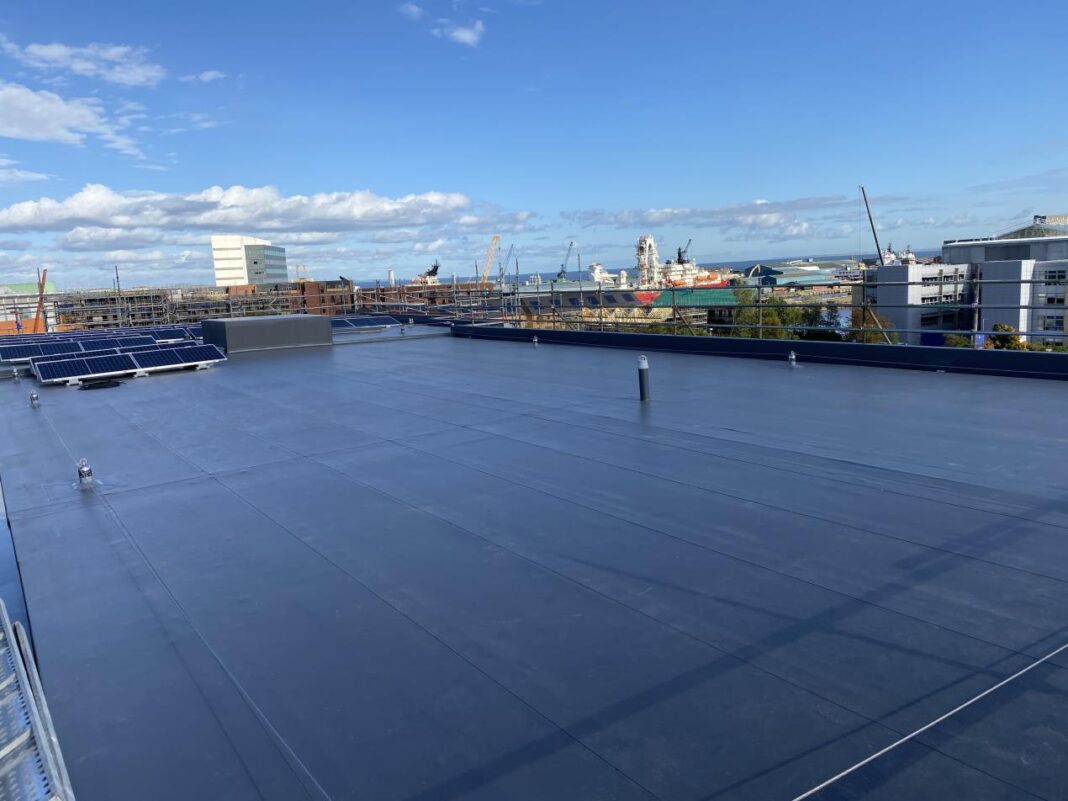 BRIGGSAMASCO has revealed how the firm overcame significant project delays to deliver a watertight roof system as part of an Edinburgh city centre social housing development.
Ocean Drive, located within the Waterfront Plaza development on the outskirts of the capital's city centre, overlooks the Water of Leith.
The development comprises 82 one to three-bedroom affordable housing flats within two blocks. The scheme, designed by architect Covell Matthews, is a joint enterprise between Port of Leith Housing Association and Cruden Homes. 
Work on the waterproofing aspect of the project started in March 2020. Appointed by main contractor Hart Builders, BriggsAmasco was tasked with installing a single-ply, tapered insulation scheme to the buildings' two roofs, covering an area measuring 1,600m2.
The outset of the first Covid-19 lockdown period meant work came to a grinding halt shortly after Briggs' waterproofing team started work. 
The 'stop-start' nature was far from ideal, as Briggs' teams were working to a tight timeframe to complete the waterproofing programme and allow other trades access to the site.
Due to the large area they had to cover, BriggsAmasco revealed the firm worked out-of-hours to keep pace with the overall works programme. The installation itself involved waterproofing three levels of roofing across both buildings. This was completed using a mechanically-fixed, single-ply Sarnafil system, comprising a loose-laid vapour control layer, a tapered insulation scheme and a Sarnafil polymeric membrane.
In what the company described as a challenging operation due to the buildings' differing levels, Briggs installers needed to incorporate abutment and perimeter details as part of the waterproofing, which also needed to adapt solar PV panels and a mansafe rail system. Such complexities required BriggsAmasco to carry out a full inspection and an integrity test prior to the installation programme's start.
Despite the challenges caused by intermittent lack of access to site, BriggsAmasco remained on course to complete the project's waterproofing element within the revised deadline.
Ocean Drive is due to fully open in May 2021.