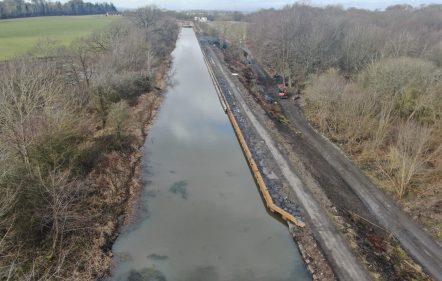 WATER has been reintroduced to an area of the Union Canal near Muiravonside following a major breach caused by a one in 240-year storm.
The breach, which occurred seven months ago, was recorded as a historic incident by Historic Environment Scotland. Within a matter of hours of it happening, Scottish Canals and its partners led an emergency response to stop the flow of water and rescue over 11,000 fish.
With work continuing since, the organisation has announced that a milestone has been reached in the removal of temporary dams within the canal – which has allowed for water to flow back into the affected area for the first time since August 2020.
In addition to the work at Muiravonside, Scottish Canals and Mackenzie Construction Limited, have undertaken a programme of climate change resilience works alongside the canal that include upgrading overflow weirs, culverts under the canal, emergency stop plank installations and monitoring equipment to assist in remote sensing and alerting of any significant events.
Gavin Chesney, Mackenzie Construction Limited's contracts manager, said, "Since the embankment breach last August, our priority has been establishing and maintaining a safe and secure site for reinstatement works to take place.
"The reintroduction of water to the canal marks a key milestone for the team and we are delighted to be one step closer to supporting Scottish Canals in the reopening of this key waterway to the public."