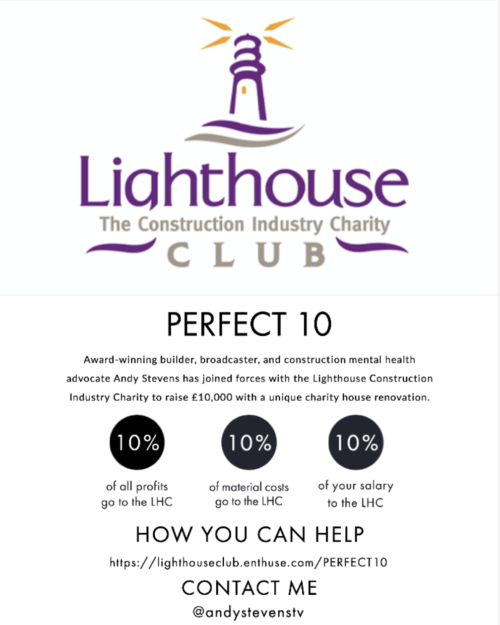 AWARD-winning builder, broadcaster and construction mental health advocate Andy Stevens is embarking on a project to raise £10,000 for the Lighthouse Construction Industry Charity by signing up for a unique build project dubbed 'Perfect 10'.
The aim is to deliver the first ever build where only tradespeople who have stepped forward through social media and Andy's filming will get involved.
The project centres on a Victorian semi-detached house in Addlestone, Surrey which currently has two bedrooms. The downstairs bathroom and conservatory will be demolished and a double-storey extension will transform the property into a three-bedroom, two-bath house. The front porch will also be extended to incorporate a utility room and the garden will receive a makeover too.
All those involved will be asked to donate 10% of their wages. Suppliers will be asked to donate 10% of material costs and Andy Stevens himself will personally donate 10% of the profits from the sale of the property.
Andy Stevens, Lighthouse Club Charity ambassador, said, "With lockdown and Covid restrictions affecting traditional methods of fundraising across the country, this innovative project will ask absolutely everyone on the build to get involved in donating in some way, with 10 being the magic number. This cause is one very close to my heart as I've have my own journey with poor mental health and know how important it is to be able to reach out for support. As charity ambassador for the Lighthouse Club, I want to raise awareness of the excellent work they do and also contribute financially by donating 10% of my profits too."
The project will be looking for specialist tradespeople across areas including roofers, carpenters, plumbers, plasterers and bricklayers.
Bill Hill, CEO of the Lighthouse Construction Industry Charity, added, "This fantastic venture shows what can be done outside of traditional fundraising efforts and is a truly innovative idea, It engages with every single person on the build, from the suppliers through to the trades on the job. As well as raising money it spreads the word about the vital support we deliver to our construction workforce and their families."