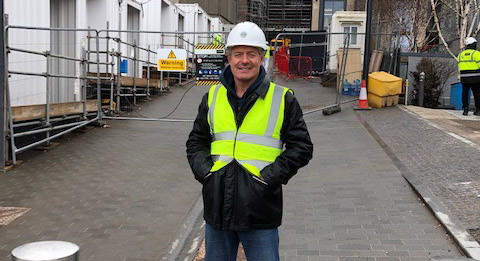 SCOTLAND rugby legend Gavin Hastings OBE has said he believes the construction industry will be at the forefront of the economic recovery post-Covid as he begins his new role as a business consultant at The Shore Group.
The construction and property recruitment agency has nine offices across the UK and is looking to increase its operations in Scotland following the purchase of a new base in central Glasgow.
Hastings, who was capped 61 times for Scotland and captained the British Lions on the 1993 tour to New Zealand, told Project Scotland, "Essentially, my role will be to generate new business leads, using my contacts and experience I will look to open doors and introduce The Shore Group to Scotland."
Gavin Hastings has over 30 years' experience in the construction industry, having started his career as a chartered surveyor when rugby union was still an amateur sport.
He revealed that he is of the belief that the industry will be in a good place coming out of Covid with plenty of developments anticipated – adding that The Shore Group can have a role to play in the influx of work through its network of skilled tradespeople ready to assist projects of any size. 
"My goal is to help see the company built from one which not a lot have heard about in Scotland to one which is involved in construction projects across the country," he added. 
"We're not setting timescales, but there's no reason why within the next three years we can't be as well-known as any company providing this sort of service."
Currently, the firm has 473 active customers and in 2018 filled some 20,000 temporary vacancies nationwide. 
Hastings said he was immediately impressed with the company's commitment to providing workforces that are not only tailored to firms' needs, but local to projects wherever possible – something he said is important to The Shore Group's management, both from a carbon footprint perspective and in ensuring that downtime isn't spent travelling. 
That's not to say the commitment to locality compromises quality – Hastings said he wouldn't put his name on something he believed was not striving to operate to the best of its ability. "I've been impressed at the quality The Shore Group is able to offer," he added. "The company is not going to grow if we don't have a good, solid, reliable workforce."
Hastings' role has been a year in the making, with the pandemic delaying his start date. Having now started, and with restrictions looking to be eased, he says he is looking to the future and already making contacts in Scotland in preparation for a boom in projects as various sectors begin to open up – adding that he'd be happy for anyone to reach out to him on LinkedIn to arrange a chat about The Shore Group's aspirations north of the border.