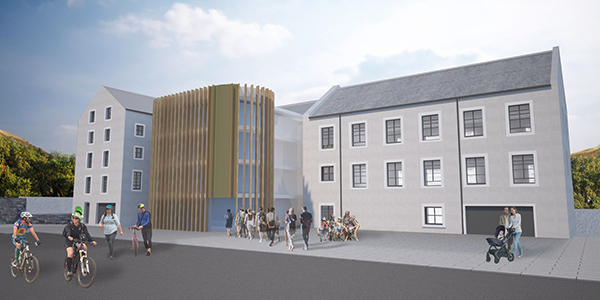 THE Scottish Borders is set for millions of pounds of investment following the signing of the £450 million borderlands inclusive growth deal.
The borderlands partnership aims to drive inclusive growth and deliver significant and lasting benefits for individuals, businesses and communities in Dumfries and Galloway, Carlisle, Cumbria and Northumberland.
The deal was signed by the Scottish and UK governments as well as the five local authorities of the council areas. The Scottish Borders Council predicts the deal will contribute £141 million in gross value added (GVA) and deliver over 400 new jobs in the south of Scotland.
The investment in the Scottish Borders will bring a £19 million for a project to create the world's first mountain bike innovation centre, integrated adventure bike park and trail lab in Innerleithen; £11 million in the destination Tweet tourism project centred around the River Tweed; funding to further develop the 7Stanes mountain biking network across the Borders and Dumfries and Galloway; a share of £20 million for town and community improvement projects; funding for improved business infrastructure in Hawick and Coldstream.
Further to this is funds to support rural innovation and skills; projects to tackle gaps in digital and mobile infrastructure; £10 million to deliver the feasibility activity around extending the Borders railway from Tweedbank to Carlisle; funding to support the generation of low carbon energy; and pilot projects to protect natural capital and capture the benefits of the environment.
Councillor Mark Rowley, the Scottish Borders Council's executive member for economic regeneration and finance, said, "The borderlands inclusive growth deal has been worked on by the various partners for a number of years and this level of investment and joined up partnership working has never been more important than it is today, as we look towards our recovery from the Covid-19 pandemic.
"This deal can transform the Scottish Borders, allowing multiple, large scale projects to be taken forward by the Council and a wide range of partners, delivering new jobs and sustainable growth which will help support the region for decades to come.
"Significant investment into our towns and communities, our tourism infrastructure and our environment means that this deal will see the benefits shared right across the whole of the Scottish Borders."
Ed Shoote, senior project manager of the mountain bike project in the Scottish Borders, added, "It is fantastic news that the Borderlands inclusive growth deal, including the mountain bike project, is pushing ahead.
"The vision is for the south of Scotland to be recognised as the European leader in mountain biking and this is an important step forward.
"There is still a lot of work to do to realise this vision and we will continue to work with the project partners and the local community to deliver the best project for the region."