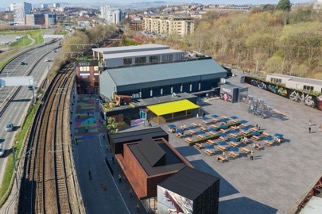 AKP has announced it will deliver the refurbishment project at iconic Glasgow arts and events venue SWG3.
The venue is to undergo an 'extensive' refurbishment to transform derelict land around the perimeter of the building to improve the experience for visitors coming to the area.
With funding received from the Scottish Government, akp said a new creative thoroughfare with public art and improved lighting on Eastvale Place will be formed, opening up access to a new community garden and growing space.
The plans will also see the creation of a new rear terrace, underground storage area, and  refreshed new foyer area as well as further alterations and enhancements.
SWG3 currently houses 120 resident artists and creative businesses, sub-lets 19 railway archways, and hosts approximately 500 events annually from concerts to street food festivals.
The venue was recently awarded over £500,000 of funding to develop a dedicated street graffiti district, which will see parts of Partick, Yorkhill and Govan illuminated with large murals.
This is another collaboration between akp and architect Stallan Brand, with the firms having together on the refurbishment of the McLellan Works on Sauchiehall Street.
Andrew Fleming Brown, founder of SWG3, said, "We are hugely grateful to Clyde Mission for this grant. The funding is crucial in enabling us to begin work on the delivery of our masterplan; a plan designed to expand and transform SWG3 into a greener, year-round cultural destination, and to better connect us with communities surrounding the complex."
Alistair Brand of Stallan Brand added, "SWG3 are Scotland's most progressive arts and events venue and Stallan Brand have been working closely with their team over the last few years on aspirational proposals to upgrade the facilities. We are delighted to be working once again with akp to deliver the first phase of the works."
Martin McColl, MD of akp Scotland, commented, "We are enormously proud to be involved in delivering the exciting infrastructure works at SWG3 and are committed to ensuring it is completed to the very highest standard."