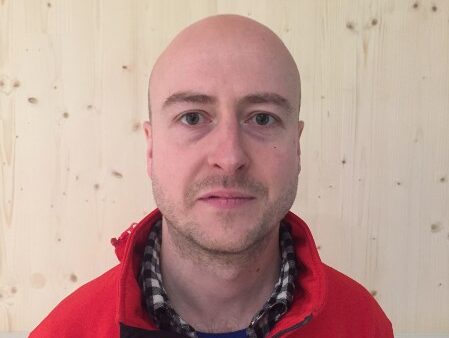 PROFESSOR Robert Hairstans has been appointing as founding director of the New Model Institute for Technology and Engineering's (NMITE) Centre for Advance Timber Technology.
Professor Hairstans joins on a two-year secondment from Edinburgh Napier University, where he is head of the Centre for Offsite Construction + Innovative Structures (COCIS) within the university's institute for sustainable construction.
Hereford-based NMITE is a government and industry-backed engineering education initiative. The organisation said that its learning experience is being designed 'solely' to align the skills and talents of its students with the needs of employers – with a focus on inclusivity and creativity.
The organisation's Centre for Advance Timber Technology is currently under construction at Hereford's Skylon Park. Napier University said that the facility will be a 'beacon' of sustainability and will positively impact timber technology and advanced manufacturing. The Edinburgh institute added that, once complete, the facility will complement the research and timber testing infrastructure in the capital and, by extension, the Construction Scotland Innovation Centre.
The appointment of Professor Hairstans has prompted the signing of a memorandum of understanding between Napier University and NMITE. The university said that a key focus of the collaborative framework is the idea of the Centre for Advance Timber Technology being a 'living lab' which will work with industry to develop projects that prototype solutions with students gaining knowledge from real-life conditions.
Commenting on his new role, Professor Hairstans said, "I am delighted to be the founding director of the Centre for Advance Timber Technology. Working with industry I want to accelerate the utilisation of timber, digitisation and factory-based approaches by ensuring an inclusive educational model which generates a value return for the sector via the next generation of built environment professionals.
"I look forward to forging a collaboration between NMITE and Edinburgh Napier University which will shape the future of construction delivery to more sustainable forms."
Professor Beverley Gibbs, chief academic officer at NMITE, added "We are thrilled at Professor Hairstans' arrival and know he has the expertise, experience and passion to develop and deliver the Centre for Advance Timber Technology vision.
"NMITE has always shown interest in working in partnership with existing sector leaders who support NMITE's potential and are open to exploring new educational approaches for the benefit of industry and society. Throughout the recruitment process we constantly heard that Edinburgh Napier University were the UK players to talk to and work with and Edinburgh Napier University also has a better-than-standard gender split on their built environment course which is one of our core values.
"We are therefore excited at the prospect of a partnering relationship with Edinburgh Napier University and respect its accomplishments in sustainable built environment.  Together, we believe we can offer a joined-up UK-wide educational provision for timber technology that extends throughout the supply chain and user base. We believe a NMITE-Edinburgh Napier University partnership could provide a clear opportunity to accelerate and leverage the Centre for Advance Timber Technology's full potential."