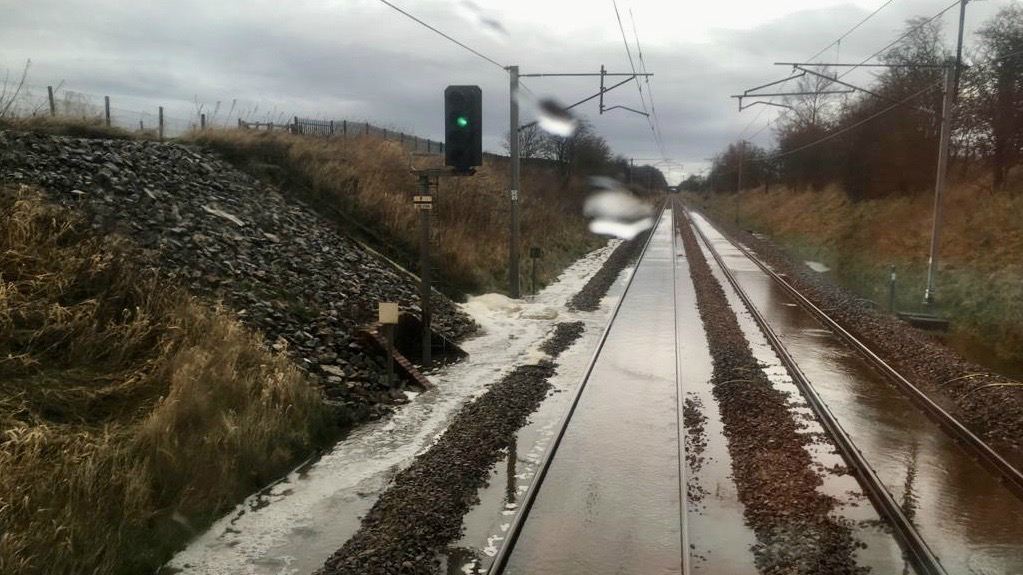 CLIMATE change is presenting a 'substantial' challenge to the maintenance of Britain's railway, Network Rail has said.
Two independent reviews that look into how the railway can better cope with extreme weather have been published by the organisation, following the tragic derailment near Stonehaven last August.
Lord Robert Mair, professor of civil engineering and director of research at the University of Cambridge, and Dame Julia Slingo, chief scientist at the Met Office, were tasked with producing reports that would provide engineering and scientific oversights and recommendations to help manage rail infrastructure in the face of more frequent bouts of extreme weather.
The reports detail how the challenge of climate change to Britain's railway is 'substantial'. Network Rail explained that most earthworks alongside tracks were built around 150 years ago and are poorly engineered by modern standards. They are described as being overly-steep and unstable, with drainage of similar age and installed to a pre-set design, regardless of location. When faced with heavier rainfall landslips and flooding can occur.
The documents recognise that it is not practical to rebuild nearly 200,000 separate slopes alongside 20,000 miles of track. Instead, they commend the work that has already been done to upgrade the Victorian infrastructure where possible and manage risk across the network.
The reports also note that work has accelerated since the summer, with trials of new technology being rolled out more widely across the network, and new 'dynamic' route-based weather forecasts. However, the authors note that there is more work required – with over 50 recommendations made. Much of these focus on technology, with suggestions on the use of sensors that can provide early detection of failure on slopes and an increased use of helicopters and drones for inspections.
The report also recommends Network Rail create dedicated teams to proactively review and maintain earthworks drainage, as well as upskilling the existing workforce to better access, interpret and use weather data and technology.
Martin Frobisher, Network Rail's safety and engineering director, said, "The UK's railway is one of the safest in Europe, but something went tragically wrong at Stonehaven last summer and our thoughts remain with the families and friends of Brett McCullough, Donald Dinnie and Christopher Stuchbury. Heavy rain caused ground slips on many occasions across the entire network last year and although tragic accidents are thankfully incredibly rare and none other than Stonehaven caused injuries, it is clear that extreme weather presents a significant challenge to the way we safely and reliably manage railway infrastructure.
"We do a vast amount to tackle the effects of climate change already but there is more to do. We established two independent, expert taskforces led by world-class specialists to investigate the problems we face and, crucially, to guide us as we make substantial improvements. We will carefully consider every single recommendation and develop a science-backed improvement plan, to target available money and technology in the best possible way. This is a real breakthrough."
UK Government transport secretary Grant Shapps added, "The incident at Stonehaven in August was devastating, and my thoughts remain with the families of Brett McCullough, Donald Dinnie, and Christopher Stuchbury, who tragically lost their lives. We must do everything we can to keep our railways safe, and I immediately commissioned this report so that lessons would be learnt without delay. This document sets out how our investment can enhance the resilience of our rail network against climate change and incidents of extreme weather in the future. We will be considering these findings carefully as we progress these works at pace."