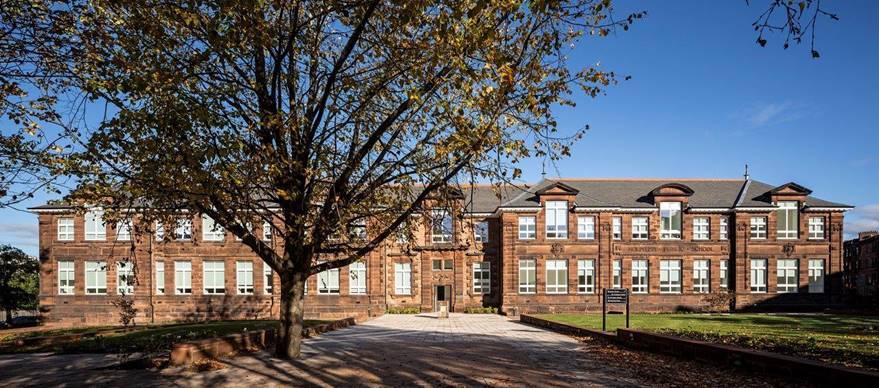 A popular landmark in Glasgow's southside has been fully restored and repurposed by Anderson Bell + Christie (AB+C).
The B-listed Andrew Balfour-designed former Holmlea Primary School in Cathcart has been given a new lease of life. The building, which dates back to the early 1900s, has been converted and extended to create 49 new apartments for the affordable rental market but has retained its baroque style façade and original internal features.
AB+C's design centred around creating a series of one and two-bedroom flats and maisonettes within the original building, whilst an extension and two new blocks were added to the north of the site, comprising 18 two-bedroom flats. This approach ensured the outlook from the south facing façade remained uninterrupted.
Internal restoration focused heavily on retaining the original look and feel of the building, most notably within the atrium. Features including the balustrade, picture rails, trusses, roof lights and door proportions were replicated to ensure the character and structural integrity were recognisable.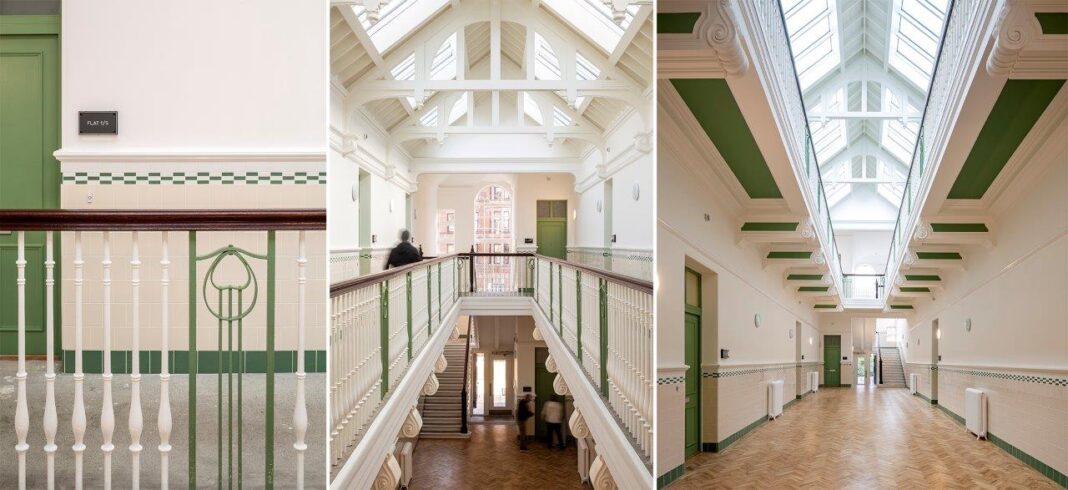 AB+C utilised textured red brick to complement the original tones of the building for the extension. The new blocks were created in a similarly textured brick, in a different tone, in a move described as creating a 'coherent juxtaposition' between the old and the new.
Seasonal landscaping created an extension of the building, through utilisation of red sandstone taken from the demolished sports hall to create feature walls and pathways around the outside. 'Green Peggy' slates salvaged from the school roof were crushed and used as pathway borders. There is also a statue made from one of the pillars from the building, with the old playground song, 'Ally Bally Bee' engraved on the side.
Stuart Russell, director of AB+C Architects, who led on the project, said, "The restoration of Holmlea Primary School was one of those rare projects that we were lucky enough to be involved with. The focus of our design was to retain as much of the architectural features and history of the building as we could, whilst creating homes that would remain attractive and be fit for purpose, for decades to come.
"We were confident that our approach to bring back the intricate details of Balfour's original vision and blend them with modern design features, would result in a unique union between the old and the new."
AB+C worked closely on the project with the client, Home Group Scotland, in partnership with Historic Environment Scotland and Cathcart and District Housing Association.
Stuart Dixon, head of development for Home Group Scotland, added, "Preserving and protecting our heritage is important. We saw beyond the potential issues presented by Holmlea Primary School and its listed buildings and came up with a plan to develop the site sympathetically."