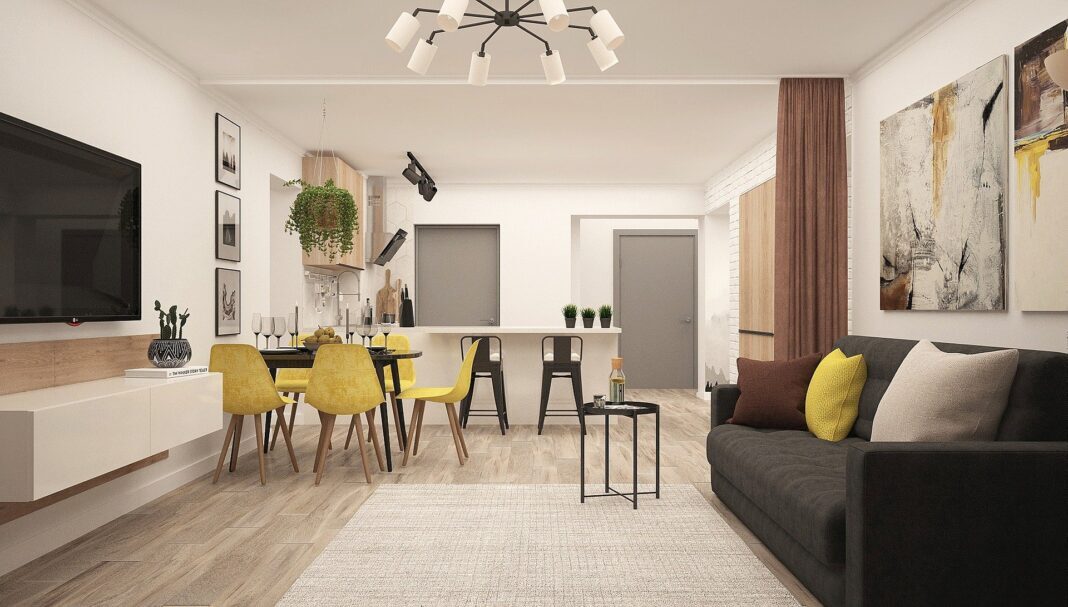 By Ellie Campbell, freelance content writer and campaign manager for Vertus
THERE is a notable change happening in the rental market here in Scotland and across the UK. According to data from Hometrack, while demand for rental properties is still on the up across the UK, demand in London was -5.2% in 2020. The same thing is happening in city centres, in large part due to people stuck at home and many early renters (post-uni full-time workers) living back at family homes to save money (Hometrack reported that Glasgow is doing well but Edinburgh, a typically short-term/tourist rental hub, is down).
It can be seen as a worrying sign for some people looking to rent out properties and developments, especially if demand is barely at a simmer when it is usually ready to boil. Still, there are ways to create highly desirable rentals. It involves pivoting towards a centralised core group of services and amenities. Case in point, these Canary Wharf apartments designed by luxury residential firm Vertus. They are using Canary Wharf, a central area typically seen as a commuter hub, and flipping that ideal to create residential areas which entice potential tenants by offering more than just a nice apartment in a central location.
Looking at this example, what areas should developers and agents closer to home be looking at to make apartment living, especially in your cities? Here are some of the new ways of enticing tenants to rent when the market has greater availability.
The Internet giveaway
A layover from student accommodation is making its way into private rentals. Tenants are now viewing the internet as an amenity in the same way they do electric, water, and heating. It is essential, and positioning new developments as having 'free' internet (factored into pricing) will move the dial for many people.
With so many renters coming away from student life, where their first real-world experience with internet providers would include trying to set-up and cancel short term lease agreements, they want to avoid the headache. Something like the internet as standard is a small service which may not seem prescient in your mind but will make a rental seem hassle-free.
All, and I mean ALL, the mod-cons
Going back to the Canary Wharf example mentioned early, these aren't apartments used as short-term rentals. They are aimed at people planning to live there for a long period. With that, tenants are keen to take care of apartments and what comes with it, especially if a deposit is dependent on inventory.
It used to be that someone renting out an apartment might phone a local furniture shop just to get some mismatched furniture and bedding in, but tenants now expect more. You're going to see luxury rentals advertised as coming with more than just white goods. Everything from kettles and toasters to TVs and smart speakers will give potential tenants a fully formed view of apartments, where they can walk in and feel at home instantly. And expect to see higher demand in city-centre apartments for fully furnished listings that look like something from the IKEA catalogue.
Work at home before working out at home
The new culture of working from home has had a knock-on effect on how people view exercise. The idea of going to a gym nearby is off-putting, whereas pulling a yoga mat out in the living room and popping Joe Wicks on the TV is a safe bet.
The idea of being holed up indoors all hours of the day for work and exercise gives developments with small gyms, or space for a gym, a unique opportunity to push interest. Positioning small gyms as private gyms and resident-only workout areas brings privacy and security that those who love staying fit will want to jump at.
Acknowledging the shift in first-time buyers
Looking at all I've said here, you might be left thinking: 'Why would I want to make these changes for someone renting? It's not like they'll be a tenant for long'. Truth be told, when things get back to normal, the average length of time people spend renting will go up.
Right now, the average age of a first-time buyer in the UK is 34. Only a decade ago it was 28. That figure will continue to rise, and we should expect to see renters in Scotland getting to a similar situation like that in Germany, where people rent until much later in life. So while demand may come back to pre-Covid levels, potential tenants will be expecting much more from a competitive rental market.
Take on board some of what I've said here, and be prepared.