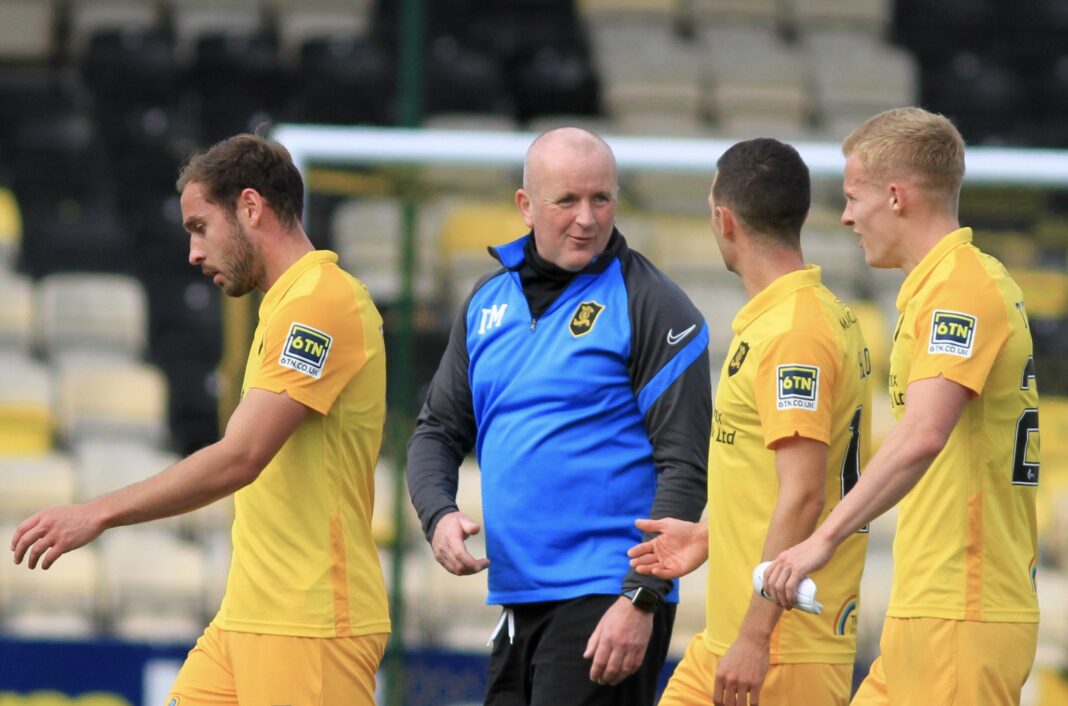 AT the end of this month, David Martindale will lead Livingston FC out against St Johnstone in the League Cup Final at Hampden.
The 46-year-old took charge of the Scottish Premiership club in November and was undefeated in his first 14 games.
The journey from the building site to the dugout has been remarkable for David, who has a degree in construction management from Heriot-Watt University. His only link to professional football prior to joining Livingston was a stint as a youth player at Rangers.
"I've taken what I used to do in construction and applied it in football," he told Project Scotland. "When I first came into the club, I didn't need the players' respect because I had no real responsibility or authority. I basically brought a tool bag in, built a storage area and had somewhere to work from within the stadium."
Alongside the club's small maintenance team, David has built new changing rooms, a gym, media room, scouting area and installed new seats in the stadium stands. To this day, he can be seen with a tool bag in the afternoons after taking training.
"I think you gain respect through hard work, and there's nothing at the club that I've not done myself that I would ask someone else to do."
Hard work is personified in David's story. Part of his construction management degree was achieved whilst behind bars. He enrolled at Heriot-Watt University in 2004 while awaiting trial for organised crime, which would eventually see him locked up for six-and-a-half years.
"When I say I had an education in prison, I mean it," he said. Towards the end of his sentence, David was allowed to leave prison for a week each month. He used this time to get back in contact with his university tutors to ask if he could continue his studies behind bars.
"On my home leaves I'd go into the university, be given a USB with all my work on it, go back to prison and have it inspected by the guards, get it back on the Thursday morning, and I'd work away for the next three weeks.
"It was extremely difficult. I never had a lot of books and I had no access to the Internet. I would work away for three weeks, then on the week I was due out I'd go back into the university, hand my work in and they'd give me work for the next three weeks."
Following his release, David began working as a project manager for a friend who was building and renovating homes. His first task was managing the build of a large house in Perth. 
"It just snowballed from there," he explained. "I've done all sorts – renovations, new builds, project managed other people's new builds. You know what it's like, there's a lot of work with single housebuilders or people coming into the industry wanting to build homes without fully knowing what that entails. They think it's a case of just hiring a builder and the house pops up – so I took over a lot of those sort of projects that had went wrong because of a lack of project management and that's probably where my skillset has crossed over into football; I've taken what I used to do in construction and applied that in a footballing environment."
After balancing a career in the construction industry with maintenance work that later led to coaching at Livingston, David was given a full-time position at the club in 2016 as first team assistant manager. He embarked on gaining his coaching badges and was promoted to first team manager earlier this season following the departure of Gary Holt.
"You're managing predominately male employees in both football and construction," he said, "so you're managing individuals who might be joiners, bricklayers, plasterers, painters, electricians. You're still managing a group of individuals and making sure everyone can work together and it's no different to a changing room with 20 to 30 football players in it – you've all to get on with the task at hand and work together. There is a crossover there."
On the club's remarkable winning run, one of his players said he and his teammates appreciate how honest and upfront David is with them. "I've always found that I would rather be told the truth in football," David said, "It's the same in the building trade – when you're building houses there's no point skirting about the truth.
"I think you've got to be open and honest with everyone because you're managing different individuals, different trades, and different dynamics and I've always found being upfront and honest with players – although it can come across as a wee bit brutal at times – they take it on the chin and in turn respect you for that."
David was named Scottish Premiership manager of the month in December, after securing five wins out of five. He donated his award to raise funds for the charity Kick Mental Health. With mental health being a major issue in construction, Project Scotland asked what he would say to anyone struggling.
"I've been trapped (in a bad situation)," he said, "Education is my saviour. I was lying in the police cell for four nights and I remember sitting thinking: 'When I get out of here I need to change my life'. So, tomorrow's a new day – it's a new chapter in your life and you've got to take steps. 
"I quickly realised that I was not a tradesman (when seeing construction as a way to turn my life around) I had no qualifications, I realised that I needed to get an education behind me if I wanted to go anywhere with my career and life. So, tomorrow is a new challenge, but also a new day to change your life."