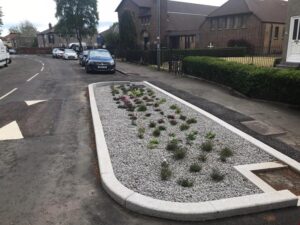 RAIN gardens have been created as part of a key Glasgow city region deal project to reduce local flood risk in the south-east of the city.
Glasgow City Council said that new design features at Croftpark Avenue will offer a sustainable way of reducing flood risk in the area by channelling surface water run-off into areas of vegetation and soil.
It added that, over time, the rain gardens will establish and enhance flood resilience while also providing a home for biodiversity, aid urban cooling and help to improve air quality.
Contractor RJ McLeod and project design consultant, AECOM, also delivered work at the former Kings Park golf course to re-direct surface water run-off into a new basin using ditches and sections of the Spittal Burn.
The project has also delivered a woodland walkway at the former golf course, as well as the creation of an outdoor amphitheatre at Croftfoot Primary School.