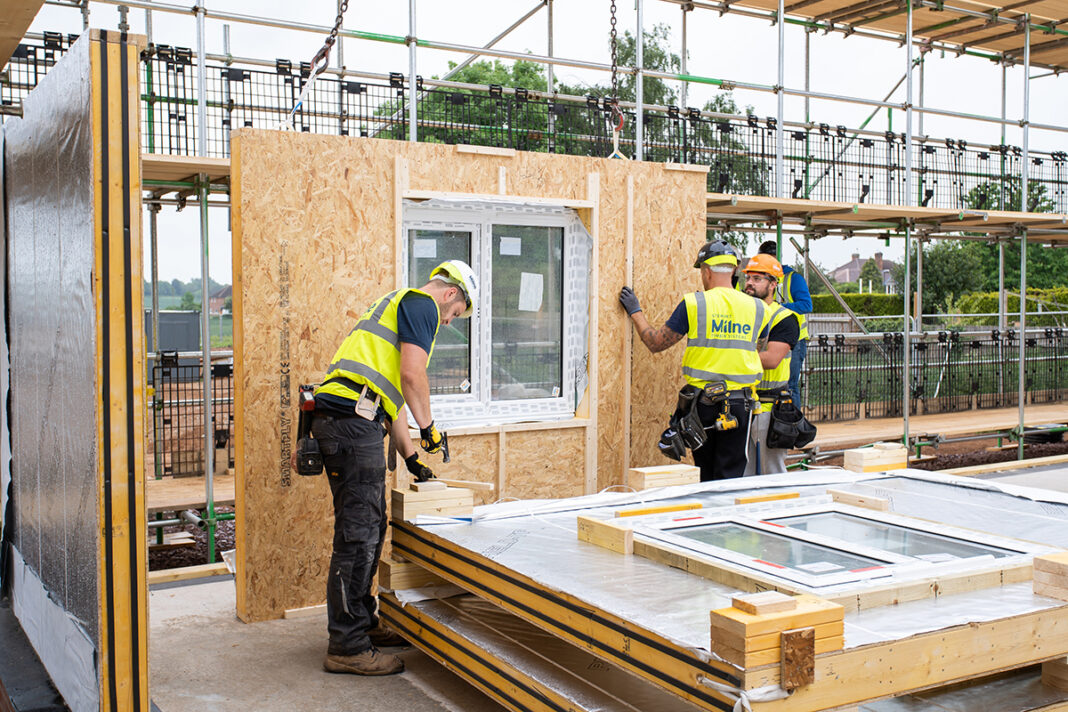 Stewart Dalgarno, director of product development at Stewart Milne Timber Systems, discusses the role of offsite timber building systems in meeting net zero goals as we count down to COP26
IT is now only a matter of months until one of the world's biggest environmental conferences comes to UK shores, with the UN Climate Change Conference COP26 event taking place in Glasgow this November. 
With it comes an intensified focus on the UK Government's aim to reach net zero by 2025, with just four years left to streamline the wider industry's approach. 
However, the Committee on Climate Change estimates that £5-10 billion per year must be spent by UK industry to become carbon net zero in just under 30 years' time, with the construction industry having little more than ten years to make all new buildings fully net zero compliant – especially with the Future Homes Standard coming into force in just five years. This is no mean feat and clearly illustrates the need to reassess not only the materials and methods used in construction, but also how buildings are designed and managed, over their lifespan. 
This raises the question – how can offsite timber building systems lead the way? 
A low embodied carbon, fabric first, approach
The wider industry has recognised its obligations in helping to create a greener homes revolution – and offsite timber building systems can help to pave the way. Fully equipped to reach net zero targets by 2050, it is more important than ever for housebuilders to embrace its myriad benefits, from a speedier build, to reduced carbon emissions. 
Reducing carbon emissions requires exploring the choice of material and construction methods used and looking at the energy efficiency of the building envelope. In line with this, a 'fabric first' approach to design has been adopted by many in industry in recent years. 
As our planet's only mass-volume, truly renewable building material, an increased use of timber in both residential and commercial construction can contribute to removing millions of tonnes of carbon dioxide from the atmosphere annually – approximately 0.75 tonnes per cubic metre of timber used. Timber is the world's biggest natural carbon sink, sequestering millions of tonnes of carbon from our atmosphere, helping to keep our climate clean.
Our timber building systems have 35% less embodied carbon than any other major building material such as concrete or steel and, with the added benefit of being a recyclable material, we work with recycling partners to re-use 100% of our timber waste – re-emerging as wood chip, garden mulch and animal bedding.
As more timber is used in construction, so too are more trees planted – with many suppliers, including ours, planting multiple new trees for each one used. This is beneficial, as the rate of carbon sequestration is greater during young plant growth, adding to the forest's carbon sink capability, and cleaning up the polluted lungs of our world. 
Whole life performance
Low-carbon design and construction using offsite timber building systems can also help to address the energy efficiency of a building.
By providing a building with a superior thermal envelope, it requires virtually zero maintenance and a 'fit-and-forget' solution for the lifetime of the building. 
For a home to be energy efficient, it must be well insulated, with low thermal bridging, and have a good air-tightness performance. With offsite timber building solutions improving heat retention and reducing energy losses and demand, it contributes considerably to reducing fuel poverty.
L&Q's Glebe Farm development in Milton Keynes, which showcases our award-winning Sigma II Building System, exemplifies this. Our design and manufacturing, paired with factory installed, recycled insulation, has ensured that all homes on the site have a U-value of just 0.2W/m2K – a marked improvement on the U-value of the most common form of domestic construction in the UK, which generally achieves 0.24W/m2K. 
The use of offsite timber building solutions presents a clear and sound case for significant carbon/energy savings in the day-to-day use of a home, as well as lowering running costs for homeowners or occupiers.
A renewable, robust, net zero carbon solution
Each of the numerous benefits presented by offsite timber building solutions plays a major role in reducing global carbon emissions and helping industry and government deliver on its net zero goals. We are proud to build with timber, and by supporting campaigns such as 'Time for Timber', we firmly believe offsite timber building solutions will become the construction solution of choice. 
Indeed, the Covid-19 pandemic has demonstrated how quickly social change can occur – and the power of the government in driving that change. These are strong conditions for government to reinforce the climate-positive behaviours that have emerged during lockdown, and for industry to reconsider future ways of working.
The manufacturing of offsite timber building solutions through our low energy factory facilities, provides high quality solutions, with plenty of capacity to scale up net zero carbon solutions post-pandemic.
As we work towards achieving net zero by 2050, it is vital the supply chain, housing industry and government work in partnership to bring together knowledge in material specification, procurement, design, manufacturing, construction and in-use performance to ensure that the steps taken in the years ahead deliver the quality and performance necessary for the mainstream and viable delivery of net zero carbon homes and buildings. 
Not only are we trying to meet housing demand by producing more high-quality homes, viably and at scale, but by using offsite timber building solutions, we can use renewable low embodied carbon material, ecologically responsible practises and low energy robust building envelope solutions, that are essential to meet the government targets. Something that COP26 should promote, encourage, and celebrate.