AN innovative offsite timber frame project is delivering 300 much needed new homes in the village of Dunbeg, near Oban in Argyll and Bute.
Lochgilphead-based MacLeod Construction is the principal contractor on Dunbeg Phase 3 for client Link Group's ambitious social housing initiative, with a brief to build 261 homes for general needs affordable rent and 39 homes for new supply shared equity sale. 
The properties have been designed to complement the local architecture and landscape and also encourage the use of outdoor space.
MacLeod Construction, which was founded in 1975 by twin brothers – the late Murdo MacLeod and Kenny, who remains MD to this day – manufactures predominantly timber frame buildings across the region. While the majority of MacLeod's work is focused on the housebuilding sector, the company has branched out into areas as varied as education, healthcare, commercial and industrial.
MacLeod remains a family-run business, with many second generation family members now taking on significant roles under Kenny's guidance. The current workforce is around 200 and the business places great emphasis on attracting and developing local talent, something which is particularly vital in rural areas.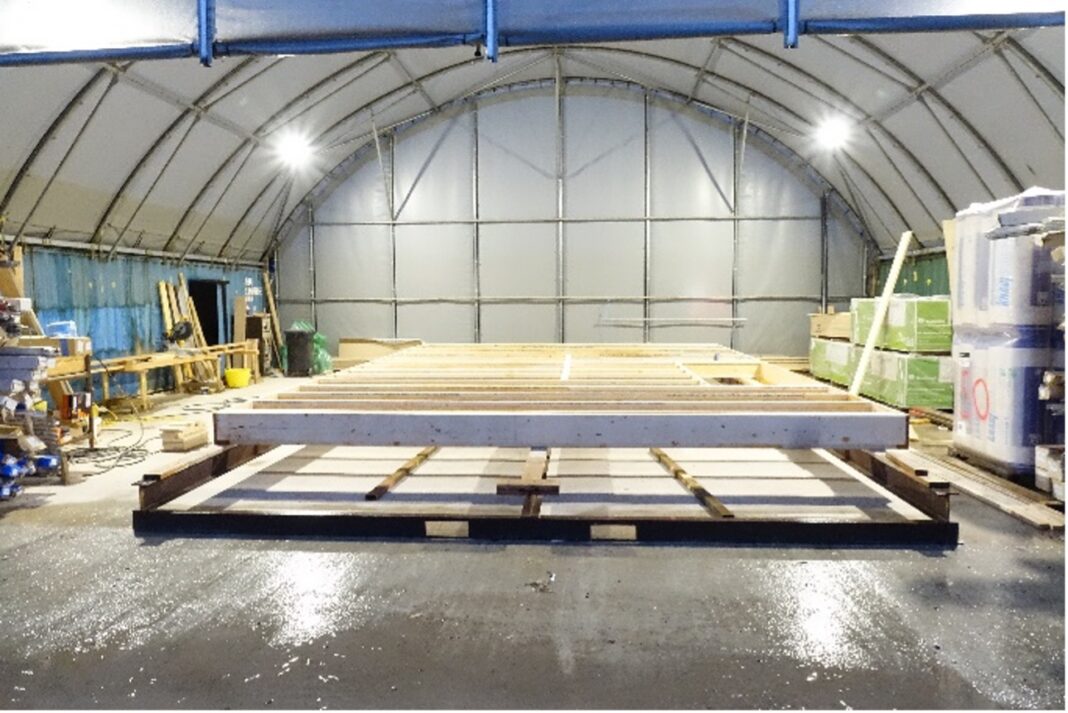 Sustainability is also a key focus, highlighted by the use of FSC-approved timber and prioritising local labour and subcontractors where feasible.
In recent years, MacLeod has started taking on larger scale projects, which has seen an increase in the use of offsite pre-fabrication of floor and roof panels as well as larger pre-fabricated wall panels. This speeds up delivery and ensures greater quality control and consistency, while at the same time helping to minimise environmental impact by reducing waste and transport to and from sites. Having buildings made wind and watertight as quickly as possible brings obvious benefits, while the ability to standardise and maintain quality helps ensure the quality of the finished product by using the same process over and over again.
At Dunbeg Phase 3, which is a Considerate Constructors Scheme (CCS) registered site, MacLeod has gone one step further by installing temporary factories at the site to effectively allow for offsite manufacturing to take place in close proximity to the project. This allows for 'just in-time' production of floors, roofs and other key components.
Some of the challenges on this particular scheme have included the weather – with the site being quite exposed – and repeated closures at Rest and Be Thankful, which has impacted on deliveries and labour. A significant period of time was also spent levelling the ground. 
As with many other projects across the country, the Covid-19 pandemic has added to the operational and organisational challenges. The development was closed for a number of months following the initial outbreak last year and required substantial planning before work could resume. Material costs have risen and lead times have been affected.
MacLeod revealed the firm has been fortunate in that, due to the rural location, Covid cases have been low. However, workers have been absent at times due to having to self-isolate, while the ability to bring labour in from further afield has been complicated by travel restrictions and a lack of available accommodation.
Handwashing stations, additional welfare units, one-way systems and tents to allow for meetings to take place where workers are covered but still able to comply with distancing measures have all been introduced. Virtual meetings and remote working for senior staff and others who don't physically have to be on site to do their jobs have also become the norm.
Link's approach to the Dunbeg project has been to include a strong focus on community benefits. MacLeod has used local suppliers and provided work for tradespeople including bricklayers, joiners and painters. Some 1,037 training weeks have been completed on site – the vast majority of which have been apprentices. The business has also helped support 120 industry-focused qualifications. Ordinarily, the project would have been ideal for school visits to enable youngsters to learn more about the construction process. Due to Covid-19, that hasn't been possible over the last year. Instead, MacLeod has helped in other ways including supporting the putting up of Christmas lights, offering work experience placements, and is now looking to offer virtual timber frame classroom sessions for pupils. 
Despite the challenges, the project is progressing well and due for completion early next year.
• Meanwhile, MacLeod Construction owns two quarries – one concentrated on sand and gravel and the other for rock. This allows the company to use its own aggregates.
The business has increasingly started to use a product called Achnaba Stone in projects for its dimension stone purposes. Described as boasting a 'very unique' green colour, the stone has a high flexural and compressive strength and low water absorption, making it suitable for quality paving. It also has a very high polished paver valve which MacLeod explained is 'excellent' for skid resistance and wearing. The stone has been used on projects in locations such as the Wimbledon Tennis Club and the Natural History Museum in London, Inveraray Castle and various privates houses in Scotland.