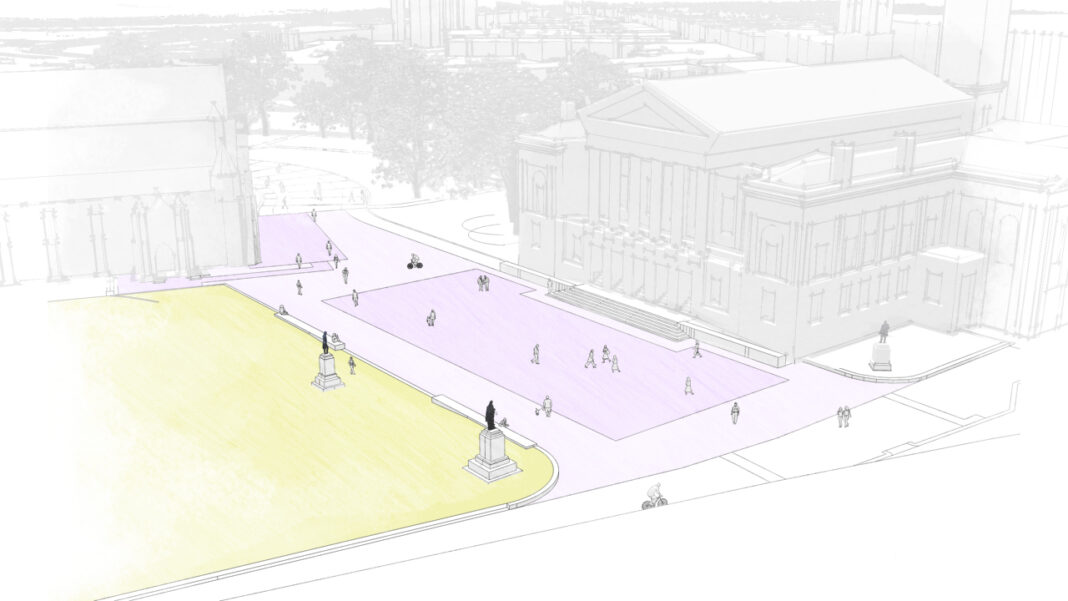 PROPOSED designs aimed at turning Paisley's Abbey Close into an expanded outdoor events venue and improved public space have been published.
Renfrewshire Council said that the planned changes will create a more attractive outdoor space around the town hall and Abbey – allowing for people to 'spend time in the shadows of the town's most iconic buildings'.
If given the go ahead, the work would see an expanded paved area in from of the town hall – removing the current 'D' shape – increasing the capacity for events such as the Halloween and food and drinks festivals.
New high-quality paving and lighting are also included in the plans, as well as the removal of some boundary walls to make the space more accessible and open and the addition of new seating. The statues of Alexander Wilson and Robert Tannahill would be repositioned but retained in prominent spots close to their current locations overlooking the town hall.
The proposals come as part of the wider push led by Renfrewshire Council to use culture and heritage to drive new footfall to Paisley, with a vision of turning the town's museum into a world class destination and the town hall into a landmark entertainment venue.
Renfrewshire Council leader, Iain Nicolson, said, "The last year has shown us that high-quality outdoor space will only be more important in future. While the major events were postponed in 2020 due to the pandemic, visitors to them and our reopened town hall will play a part in the area's economic recovery in the years ahead.
"When we last asked the public's views on Abbey Close in 2019 they told us they valued its architecture and scenery but felt it could be improved – the designs are based on that feedback. I would encourage members of the public to go to the council website, read more about the proposals, and let us know what they think."
Residents and businesses can have their say on the proposed designs at www.renfrewshire.gov.uk/article/11209/Abbey-Close-public-consultation