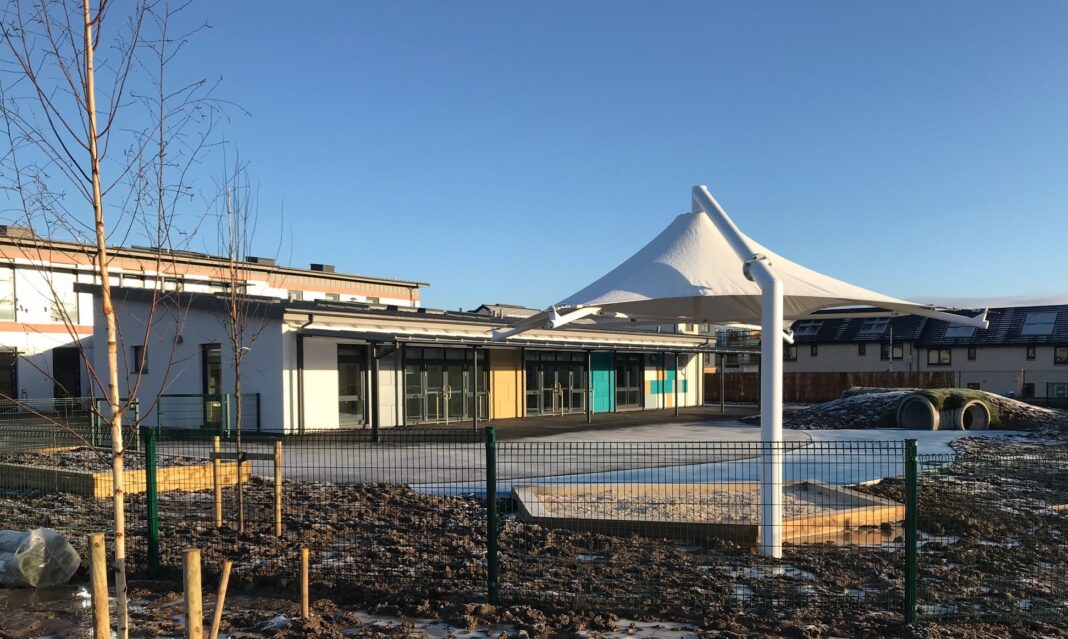 MORRISON Construction has completed work on the build of East Lothian's newest primary school.
The £8.6 million Letham Mains Primary School project was initially due for completion in the summer of 2020, but work was halted due to Covid-19 restrictions.
The building features 14 classrooms, an early learning and childcare centre, a dining hall, dance space and a two court PE hall with retractable seating for performance and community use. The external areas have been designed for outdoor learning, PE and play.
The school was built following planning approval for 809 homes to be built at Letham Mains, meaning an education facility would be needed for the area – with the project being funded entirely through developers' contributions for housing at the site.
A team from East Lothian Council will now complete internal works at the school, in preparation for the building to be occupied – this will include furnishing, IT and setting up classroom spaces. Subject to Covid-19 restrictions, it is anticipated by the local authority that staff and pupils will be able to move into the school after the February break.
Cabinet member for education and children's services, councillor Shamin Akhtar, said, "I am delighted that construction has completed and Letham Mains Primary officially join our school estate. The construction environment over the past 10 months has been challenging and it's a credit to all those involved that they have been able to continue working safely to complete the building. I'd like to congratulate them on their achievements delivering these modern and high quality learning spaces.
"Everyone involved in Letham Mains Primary has been looking forward to this move and to continuing their work to establish East Lothian's newest school within our community. I'd also like to say thank you to everyone at Haddington Primary School for their space and support as the new school was completed."
Eddie Robertson, managing director for Morrison Construction Building Central, commented, "Everyone involved in the Letham Mains Primary School project deserves recognition for coming together to create a fantastic new school despite the ongoing pandemic.
"It does feel slightly strange to us all to hand over this school when the children can't be there in their full numbers, but we look forward to all the children being able to occupy and benefit from the first-class facility the team has provided as soon as possible."
A spokesperson representing the developers added, "The delivery of the new Letham Mains Primary School is a significant milestone for the growing community at Letham Mains, and soon children living within our respective developments will be able to enjoy their new school. Letham Mains has a flourishing sense of community that is attracting a wide range of buyers to the development, and we are very proud of the legacy the new primary school will provide for the local community for decades to come."
Project team in full:
Design: East Lothian Council's in-house architectural team
Clerk Of Works services: East Lothian Council's in-house team
Structural/civil engineering design: AECOM
Quantity surveying services: Currie & Brown
Mechanical and electrical services design: RSP
Contractor: Morrison Construction.
External landscape and design: East Lothian Council's Landscape Architect.