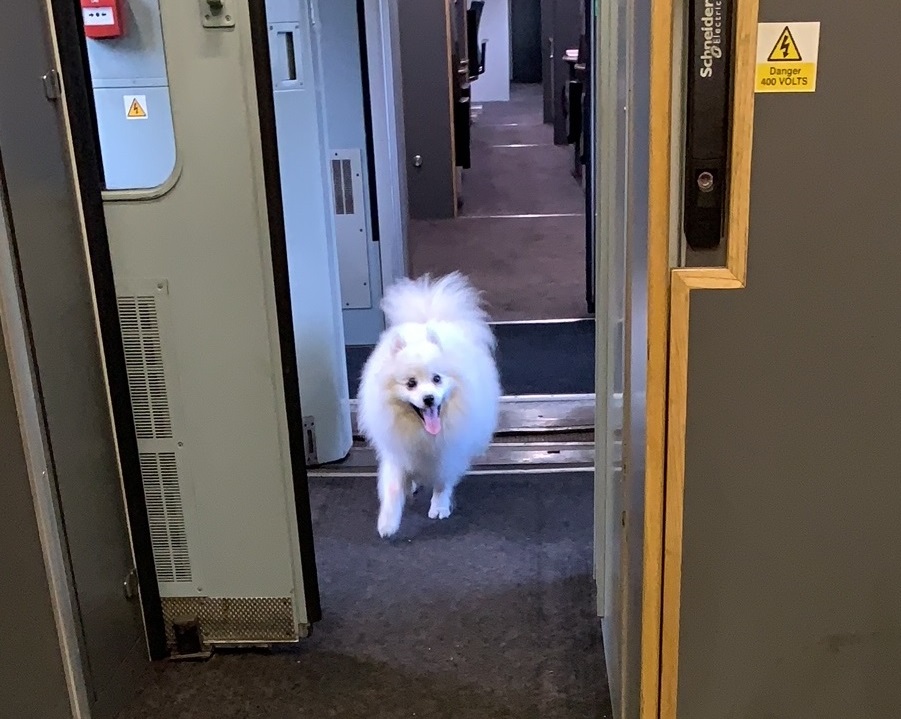 A Network Rail engineering team has rescued a dog after spotting it on tracks during safety checks.
Luka, the ten-year-old Japanese Spitz, was found by technicians, Rhys Wharton and Beverley Topping, while they monitored the condition of Britain's rail network on the firm's engineering train.
Initially, it was thought that the dog had been hit by the train – causing the driver to pull the emergency brakes. Thankfully, this wasn't the case and Rhys and Beverley were able to retrieve Luka – with the help of some treats – after he had walked down the side of the track.
Luka was taken onboard the train and the team began working on tracking down his owners to inform them of the good news.
Rhys said, "When we saw Luka wandering on the tracks, we knew the safest option was to bring him with us, contact his owners and arrange collection from Burton.
"After making several phone calls on the way, a vet was able to scan Luka's microchip. Meanwhile, Bev managed to find his owners on Facebook.
"By the time we'd finished our shift, we'd been sent a photo of a very happy Luka, safe and well with his owners. I'm so proud we were able to reunite Luka with his family after his adventure."
Carole Dawson, Luka's owner, added, "I just want to thank the team at Network Rail for finding Luka, rescuing him and taking him to the vets.
"He went missing the same morning on one of our usual walks. After panicking and spending time looking for him, I was so shocked to find out he'd been rescued and was safe on the train.
"Luka was a very lucky dog that day, but he enjoyed his adventure and I can't thank Rhys and Beverley enough."