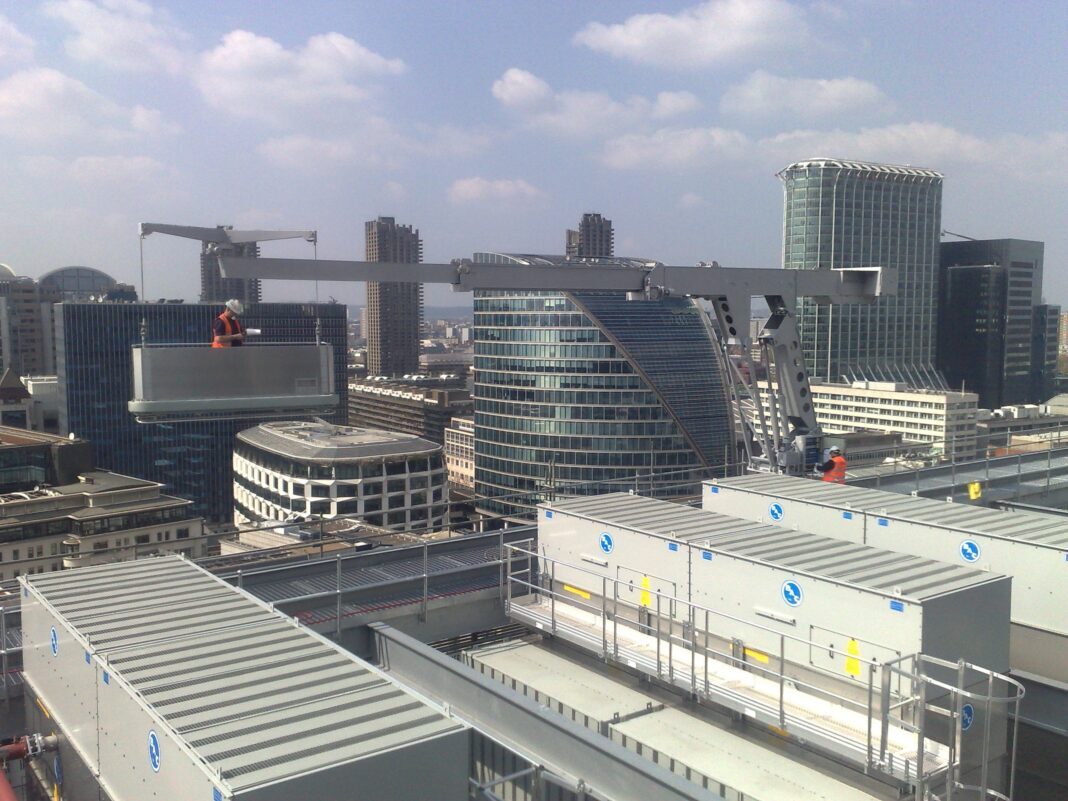 By Mohamed Merchant, an associate director at TÜV SÜD Dunbar Boardman
FACADE access is not limited to cleaning, as it must also support other maintenance needs for systems such as lighting, photovoltaics, louvres and vents. 
When selecting the most suitable access solution, a key objective will therefore be to optimise the access equipment against the complexity of the building's façade.
The development of a façade access strategy is a multidisciplinary task, involving the façade access consultant liaising with the architect, engineer, facility managers, or the building owner's agent during the early design phases. 
Industrial rope access
Industrial rope access uses a double rope system, in combination with other devices, allowing the user to descend and ascend, with further protection provided by  a safety line. This strategy may be suitable for periodic cleaning, but it does not factor in the complexity of long-term maintenance, such as glass replacement. Rope access also needs well-trained operatives, who are costly, and it is labour-intensive and inefficient for major repair and cladding replacement work.
Albeit that regulations clearly state that ropes access should be considered as means of last resort, the approach is gaining greater recognition amongst building developers and designers on the basis of capital costs. However, in the UK, the work at height regulations require building designers and developers to prioritise the use of collective measures. Consequently, the Health & Safety Executive would only accept abseiling as the sole solution if all other forms of access are not practical. We would therefore advise that an 'optioneering' approach is taken. 
By considering a building's different levels and façade geometry, a variety of solutions can be applied to deliver safe access for operators, minimise public liability risk, and optimise cleaning and maintenance effectiveness.
Suspended platform 
A suspended platform is a more widely used façade maintenance system for interior and exterior maintenance and cleaning. While it brings less risk than rope access, at these substantial heights the operator must still be fully qualified. 
The platforms are electromechanically operated and rigged to davit arms or a monorail track, suitable for blocks height up to 45-50m subject to façade design. 
Davit arms are positioned at fixed locations to hold down units that are connected to the roof. Monorail tracks are permanently fixed outboard of the building or to the underside of the soffit. The platform offers continuous traverse with minimum rigging and derigging. However, this system has its limitations as it is not suited to inward or outward sloping facades.
Roof trolley and dedicated platform 
Roof-based BMUs are integrated units, to suspend the platform via hoist unit at roof level. The trolley is permanently installed onto the building roof level designed to offer reach from doorway size to 30m or 40m long. These systems are flexible and generally made from standard products. A platform is suspended from the suspension rig, which travels around the perimeter of the roof. 
Modern units are powered units complete with a backup supply that will retrieve the user to the nearest safe location. Parking spurs and garages can be provided to store the equipment off the skyline when not in use. These systems are highly flexible as special designs and large units can be accommodated. Rigs can also be constructed with telescopic booms that are capable of luffing and slewing. As each system can have its own platform, this reduces the downtime for operators. 
This is usually to meet the maintenance requirements of more complex buildings, such as façades that slope inward or outward, twist, or those with protruding elements. For example, such customisations may require the design of rotating booms, extending platforms and the use of soft rope systems. Although operators must be trained, they don't require any installation knowledge, so the risk of hazardous incidents can be minimised and operator costs are also lower.
Mobile Elevated Work Platform
MEWPs are intended to raise operatives', light cleaning and maintenance tools to a safe working height. They should not be used for transporting people or material from one level to another.
There is a range of different MEWPs, including vehicle (truck) mounted, self-propelled units and Aerial Work Platforms (AWP), which are more suitable for accessing internal spaces such as double and triple-height atriums. All require a firm base (ground) that is capable of carrying the load. Costs vary with the size and type of machine, but all equipment requires trained operatives (IPAF certified) to cope with the complexity.
For any short duration work, equipment can be hired along with an operator. 
As every building has different requirements, installing the correct combination of façade access systems is specialised work that demands both project management experience and detailed knowledge of technological advances.
To optimise initial investments, the maintenance programme and longevity of the equipment must be considered so that the facility management team can deploy it for a minimum of 25 years. 
A thorough insight of industry norms and charging rates is therefore essential when it comes to negotiating long-term commercial contracts.