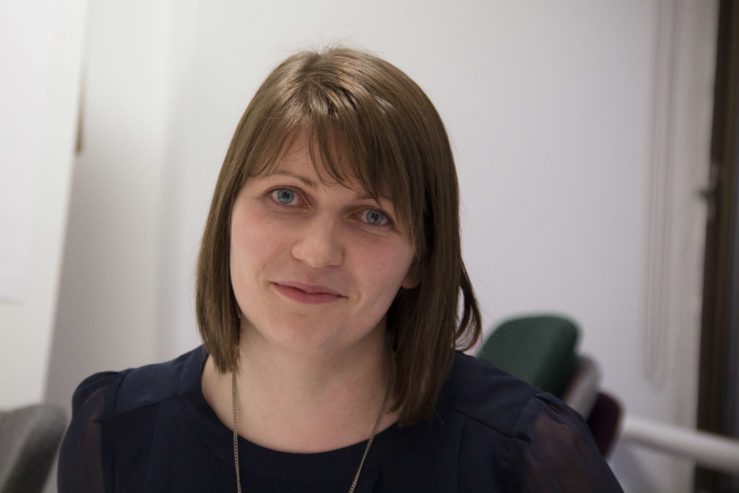 ICE Scotland director Hannah Smith recently spoke to Project Scotland about the environmental challenges facing the nation's infrastructure and why the time to act is now
THE director of ICE Scotland has called for the introduction of an infrastructure adaptation task force to explore the challenges of climate change on the nation's physical assets. 
Hannah Smith said ambitious environmental targets present many opportunities to improve and make the most of our infrastructure assets – but the time to act is now.
Scotland's aim to transition to net zero and its role as host of the UN's COP26 conference in Glasgow next November has helped focus minds on the environmental challenges we are facing.
Hannah revealed ICE members are looking to develop a number of different areas including making sure new infrastructure is compatible with net zero ambitions, adapting existing infrastructure so that it's fit to face the climate challenges we are already facing, and making sure the workforce has the necessary skills to operate in the new environment.
Hannah said, "The harsh reality is that most of our infrastructure assets were not built with climate change in mind. Many were not built at a time when we understood what was coming. 
"The vast majority of our infrastructure landscape is already here; it's in place. So, there is a huge challenge to adapt that infrastructure to make it climate-ready to make sure it can weather those impacts – no pun intended.
"What we have identified is the scale of the challenge and also the opportunity. On the challenge side, there is no denying this is something of such strategic importance that it needs to be considered urgently, but that it will require a huge collaborative effort. This is something that needs to go beyond just industry players, beyond just government. We need to have a collective input into addressing this problem and we also need to assess where to start. 
"We've called for government to establish what we have called an infrastructure adaptation task force. That would be a group that would bring together expertise from across the infrastructure landscape to answer the question of how we tackle this problem, to look at funding and delivery mechanisms, to look at ways to better foster that collaboration, and to think about where on that long list of projects that need to be looked at and adapted, where to strategically start."
In terms of opportunities, Hannah highlighted that by adapting existing infrastructure to make it climate-ready, we can make those assets perform better overall by improving aspects such as digital connectivity and materials used. 
She explained, "You can make that asset greener, you can build in more sustainable technology, there are maybe nature-based solutions you could incorporate, you could perhaps better link that individual asset into the place that it's in. 
"The state of our infrastructure and its resiliency will be critical to our society and economy going forward. We need to look at this now but while that challenge is really significant, there's a substantial opportunity here to really revitalise our infrastructure and make it work better for us all."
Hannah said that ICE Scotland welcomed the commitment to increased maintenance in the Scottish Government's Draft Infrastructure Investment Plan.
"We've fallen into perhaps a bad habit of always looking at new assets or looking ahead without necessarily building in proper, robust maintenance regimes," she added. "On the back of Covid and those industry challenges, maintenance is really important. It's quick, it's speedy to roll out, it's a good fit for the construction landscape in Scotland, it's a good fit for small businesses. We also largely welcome the proposals around the new investment hierarchy. We have called for some more detail on that because as ever with these things, the devil is in the detail. In principle, having a hierarchy that promotes getting the most out of existing stock, making your assets work best before you necessarily go and build new assets, is a pragmatic approach to thinking about our infrastructure. We are clear that there will still be cases where building something new is the right thing to do, but overall that approach signals a direction of travel that is in line with better maintaining what we've got and making sure we utilise our assets to the very best that they can operate."
Hannah would also like to see the incorporation of more nature-based solutions into infrastructure projects and a very holistic view generally of the environment that we are working in. 
The phrase 'green recovery' has been much used since the Covid-19 crisis. Hannah said infrastructure professionals and civil engineers are at the 'centre of the challenge' and best placed to assess projects with a view to making them greener and more sustainable.
She believes one consequence of the pandemic is that it has underlined the benefits of associations like ICE.
"It feels like when you are put in a time of crisis, the importance of a community to work through a challenge with is really highlighted," she explained. "We all see that in our personal lives: we're all relying on friends, family, neighbours and our wider community in a different way than we were. We're even more conscious of the value in that. That happens in industry too. In times of turbulence and change, the importance of having communities of practitioners, of bringing expertise together, of sharing our understanding of challenges and collectively working through the problem solving that needs to happen, is hugely valuable. 
"The only way we will capitalise on the opportunities that Covid has brought – and I don't say that to detract from the scale of the challenge and the tragedy of it – but the only way we will make sure something good comes out of these challenges is by working together. I see a number of groups in Scotland, the UK and internationally playing a really important role just now in fostering that sense of community and those conversations. It's something that we have been doing with our members. We've been having tremendous virtual events, we've had more people engaging in some of these than we've ever had before, we found new ways of working to bring our membership together and it's something we will no doubt learn from and continue going forward."