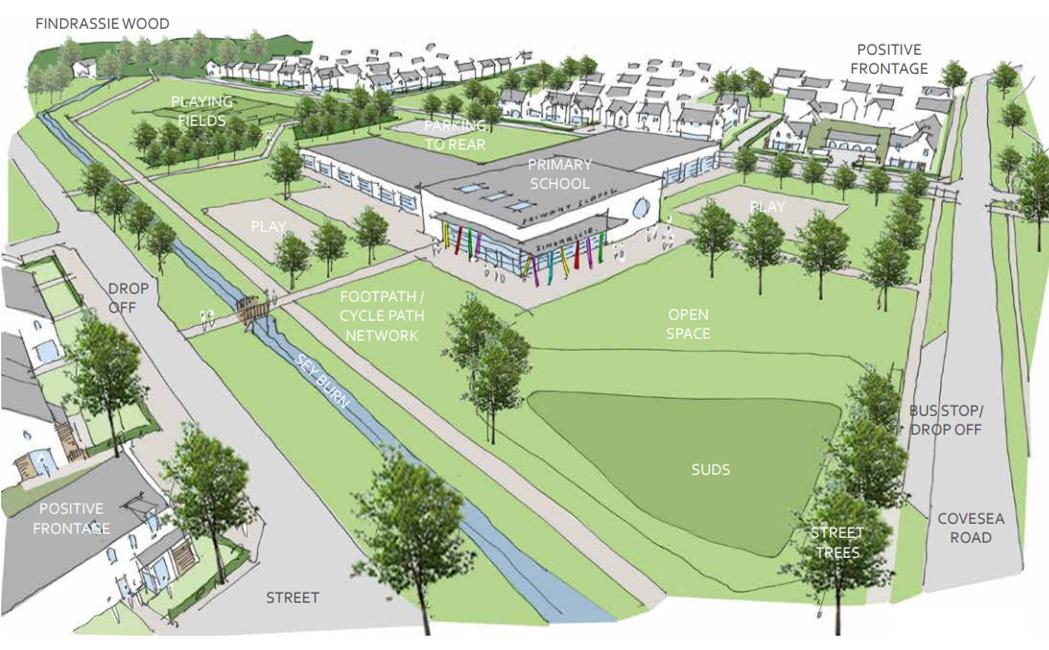 THE Scottish Government has announced that 25 new schools and campuses are to be constructed or refurbished across Scotland.
The £800 million investment across 18 local authorities comes as the government aims to provide modern, 'state-of-the-art' learning facilities for children and young people across the country.
The Scottish Government said that the programme will deliver digitally enabled, low-carbon schools and campuses – ensuring they are inclusive and welcoming places that meet the needs of the whole community.
John Swinney, cabinet secretary for education, said that the investment will boost the construction industry and help economic stimulus with creation of jobs.
He said, "I am determined that our pupils have access to high-quality, up-to-date facilities that parents, staff and children can be proud of. This next phase builds on our commitment and proven track record in replacing schools in the poorest condition so that more children or young people can be educated in high quality buildings and ensure equity of provision.
"Scotland's construction industry has worked incredibly hard to deal with the many challenges presented by the Covid pandemic. This funding will help the sector, sustaining many jobs and providing a welcome boost to communities across the country.
"Many of the projects will include wider community facilities and integration as part of the new school build or refurbishment. These facilities are so much more than just a school where children are educated, they are the centre piece of communities with links to the wider learning estate such as further education facilities and community libraries."
The 25 projects are:
Angus Council – Monifieth High School
City of Edinburgh Council – Liberton High School
City of Edinburgh Council – Wester Hailes Education Centre
Dumfries and Galloway Council – Dumfries High School
Dundee City Council – Proposed new campus to replace Craigie and Braeview High Schools
East Ayrshire Council – Doon Valley Community Campus
East Ayrshire Council – St Sophia's Primary School
Fife Council – Inverkeithing High School
Glasgow City Council – Gaelic Primary School
Glasgow City Council – New City Centre Primary School
Highland Council – Broadford Primary School
Highland Council – Nairn Academy
Midlothian Council – Penicuik High School
Midlothian Council – Mayfield Primary School Campus
Moray Council – Findrassie Primary School
North Ayrshire Council – Montgomerie Park Primary School
Perth and Kinross Council – Perth High School
Perth and Kinross Council – Primary School(North Perth)
Renfrewshire Council – Paisley Grammar Community Campus
Scottish Borders Council – Galashiels Academy
Scottish Borders Council – Peebles High School
South Lanarkshire Council – Newton Farm Primary School extension
Stirling Council – Callander Primary School
West Dunbartonshire Council – Faifley Campus
West Lothian Council – East Calder Primary School
Local Authorities across the country have reacted to the news.
The funding means that both Liberton High and Wester Hailes Education Centre in Edinburgh will be replaced with new facilities. Councillor Ian Perry, convener for education, children and families at the City of Edinburgh Council, commented, "Replacement of both these schools has been a top priority for the council and today's announcement will be really welcomed by their school communities. Both these projects will provide us with significant opportunities to create, as part of an inclusive net zero-carbon city, community lifelong learning and sports hubs where public services can be co-located with links to active travel networks, green infrastructure and strategic public transport networks. It's a real boost for our ambitious new school building programme which will see £500m planned investment over the next 10 years and we already have a number of schools across the primary, secondary and special sectors opening in the coming year."
In Moray, a new £17 million primary school will be built in Elgin as part of the investment. Moray Council said it expects the facility to be built by 2024, with various primary schools across the constituency expected to reach capacity in the coming years.
The local authority said that once built, the school would immediately be able to accommodate up to 450 primary pupils in a high-quality, sustainable campus – providing a 'catalyst' for improvements across the learning estate in the town.
Chair of Moray Council's children and young people's services committee, councillor Sonya Warren, said, "The Scottish Government's commitment to funding Findrassie Primary is very welcome; it will accelerate the building of an urgently-needed school – and the first to be built reflecting the aspirations of parents in our new Learning Estate Strategy. As part of the Findrassie masterplan we anticipate the creation of a thriving community, with sport, leisure and community facilities, a local hub, employment opportunities and residential and commercial development. Findrassie Primary will be at the heart, providing an inspirational learning experience for thousands of pupils over its lifetime."
Results of a consultation on the planned build of a new campus to replace Braeview Academy and Craigie High School are to be reviewed in the new year by Dundee City Council. If the proposals go ahead, the Scottish Government would fund 50% of the £60 million project. Dundee City council children and families service convener, Stewart Hunter, said, "I believe that this ambitious plan would help us transform secondary education in areas of the city facing significant challenges with poverty. Pupils would benefit through advantages of scale at a community campus that the current schools cannot offer."
In the Highlands, two new schools will replace Broadford Primary and Nairn Academy. It comes as The Highland Council seeks to meet its commitment of delivering world class, digitally enabled, sustainable schools. Chair of the care, education committee at The Highland Council, councillor John Finlayson, said, "This announcement is a major breakthrough for our school estate. I very much look forward to seeing work on the ground start to create new sustainable learning environments in both Nairn and Skye. We have done well in the first two phases of a school improvement programme which will I hope will in future result in many more communities feeling the benefit of funding from our partnership with the Scottish Government.
"As a Skye councillor who has been heavily involved in the Broadford bid and has also been working with the community, council officers and our MSP Kate Forbes, to get to where we are today, I am of course delighted that the badly needed new school for Broadford, is now nearer to becoming a reality."
West Dunbartonshire Council hailed the 'fantastic' news that they will receive a share of the £800 million for the build of a new campus and early learning and childcare centre in Faifley. The facility will replace Auchnacraig Early Learning and Childcare CEntre, Edinbarnet Primary and St Josheph's Primary schools and will move more than 500 pupils and young people into a 'world class' education facility.
Councillor Karen Conaghan, convener of educational services at West Dunbartonshire Council, said, "This is fantastic news for the people of Faifley who will see their children move from old buildings in to modern, purpose-built facilities. This will not only benefit current pupils but many generations to come. The share of the Scottish Government funding along with the contribution from the Council means we can start to make plans for this wonderful new campus and I am very proud and pleased to share with news with you today."
A new Monifieth High School will be built in Angus with the funding. Convener of children and learning at Angus Council, councillor Derek Wann, said, "We are delighted that we have been given the go-ahead to progress with a new building for Monifieth High School as it is already over capacity and the current building is in a poor state of repair."