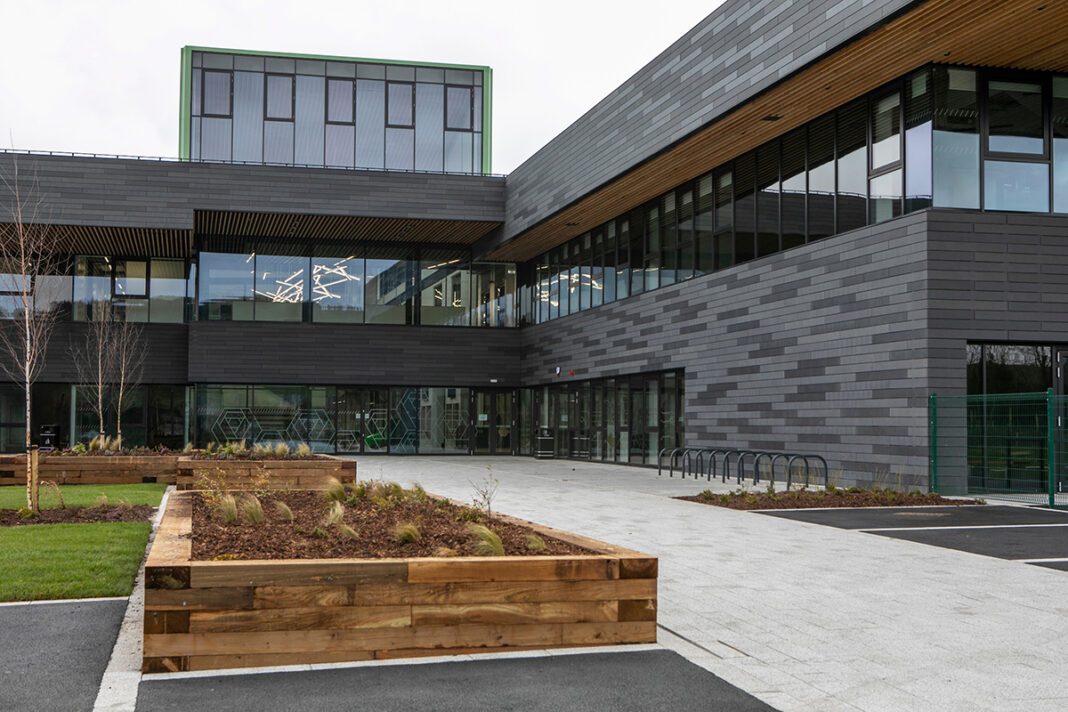 THE £32 million Jedburgh Grammar Campus project was recognised at the Partnership Awards 2020 after scooping a silver Award in the Best Education category.
Organised by Partnerships Bulletin, the event celebrates the best in public private partnership projects, with entries received for projects across Europe, the Middle East and as far as Australia.
The Jedburgh Grammar Campus, completed in March 2020, is a partnership project between hub South East and Scottish Borders Council, with BAM Construction the main contractor and Stallan Brand the architects behind the design.
The campus replaced all three schools in the town and has provision for nursery, primary, secondary and additional support needs pupils. Community facilities include a multi-use games area, 2G hockey pitch, 3G sports pitch, 100m synthetic running track, 300m grass track and gym.
Alongside classrooms, there is a rural skills area and hall space that can be used for activities such as community events, sport, dance or drama classes and a café. The public library and contact centre are also be housed on the campus.
Paul McGirk, hub South East's chief executive, said, "Winning an award in the Best Education category is recognition of the true partnership working, collaborative design, quality construction and social value delivered on the Jedburgh Grammar Campus project. I would like to congratulate everyone involved in making this project a success. We're particularly proud that we were able to demonstrate the flexibility and value of the hub programme as discussions began from a standing start only 18 months before contract close (by which point construction had already progressed to steel structure stage).
"This is demonstrable evidence of what can be achieved when the true partnership working ethos of the Hub initiative is embraced, and we look forward to bringing this added value and innovation to future projects with clients as we continue in our efforts to be development partner of choice for public sector organisations in the Scottish Borders and indeed, throughout the Lothians."
BAM Construction Scotland regional director, Bruce Dickson added, "We never set out to win awards, but to design and construct buildings that completely meet and, if possible, exceed, the requirements of our clients and the communities we build for. What we find, however, is that it is the buildings that not only do this, but are created by true partnerships with a value based outlook and delivered by teams who completely buy into both the project and local community ethos, are the ones that do.
"This award is perfect recognition that the Jedburgh Grammar Campus project delivered not only to expectations, but also on aspirations, and it was a pleasure to have been part of the Scottish Borders Council and hub South East team."