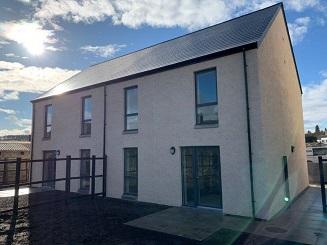 A rich seam of history can be found in Angus Council's new affordable homes at Damacre Road in Brechin.
Built by Pert Bruce Construction on the site of the former Damacre School, the local authority's design team wanted to retain the history of the school for future residents to appreciate.
As a result, slate from the old school has been incorporated into the roofs of the ten houses and stone from the structure has been transformed into pillars. Further to this the existing stone wall and railings of the school have been kept on the road front to frame the character of the development.
The council worked alongside Angus historian, Steve Nicoll, to also incorporate a tribute into the project to the school's best-known former pupil, Sir Robert Watson Watt, who died 47 years ago. A blue plaque attached to the stone walls commemorates his time at the school.
Sir Robert Alexander Watson Watt was a pioneer of radar direction finding and radar technology. He assisted the RAF in winning the Battle of Britain against the Luftwaffe.
Mr Nicoll said, "This plaque now forms the fourth in a local scheme that recognises places of significance in Brechin. Three of them are dedicated to Brechin's most famous son and 'lad o pairts', Sir Robert Alexander Watson Watt. One at Union Street, another at Maisondieu School and now here at Damacre.
"It's so important to remember that every great individual had to start somewhere, and Brechin is justifiably proud of providing an education that endured, a talent that transformed, and a humility that honours."
Angus Council's communities convener, councillor Mark Salmond, said, "We're proud to be delivering this housing development at the heart of Brechin. This is a vital housing scheme that will increase the supply of affordable homes for residents. It is also a pleasure to see that it retains the historical connections with Sir Robert Watson-Watt."