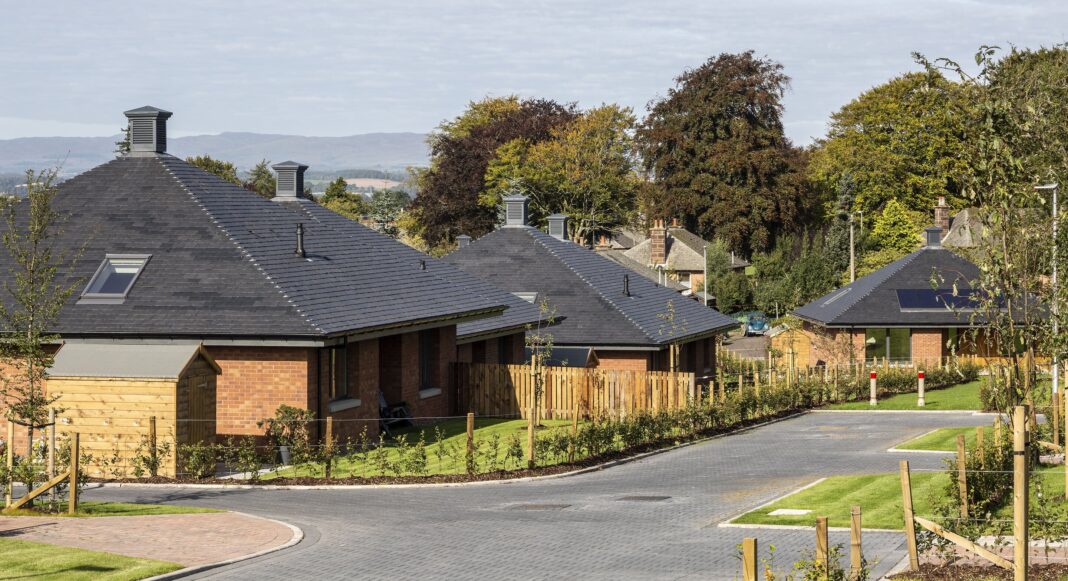 THE Gannochy Trust's lifetime neighbourhood development in Perth has scooped a top architecture award.
The intergenerational neighbourhood was designed by Glasgow architecture firm Anderson Bell + Christie and built by Campion Homes. It won the large residential category and a sustainability accolade at the Glasgow Institute of Architects Awards 2020 (GIA).
The Gannochy Trust is a registered charity which aims to provide affordable, high-quality, energy-efficient housing in attractive physical environments to improve the quality of community life.
The award-winning 48 home development has been designed to integrate with the Trust's neighbouring model village development – which was constructed by former Scotch whisky entrepreneur, philanthropist and founder of the charity, Arthur Kinmond Bellback in the 1920's.
The charity said that, not only is the neighbourhood well integrated in terms of building proportions, scale and layout, but careful consideration of the existing tenant group means the new housing will accommodate their future needs as they age, and will also attract younger families and accommodate carers to create an inclusive and resilient community.
The new development is underpinned by three core design principles; 'healthy homes for life,' 'lifetime neighbourhoods' and 'high quality design' which the Trust said aims to improve health, accessibility and connectedness for tenants, with the flexibility to adapt to their needs as circumstances change.
David Gray, chairman of the Gannochy Trust, said, "We are delighted to win at the GIA awards on Friday. The success of the project is down to the vision of all our partners who understood the needs of our tenants and the legacy of our founder A K Bell, whose passion for providing healthy, affordable homes for the community of Perth lives on in the new development. We thank all our partners for making this development happen. This awardis in recognition for their hard work and ingenuity."
Stephen Lamb, director of Anderson Bell + Christie, added, "We are delighted to receive the GIA awards for the residential (large) and sustainability categories. This success is a result of the hard work of a large team of consultants and contractors, and on behalf of them all I express our gratitude. Our aim was to provide a complementary extension to the exemplar housing estate constructed by AK Bell in the 1930s. Bell's attitude to promoting healthy living by actively encouraging tenants to go outdoors and ventilate their houses well is so relevant for us today. We have followed this example by providing external 'sit-ooteries' that can be used throughout the year, and incorporating a unique passive ventilation system into the house."