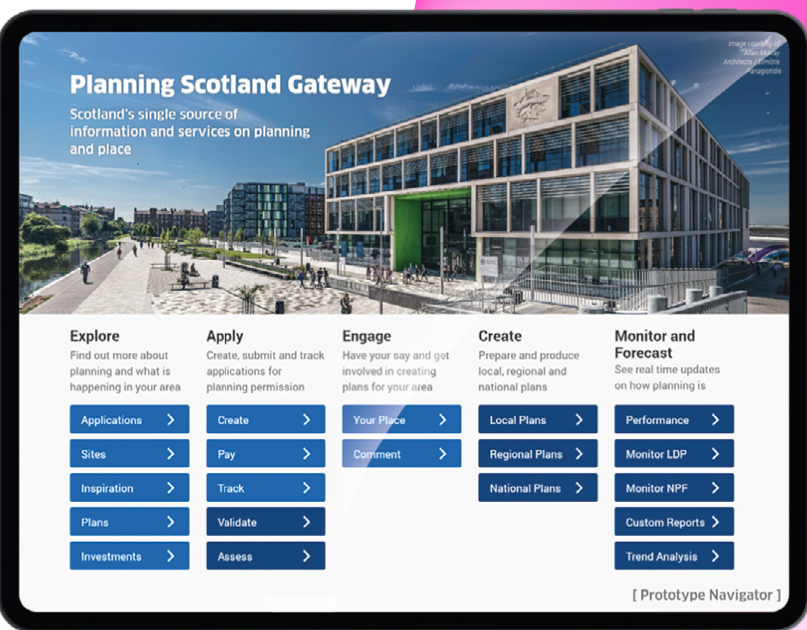 THE Scottish Government has unveiled plans for digitalising its planning system over five years, in a bid to make it as accessible as checking the news or weather on a digital device.
The plans will look to get more people involved in shaping their towns, cities and communities with the Scottish Government aiming for a 'streamlined and efficient' planning process which utilises new technology as it emerges.
A Scottish Government document accompanying the plans read, "We will develop new digital services, platforms and tools that will deliver an end-to-end digital planning service experience, using next generation technologies. By focusing on the whole journey through planning, we will be able to develop the interoperability between systems to facilitate a truly digital planning system."
The programme is expected to take five years to complete, with the project expected to commence in 2021. Initial work will see the Scottish Government identify delivery partners and then later planning authorities to trial the first deliverables of the digital planning system.
Kevin Stewart, the Scottish Government's minister for housing and planning, commented, "Planning should be inspirational and influential. It shapes how we go about our business and live our lives. It helps to keep the economy growing, enables us to protect our natural and built environment, and also to deliver development in the right places. The work we are delivering to reform the planning system has created a strong legislative foundation that will help us make some vital choices about the future of our places. Now it's time to change how we work and operate.
"Over the last two years, we've been talking to those that work across the whole planning sector, those that regularly interact with it, as well as those in communities with interests in planning and place. We've listened and have heard about the issues that many experience in planning, about what works well and what could work better, and the opportunities that a digital transformation programme could deliver. This strategy is the vital next step forward and I am delighted that Scotland is one of the first countries to have a national sector wide digital strategy for planning, supported by the commitment to deliver the priorities outlined within this document.
"This next step will set the framework for long-lasting change and improvement, putting data and technology at the heart of a planning system designed for
the future.
"The contents of this strategy are ambitious and will require collaboration across the planning sector and beyond to shape and implement new systems and ways of working. I am confident that by working together we will achieve the missions set out in this strategy."