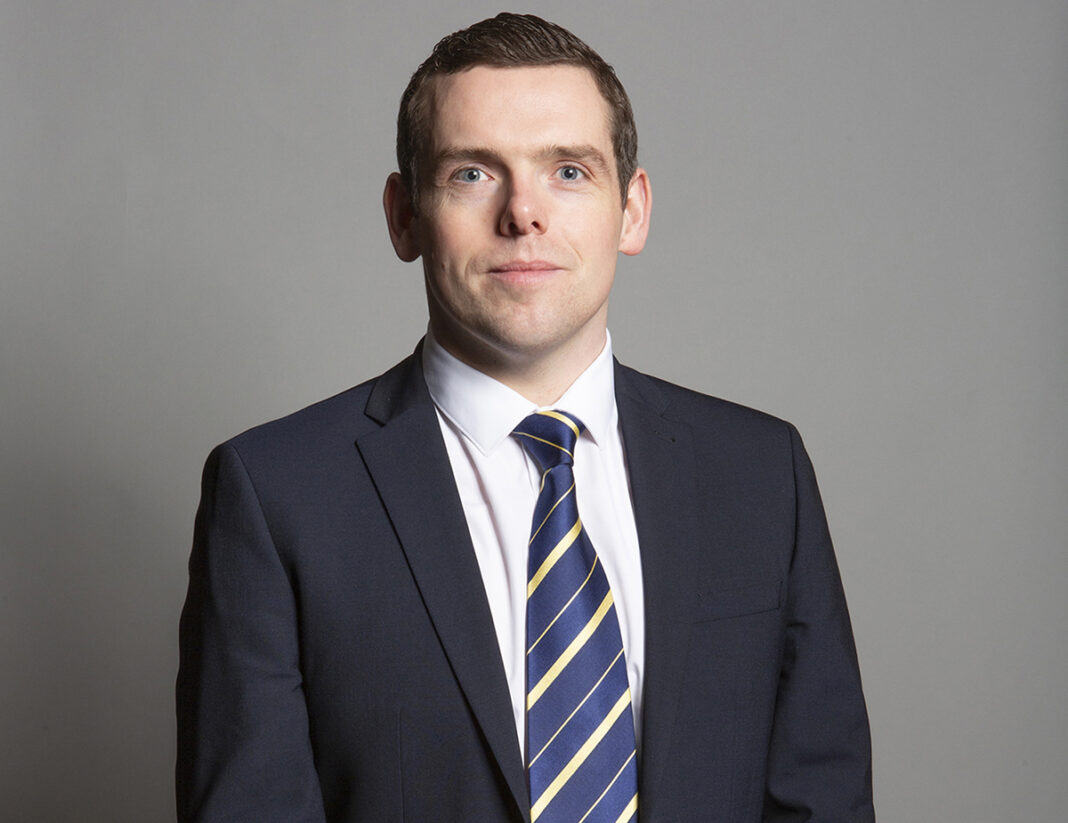 DOUGLAS Ross has called for an overhaul of Scotland's 'cumbersome' procurement process and outlined his ambitions for bold new infrastructure projects.
Mr Ross, who was appointed leader of the Scottish Conservatives in August, has vowed to put the nation's construction firms first if he becomes first minister following next year's Scottish Parliament elections.
In an exclusive interview with Project Scotland, he revealed how he would utilise the sector to its full potential to help deliver his infrastructure plans.
"I have absolute confidence (that the Scottish construction industry can deliver the plans)," he said. "I've seen it on the ground, I see it right across Scotland with the professionalism, the high degree of skills that construction firms in Scotland employ and are renowned for, and I would use that to benefit the country."
Mr Ross' proposals include a three lane M8, improved rail links between the central belt and Aberdeen and Inverness, and an ambitious overall vision of linking Inverness, Aberdeen, Edinburgh and Glasgow through infrastructure and new communities to compete with England's Northern Powerhouse. 
"I think these projects have to be an absolute priority," he added. "I want to improve connectivity within the central belt but also to ensure that the people living in the north of Scotland are connected to the central belt – making it far easier for businesses to get goods, products and people between the hubs in Glasgow and Edinburgh and out to every other part of Scotland."
The 37-year-old, who is MP for his home constituency of Moray, an area which major firms such as Springfield Properties and Robertson Construction hail from, said that he has had 'a lot' of contact with construction companies throughout his 13-year political career.
"I know that in all of the discussions I had from my time as a local councillor, MSP and MP, that we've got a real wealth of talent in the construction industry in Scotland that we are, and should, be proud of and I want to see that used to its full potential. I believe that if we are to come through this global pandemic, it will be as a result of bringing all the skills we've got across a range of sectors to build Scotland back up better – and I will do that with the successful construction industry we've got in Scotland."
Mr Ross has visions of overhauling the country's procurement process. He described it as 'cumbersome', believing that the system puts firms off getting onto approved lists. 
"We lose out on good, quality, local businesses and firms getting contracts in their area because the process is too difficult," he explained. "It's not coming up with a new novel solution – it's an issue that's been there for a long time, there are things we can do to improve that and I just think we've got to focus on making it a priority to help local businesses, help local economies, and that is why it's one of the key issues that I'm looking to take forward."
The drive for local procurement would complement his plans for each Scottish region to produce a 30-year infrastructure vision – which would identify transport projects, new population centres and new industrial 'clusters' in the region.
The infrastructure commission would then have an additional evaluative role to guide funding plans for the projects. With such an emphasis on infrastructure projects and an intent on utilising Scottish firms, large workforces will be required.
As a result, Mr Ross detailed a vision to try and address skills shortages, adding that he doesn't always agree with the notion that if you don't attend university you have not done as well as your peers. He told of how he left school to study agriculture at college. "I didn't go to university to get a degree – I decided to go down a more vocational route. What I want to say to young people is, there is no wrong choice – it might be at the end of your schooling you decide to go to university and it's the right thing for many people to do, but for another proportion of people it might be to go to college or to get an apprenticeship, or to go straight into work.
"I think for too long we have suggested that if you don't go to university somehow you've not done as well as your peers. But actually, when you look at someone learning a skill, learning a trade, getting employment very quickly and progressing in the world of work from a young age, I think that's the great opportunities that I want to open up for everyone – rather than just saying, 'if you're going to be successful, you've got to go to university'."
Under his proposals, Mr Ross would seek to give a Scottish education guarantee to age 18 in a bid to increase diversity in vocational education provision, a 'huge' expansion of adult learning, and a review of the apprenticeship levy.
However, he acknowledges that it is not just about bringing through the new wave of construction workers, but also retaining and possibly retraining existing skilled workers – particularly those who have faced, or are facing, redundancy. For this, he has looked at the Swedish job council model. "They've done extremely well in Sweden with job councils, where they've been operating since the 1970s," he added, before explaining that his model would look at areas and sectors that are potentially, as a result of Covid-19 or other issues, facing large amounts of layoffs.
He continued, "It's trying to utilise the skills that people have within their industry – whether it's oil and gas or construction – and match them up with other opportunities where they can continue using the skills that they gained and developed over a number of years. The model in Sweden has been extremely successful in getting people into not necessarily the same line of work, but continuing to allow them to use all of the experience that they built up. So not only does the individual continue good employment, firms get fully trained individuals."
Mr Ross hasn't been the only Conservative to speak about ambitious infrastructure plans. Boris Johnson's proposed bridge between Scotland and Northern Ireland has been a controversial topic for some time. Asked on his thoughts on the potential project, Mr Ross said, "Whether it's going to be a bridge or a tunnel, I understand the arguments in favour of it and the connections that it would make but also, I think what is largely ignored in that whole debate when you look at that particular crossing between Scotland and Northern Ireland, is the additional benefits on this side of the water in Scotland.
"So, communities in that part of the south west of Scotland have not had the infrastructure upgrade in their area for many years and if there is this connection ultimately between Scotland and Northern Ireland, there will be an awful lot of local improvements and in the south west of Scotland."