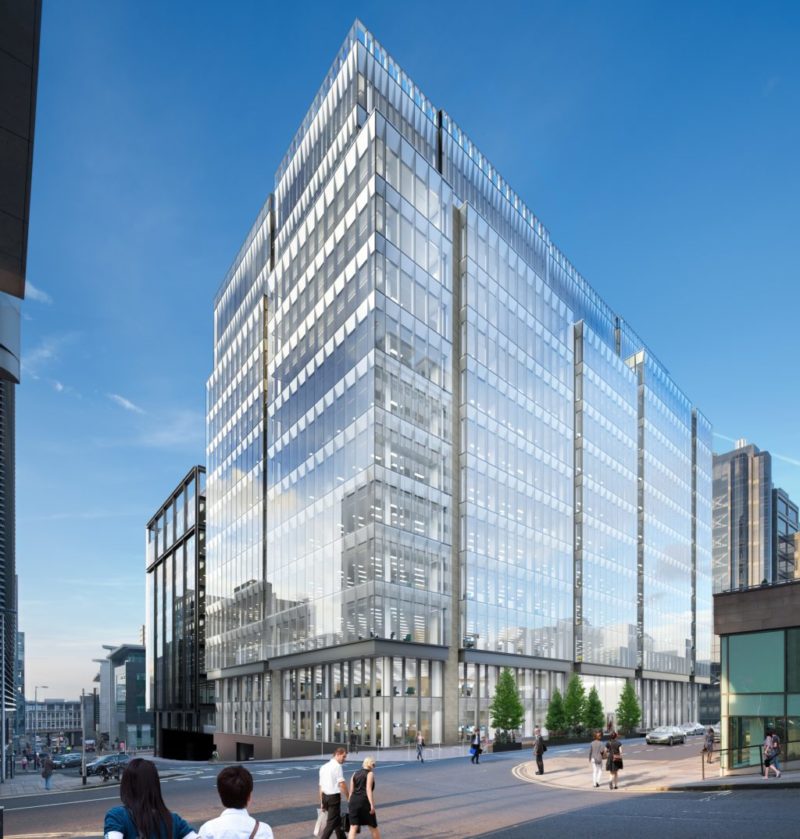 HFD Property Group has revealed its 177 Bothwell Street office development in Glasgow will be fully electric with zero carbon emissions.
Announced to coincide with the week the UN's COP26 climate change conference should have been taking place in Glasgow, the building will be powered by 100% renewable energy.
HFD said the combination of 'building design, quality specification and intelligent technology' will make 177 Bothwell Street highly energy efficient, through a series of measures including the building's facade and glazing, which maximises natural daylight whilst maintaining a high thermal performance.
Already projected to achieve an Energy Performance Certificate (EPC) 'A' rating, the changes mean the building should now complete with a score below eight – nearly 50% more efficient than a standard 'A' rated building.
Facilities include extensive provisions for cyclists and 48 car parking spaces, with capacity for all of them to become electric vehicle charging points.
A large section of 177 Bothwell Street has been pre-let to Virgin Money for its new headquarters, while HFD Group's serviced offices business will occupy 65,000 sq. ft. in the building.
Stephen Lewis, MD of HFD Property Group, said, "We are setting very high standards for the environmental performance and sustainability of 177 Bothwell Street. The starting point was reducing energy demand, making the building as lean as possible in energy consumption terms, so that there are no carbon emissions that need to be offset through other means.
"We then carefully selected the right combination of technology and materials, including recycled high-performance glazing and an intelligent building management system, to ensure the building is as energy efficient as possible. Electrification is an emerging trend in property around the world, but we have taken it one step further at 177, with all power coming from renewable sources.
"This time next year, Glasgow will host the momentous COP26 summit, bringing significant focus onto how Scotland can play its role in the fight against climate change. Construction and the built environment accounts for almost 40% of annual carbon emissions and HFD is committed to improving sustainability, with all divisions of the company working towards ambitious net-zero goals.
"Climate change is the single biggest challenge of our time, and it is incumbent on us all to make positive changes. It's crucial for everyone involved in the property sector to start thinking about the wider impact of each development and build offices that will work for the next generation of occupiers and employees."