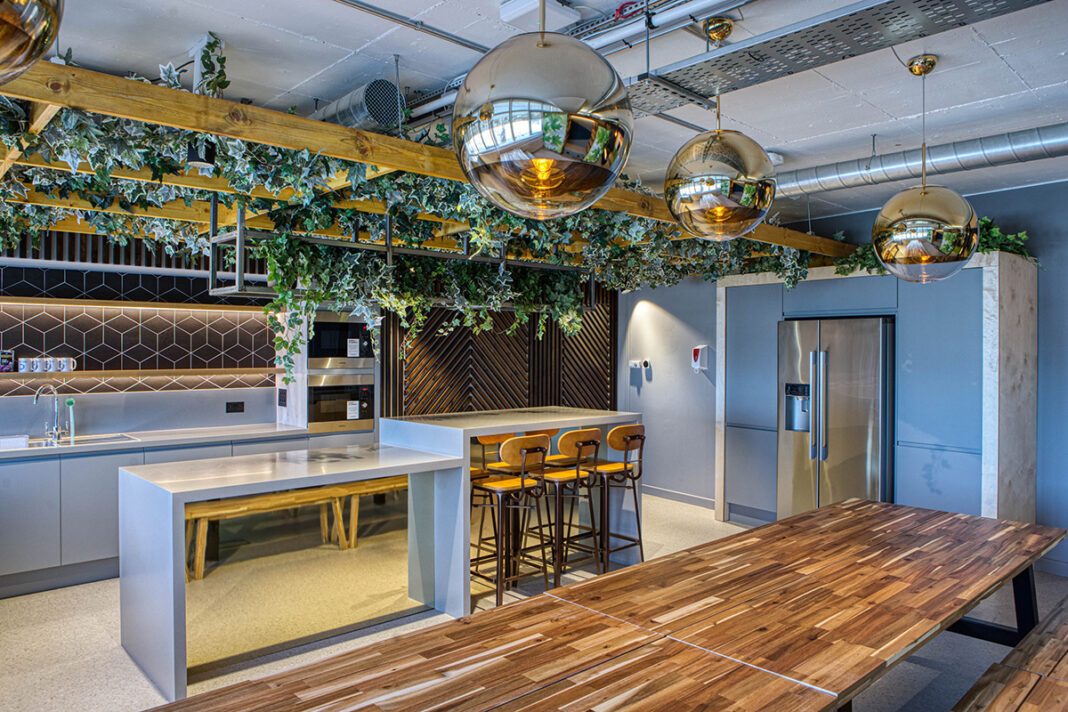 AKP has completed the fit out of new open plan offices within Glasgow's Skypark for Ceridian, a capital management tech company that provides HR, payroll, workforce management and talent management services.
The project marks another collaboration between consultants Cushman & Wakefield, akp Scotland and interior designer Julia Grant.
During the summer of 2017, akp completed the fit out of the firm's new unit on Level 3 at Skypark SP5. The business was approached again last year to help with the expansion onto the 4th floor.
akp revealed the new workspace features 'high specification' fixtures and finishes throughout. This includes bespoke joinery pieces created using traditional joinery techniques and fully automated CNC machining processes. akp worked with SCENEgineering on this aspect of the project.
Sonia Dempster, senior director, operations with Ceridian, said, "At Ceridian we help our customers create modern HR experiences employees love. We apply that to our people too. That means creating an environment where people feel inspired, engaged and supported. The past year has forced us to reimagine the world of work faster than we could have imagined. Yet, we remain unwavered in our commitment to deliver a physical workplace where our people can produce great work. We are excited to welcome our team to experience this new space when the time is right."
Moira Murdoch, akp director, added, "It is always supremely satisfying to be involved in the delivery of a beautifully executed project. With the completed fit out Ceridian have added to their portfolio and now have another office fit for the future. Despite a challenging programme, a lockdown and then the ongoing Covid restrictions, our site manager David Boyle completed the project with a cool head and an eye for detail – he certainly had his work cut out!"