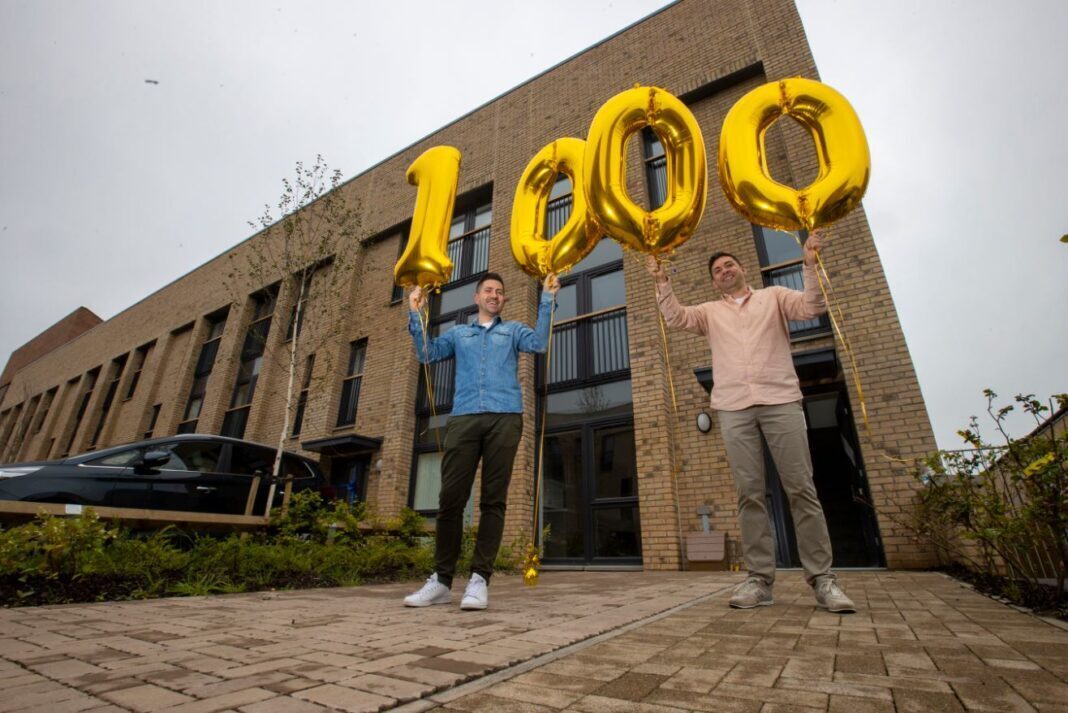 REGENERATION specialist Urban Union has celebrated the officially handover of its 1,000th home.
The business which is part of Robertson Group, has four developments across Scotland – two in Glasgow, one in Perth and one in Edinburgh.
Laurieston Living, in the Gorbals area of Glasgow, was the firm's original development and the first home was handed over in 2014.
Plot 72 at Phase 2 of the development – a four-bedroom townhouse – has been handed over to Chris and Daniel, who made use of the Scottish Government's First Home Fund to purchase the property.
A presentation was held to welcome Chris and Daniel to their new home.
Neil McKay, MD at Urban Union said, "Laurieston Living is a particularly special site for us as it was the first development we secured way back in 2012. In the eight years' since, we have delivered hundreds of houses to families and individuals across all our sites in Scotland, ready for them to transform into a home. More than half of these have been for social rented tenure. It is fitting that our milestone 1,000th home is at Laurieston, which continues to flourish as we deliver further phases of the masterplan.
"We are immensely proud of the role we have played in the revitalisation of Laurieston, which is one of Glasgow's key regeneration sites. The community has genuinely been regenerated and I am sure Chris and Daniel will quickly become part of the neighbourhood, while enjoying their new home together. We wish them all the very best."
Nick Harris, Robertson Group executive property director added, "Urban Union plays a significant role in regeneration across Scotland to provide affordable homes and transform communities. Achieving the 1000th completion in the last six years is something that we are all very proud of and I congratulate the Urban Union staff for their dedication and hard work which has made this possible.
"The site at Laurieston is a long-term regeneration project and Urban Union have already delivered significant investment and opportunity and will continue to do so as their work on the site progresses throughout Phase 2 and beyond.  We wish Chris and Daniel every happiness in their first home."