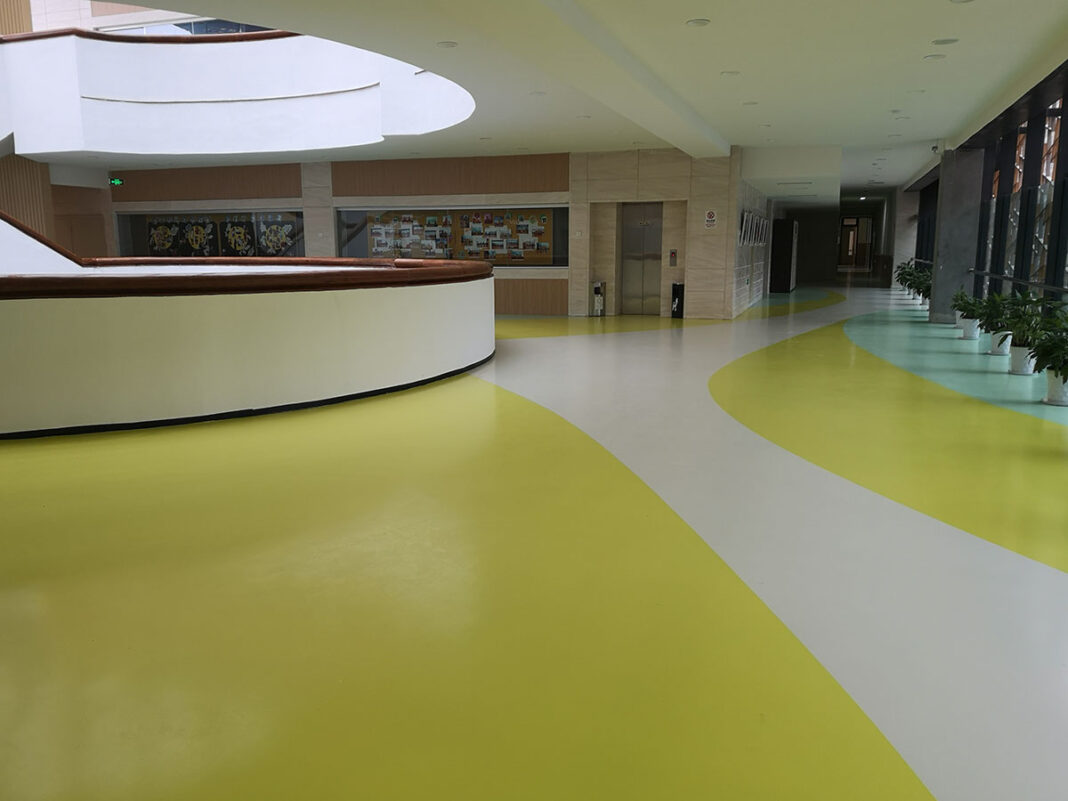 David Hockley, area technical manager at SIKA, explains why he believes resin is the ideal flooring to help with stringent safey standards in schools
COVID-19 has ensured unpreceded attention will be given to the hygienic functionality of school buildings – particularly flooring. Measures such as the increased availability of hand sanitisers, continued social distancing and reduced class sizes are likely to be introduced, with cleaning regimes being stepped-up and closely monitored to ensure surfaces remain microbe-free. It's a potentially challenging process that will be simplified to successful effect with the presence of seamless, resin flooring.
Good quality flooring has always played its part in creating safe, comfortable learning environments for our children. Schools with hygienic, well-designed interiors excelling in aesthetic and practicality have a positive effect on every aspect of students' schooling. It's why, when it comes to an educational establishment's fixtures and fittings, as much consideration should be given to the make-up of individual flooring areas as it would be a candidate's potential to teach.
Correct floor specification in schools is crucial to maintaining a happy, healthy indoors environment. Surfaces lacking in quality, durability and surface profile create the potential for falls and injury, which is costly to the affected student's education and damaging to the establishment's reputation. Flooring could also incur high maintenance costs if fitted poorly, whilst difficult-to-clean surfaces, breaks and joints in a "busy" environment are a magnet for germs and microscopic mites.
The durable and hygienic choice
A flooring system which provides a hard-wearing, cost-effective alternative to carpet, vinyl and timber, whilst helping our educational establishments uphold the highest health and safety standards is available when resin is specified over traditional flooring build-ups.
Taking into account the needs of the most demanding educational environment, a flooring manufacturer's specification should provide a solution that looks at operational requirements, construction joints, floor-to-wall connections and surface design and installation details. 
Resin flooring products, such as Sika's ComfortFloor range, offer an attractive alternative to traditional flooring. These easily-applied, hard-wearing systems come in an expansive range of colours and meet a wealth of aesthetic requirements; a particularly useful property, bearing in mind a learning environment's appearance can have a positive and negative effect on student mood and behaviour.
Resin systems can also be efficiently and easily regenerated with minimal downtime and loss of revenue, making it a cost and time-effective solution. Extending the service life of an existing flooring system through the resurfacing of a topcoat compatible with the original floor provides a brand new surface and the option of changing the colour. Traditional flooring in high-traffic environments such as schools will last 10 years on average, while a Sika's ComfortFloor system has a 40-year depreciation cycle. It is also possible to regenerate a thicker floor using diamond grinding pads which remove any existing surface damage and restore a floor to the same glossy surface of a new system to refresh the design without having to install a full new system.
Healthy green
Many resin flooring products are now able to offer a lower Global Warming Potential (carbon footprint) and low or even zero Volatile Organic Compounds (VOC) options to deliver health benefits for educational and other public and private sector buildings. With its ComfortFloor range, Sika provides a system with the environmental credentials to match its superb performance.
No emissions are released during application of Sika ComfortFloor systems, which are installed without adhesive or underlay. This contributes to a lower carbon footprint compared to traditional flooring systems and creates a healthier indoors environment.
It is more crucial than ever that the design and functionality of our schools, colleges and universities is geared towards staff and students' health and safety.
Each element of an establishment's fabric should conform to the highest hygiene standards. In terms of flooring, resin represents a seamless, easy-to-clean method of keeping surfaces free of harmful bacterium; practical properties which are essential in this current Covid climate.