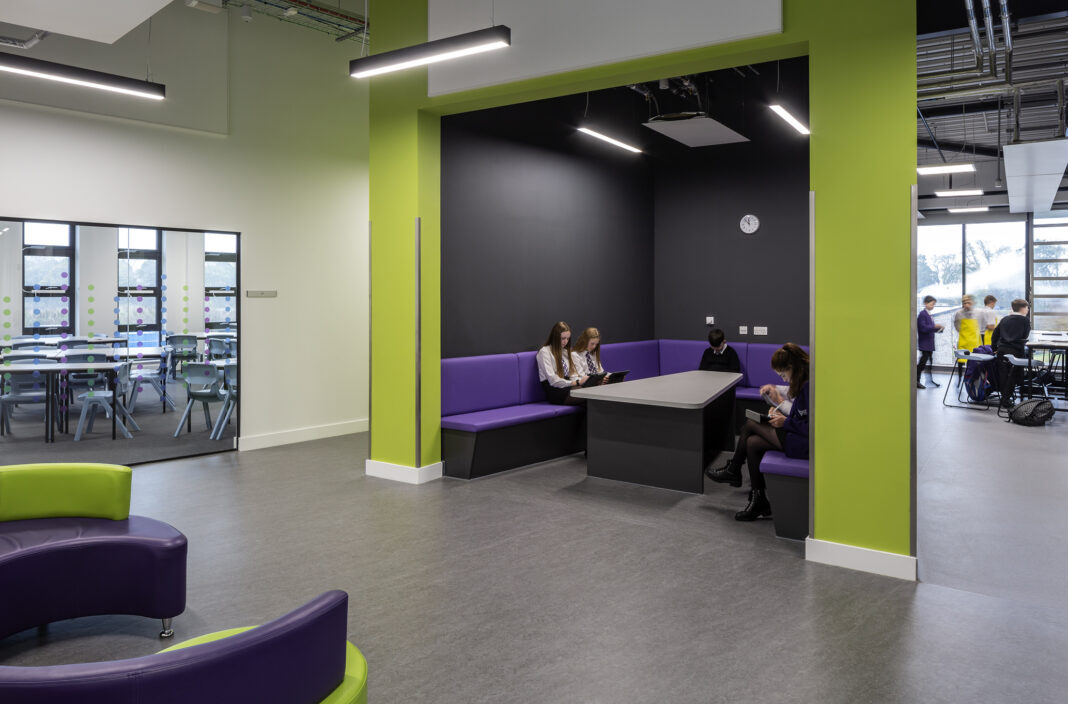 Ramsay McDonald, MD of education furniture and fit-out specialists Deanestor Scotland, tells Gary Moug about the challenges of fitting out modern schools to help create the ideal learning environment
Q) WHAT ARE THE LATEST TRENDS IN SCHOOL DESIGN? 
A) Secondary schools are moving towards a campus style of design which is closer to a college or work environment to better prepare young people for higher education or the world of work. 
A range of different spaces such as plazas and hubs encourage collaborative learning and a more fluid approach to teaching and learning with a higher level of integration for all age groups. 
Q) HOW DO NEWLY BUILT SCHOOLS COMPARE WITH THOSE FROM PREVIOUS ERAS? 
A) Every square metre of our schools is now scoured for the ability to contribute to learning. Corridors are widened to create break-out spaces to extend classrooms. Large central stairways can provide seating. Learning plazas facilitate social interaction to replace under-utilised school foyers. Previously single-use spaces such as halls and libraries are being designed to have multiple functions – café and social dining, performances, group learning and out-of-hours community use.
Classrooms were typically separated by opaque structures such as walls and doorways. Open layouts now have glass partitions and uninterrupted lines of sight and use design ideas from cutting edge workplaces such as Google. 
In many secondary schools, each child is now equipped with a tablet and uses digital learning materials which reduce the need for physical storage. Modular workstations allow students to mirror screens, casting digital work onto teaching walls, encouraging discussion and interaction. To reflect these transformations, furniture has to be more agile, mobile and easy to reconfigure. 
Q) WHAT ARE THE ADVANTAGES FOR PUPILS IN ATTENDING WELL DESIGNED SCHOOLS?
A) Research has shown how children excel in stimulating, inspiring learning environments. With good design, schools can be much more than a place to deliver learning. They can be used to improve the education experience for both students and teachers.
Well designed and robust furniture and fittings can also promote high levels of positive interaction to deliver the curriculum as efficiently as possible.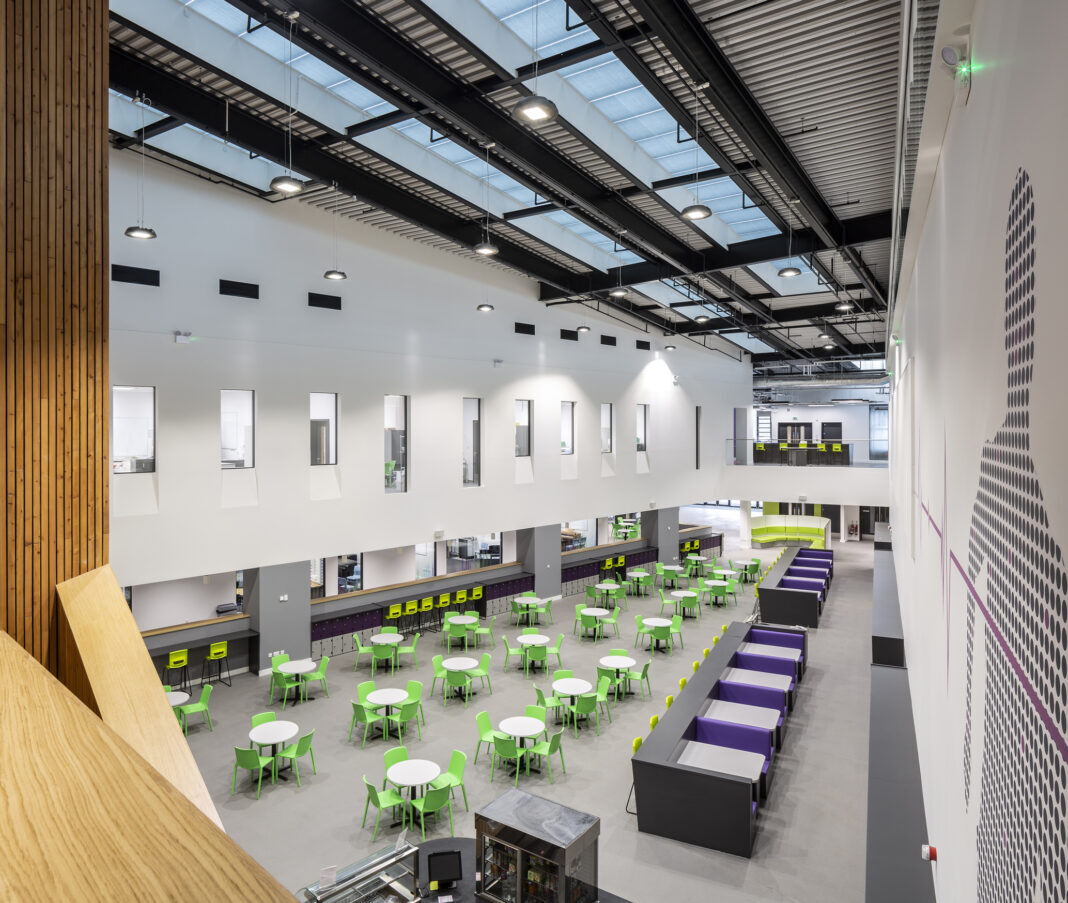 Q) WHAT STANDOUT PROJECTS HAVE YOU BEEN INVOLVED IN?
A) One of the schemes that really stands out for us is Bertha Park High School. Built by Robertson Construction and delivered by hub East Central Scotland for Perth & Kinross Council, this £32.5m school in Perth was designed by NORR to encourage collaborative learning and a high level of social integration for all age groups. 
We fitted out the entire 1,100-pupil school in a 22-week programme, manufacturing around 1,200 items of bespoke fixed and loose furniture. We also supplied and fitted more than 8,000 items of equipment, including teaching aids and raised bleacher seating. The furniture on this project is very much part of the building and some items such as angled seating booths even reflect the shape of the school. 
We were an integral part of the project team and worked in partnership with Robertson and NORR from the earliest design stages. This initial development work definitely contributed to the overall quality and enabled the school to have more bespoke fitted furniture whilst working to a tight budget.
Q) WHAT ARE SOME OF THE BIGGEST CHALLENGES WITH EDUCATION PROJECTS?
A) A typical new build school will be fully designed before the furniture specification is developed at a much later stage. The issue here is the M&E services are often designed before the furniture specification has been finalised – and the services may not then work with the furniture. This means an excellent building cannot be used to its full potential.
Q) ARE ENVIRONMENTAL CONSIDERATIONS PLAYING A MORE PROMINENT ROLE?
A) Bringing nature into the learning environment has a calming effect and children's cognitive performance can improve in naturalistic environments. Research has shown the benefits of biophilic design for schools and more projects are extending this theme beyond primary to secondary education. Biophilic is an interior style that incorporates nature-inspired features. Examples include the use of muted colours such as greens and blues replacing bright primary colours, wood finishes, soft seating, carpets rather than hard floors, and high levels of natural light.
Q) HOW IMPORTANT IS IT TO 'FUTURE-PROOF' NEW SCHOOLS?
A) Teaching staff need to be able to tailor the learning environment to allow for short-term changes of layout and use – and for long-term expansion and contraction in line with local demographics. This means movable or modular furniture that allows spaces to be rearranged with ease to reflect curriculum requirements.
Technology in schools today reduces students' dependence on the teacher, promoting peer-to-peer collaboration and widening the sphere of learning to the whole campus.
Furniture needs to integrate with the latest technology and accommodate developments such as the transition from desktop computers to tablets and device sharing. 
Q) WHAT DIFFERENCE CAN EARLY ENGAGEMENT MAKE?
A) Early engagement from a furniture and fit-out perspective really is invaluable. By bringing the team together at pre-construction stage – users, architect, contractor, M&E consultant, furniture and fit-out specialist – every aspect is fully co-ordinated, leading to a much more successful project. Cost planning is more accurate and there are fewer design changes to the furniture, improving cost efficiency. Services should be located around the precise layout of the furniture – not vice versa.