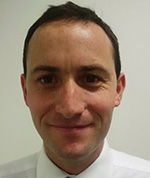 FINANCIAL expert David Rennie has been added to the panel of specialists set to deliver advice on project bank accounts (PBAs) at the first Construction Industry Coronavirus (CICV) Forum commercial webinar.
The Royal Bank of Scotland relationship director will take his place on the webinar on Tuesday 15 September, which aims to help construction industry professionals improve their contractual and commercial awareness.
The banking professional will sit alongside professor Rudi Klein, CEO of the Specialist Engineering Contractors' Group, to discuss features and benefits of PBAs, with particular focus on the supply chain.
Len Bunton, dispute resolution consultant and Forum consultant, who will host the PBA webinar, said, "David is an extremely experienced operator who will bring a wealth of insight and information to our first webinar. We are delighted to welcome him as a guest presenter and know that delegates will benefit from the clear and practical advice that he and Professor Klein will deliver."
Rennie has worked in finance, treasury, commercial and corporate banking during a 17-year career with Royal Bank of Scotland. Currently responsible for public sector and higher education in Scotland, his responsibilities include the Scottish Government banking framework, local authorities and universities.
He said, "I am extremely honoured to have been asked to take part in the first of these ground-breaking webinars from the CICV Forum. PBAs are becoming an increasing part of our industry and, alongside Professor Klein, I am looking forward to discussing their benefits and answering any questions from delegates."
Tuesday's webinar is the first of six free sessions being hosted by the Forum and will see Professor Klein outline how the PBA process operates, discuss the latest Scottish Government Construction Policy Note and answer questions submitted by delegates.
The webinar will start at 11am and will run for between 60-75 minutes, with sessions recorded and hosted on the Forum's YouTube channel.