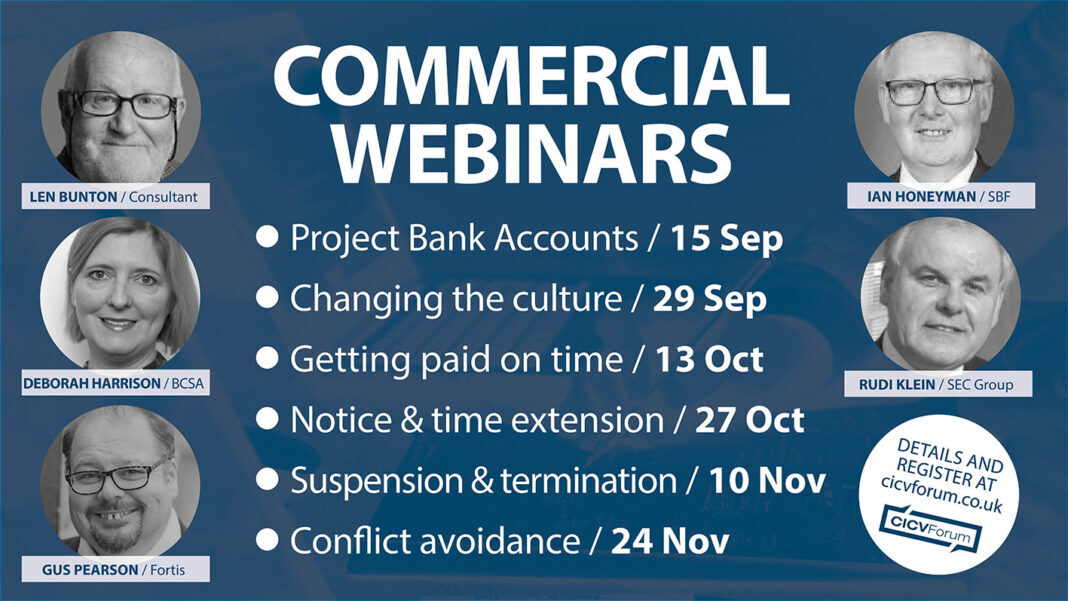 THE Construction Industry Coronavirus (CICV) Forum is launching a series of free advice webinars to help industry professionals improve their contractual and commercial awareness on construction projects.
Hosted by industry experts, and running fortnightly from September to November, the online discussions are aimed at employers, contract and commercial managers, architects, quantity surveyors and project managers.
The new webinars follow four Forum online events held in May and June, covering a range of subjects including health and safety, cash flow, contract issues and employment matters.
Fiona Hodgson, CEO of SNIPEF and chair of the Forum's commercial sub-group said, "Since March, the CICV Forum has helped countless professionals across Scotland and beyond with a wealth of information. This new development is yet another way in which the industry is coming together to help each other and assist in the rebuilding of the industry."
The first webinar will be held on Tuesday 15 September, during which Rudi Klein, CEO of the Specialist Engineering Contractors' Group, will discuss project bank accounts (PBAs), with particular focus on the supply chain.
This session will be followed by a second module on Tuesday 29 September that will discuss changing the culture in the industry, problem contractual clauses, things to avoid, high-risk contract amendments, negotiating better terms and the 'battle of the forms'.
Held on Tuesday 13 October, online session No 3 will cover payment terms, getting paid on time, how to present payment applications, variations etc.
The fourth webinar will be held on Tuesday 27 October and will cover giving notices, extensions of time, loss and expense, while the fifth seminar on Tuesday 10 November will cover suspension and contract termination of contractors and sub-contractors.
The topics covered in the final session, held on Tuesday 24 November will include conflict avoidance procedures, pitfalls and benefits of adjudication, the low-cost value adjudication process and expert determination.
Each webinar will start at 11am and will run for between 60-75 minutes, with sessions recorded and hosted on the Forum's YouTube channel.
Presenters will include Ian Honeyman (commercial director, Scottish Building Federation); Deborah Harrison (legal manager, The British Constructional Steelwork Association); Angus Pearson (industry consultant and director of Fortis Contracts); and Len Bunton (dispute resolution consultant and consultant to the CICV Forum).
Len Bunton said, "During the past five months, it has become obvious that the industry needs to cooperate and collaborate more than ever before if it is to survive the after-effects of this devastating pandemic. These free webinars will offer a wealth of invaluable commercial advice, delivered by vastly experienced professionals with a deep understanding of today's construction industry.
"This is a unique opportunity to harness this knowledge and understanding and gain a greater insight of how to navigate the post-pandemic business landscape successfully."