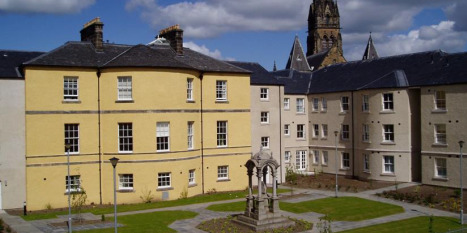 THE conversion of a B-listed building into five self contained apartments has commenced in Kirkcaldy.
Kingdom Housing Association is behind the conversion, with the currently unoccupied building dating back to 1785. Originally known as St Brycedale House, the building was later converted into a hospital after owner John Hunter left it in trust to be converted into the facility which was in operation until 1992.
Kingdom said that their Hunter House development will help support the rapid rehousing strategy in Fife and also ensure the longevity of a classic building in Kirkcaldy town centre. Alongside the five self contained apartments will come two common areas to provide support for tenants.
Bill Banks, Kingdom Group chief executive, said, "I'm delighted that work can begin on site following the easing of lockdown restrictions. This iconic building in Kirkcaldy has had several custodians over the years including Fife and Viewpoint Housing Associations, who redeveloped and still own and manage the affordable housing newbuild wings of the building. I'm pleased that Kingdom will be able to make additional affordable housing available in this unique building.
"In recent years it has been difficult to find a use for this listed building and therefore there have been various short term lease occupiers, or it has been unoccupied. After extensive consultation with local residents I'm very happy that we'll be able to open the doors to new residents next year."