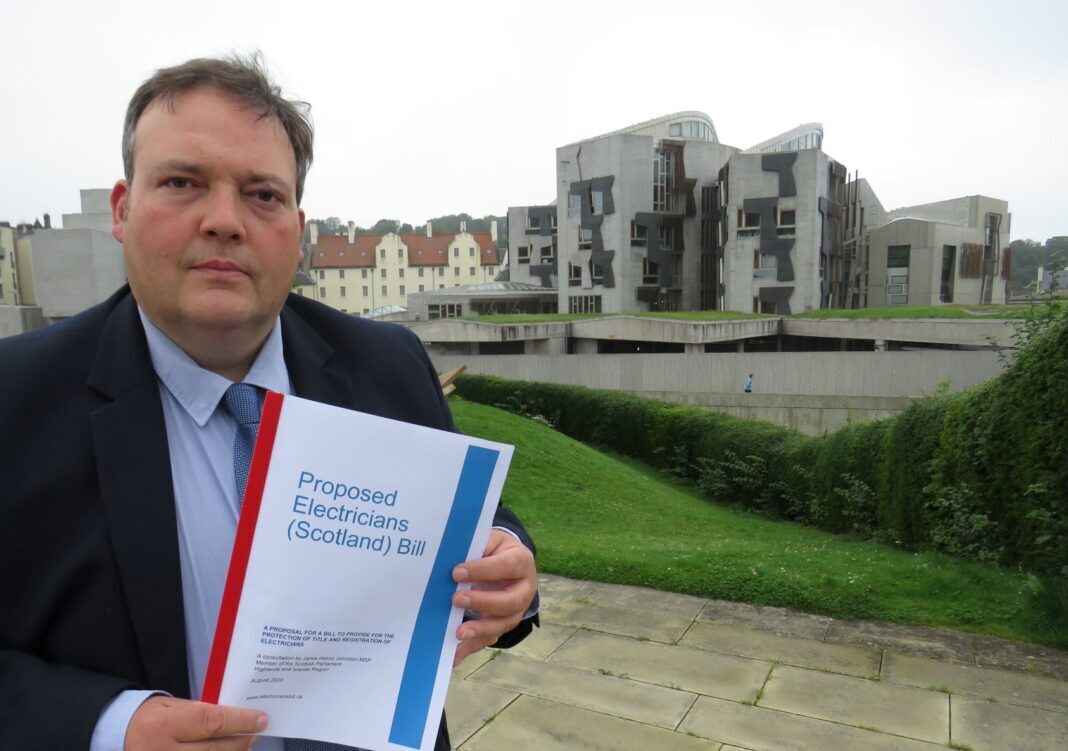 THE Scottish Joint Industry Board (SJIB) and Unite the Union have welcomed the launch of a consultation exercise which could lead to the introduction of a Member's Bill calling for the regulation of electricians.
Both organisations are supporting the proposed Bill, which MSP Jamie Halcro Johnston plans to put forward. The Bill by the Conservative MSP for the Highlands and Islands is calling for the introduction of protection of title, which would ensure that only properly qualified and experienced professionals could call themselves an electrician.
Mr Halcro Johnston said, "Poor quality work has potentially dangerous consequences and presents a risk to neighbours and a financial cost to insurers, as well as placing our emergency services unnecessarily in harm's way. The proposed Bill would ensure that electricians undertaking work are qualified to do so and effectively registered. This will not only benefit the end consumer, but also the electrical industry, which depends on the trust of the wider public.
"Unfortunately, due to restrictions on parliamentary time, my Bill won't be able to get through during the current parliamentary session. However, by doing this, we have started a process which could lead to an historic and long overdue change after the 2021 election."
The launch of the consultation was endorsed by the SJIB. Fiona Harper, secretary of the SJIB explained, "This consultation is the first part of a very important journey to ensure that only those who are appropriately qualified and experienced are allowed to call themselves an electrician. It adds further momentum to the industry's commitment to improve consumer safety and is another important milestone in protecting people and businesses across Scotland."
Pat Rafferty, Unite Scotland regional secretary commented, "This announcement is another step on the road to protecting the reputation of properly qualified electricians, both now and for the next generation. Ensuring that skills, qualifications and competence are properly protected will underpin the future of our industry and help raise the bar across our profession as a whole."
The SJIB and Unite are among the organisations supporting the #BackTheBrick campaign spearheaded by SELECT. The association has been pressing the Scottish Government for regulation of electricians and has received support from MPs, MSPs and major organisations. In May, Liberal Democrat MSP Alex Cole-Hamilton and SNP MP Alan Brown added their names to the SELECT Wall of Support, following in the footsteps of  the 32 MSPs who vowed to support the campaign in November 2019.
The issue has already been debated in the Scottish Parliament, with an Electricians Working Group convened to explore the challenges of ensuring the safety of electrical installations and protecting consumers.