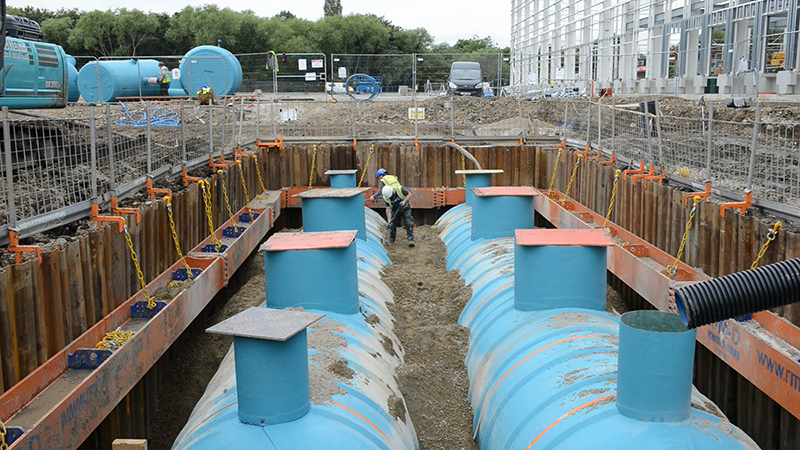 FORMWORK, falsework and shoring solutions specialist RMD Kwikform was hired to provide a 'safe and cost-effective' solution to build a temporary cofferdam in which to position two 70,000-litre grease trap tanks at SEGRO Park near Heathrow Airport.
An underground waste food treatment facility has been constructed by Euro-City Eastern. The firm carried out the excavation as part of a groundworks and infrastructure package for main contractor McLaughlin & Harvey.
The system will service an adjacent industrial unit, which has been pre-let to DO & CO, a gourmet entertainment and airline catering company. The business will use the facility for production and distribution.
A team from Euro-City Eastern was tasked with installing the temporary cofferdam, measuring 20m long, 8.2m wide and 4.3m deep, within which to construct the waste food treatment capacity for the facility. The depth of the excavation meant the cofferdam was subjected to high lateral loads. The excavation was also subject to high water table levels. Engineers from RMD Kwikform took these factors into consideration when designing a groundworks solution.
Euro-City Eastern operations director Michael English explained, "We worked very closely with RMD Kwikform from a design point of view, with very challenging ground conditions on the site. The water table was very high and, after taking that into consideration, RMD Kwikform gave us several ground-shoring options to choose from."
To construct the temporary cofferdam, RMD Kwikform's 320 Tubeshor hybrid shoring system was used in conjunction with 550 GeoBrace and 254 GeoBrace.
Tubeshor is used for propping waling beams or capping beams of large excavations, and for vertical applications such as bridge bearing replacement. The strength capability means fewer struts are needed and assembly time can be reduced.
RMD said all major components have 'robust' integral lifting points for safer handling, while integral forklift points and rotation stops enable safe storage of stacked sections.
Michael added, "The products are very user-friendly, lightweight and easy to install.
"The system is extremely versatile and compares well with other products on the market."