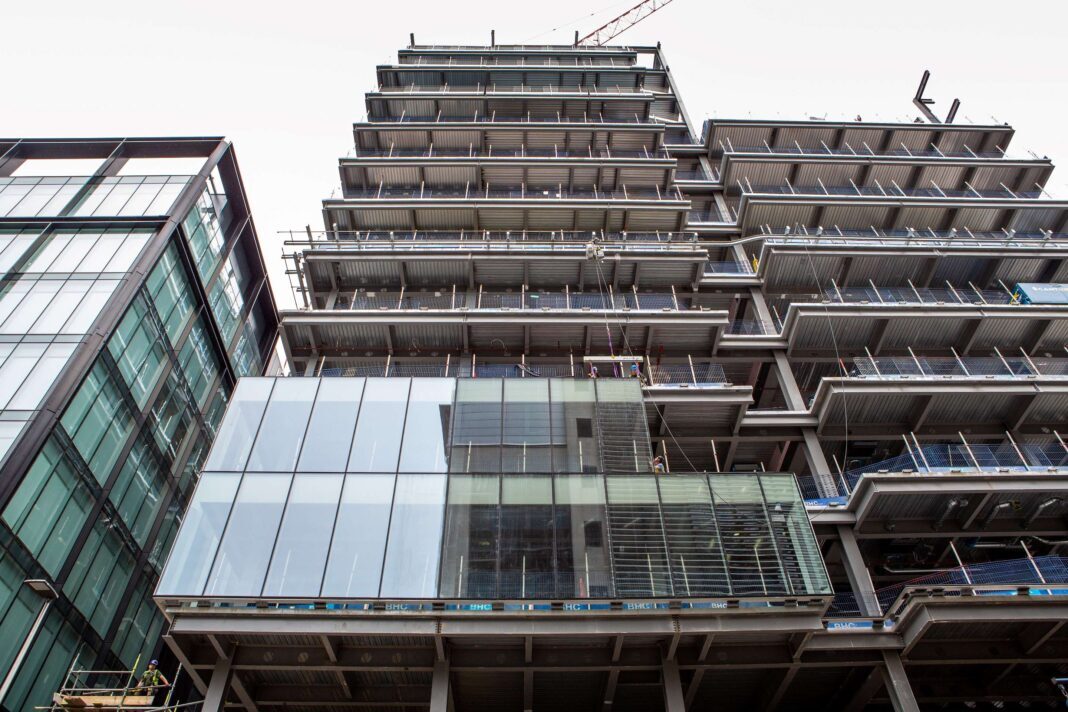 HFD Group's 177 Bothwell Street office development has celebrated another construction milestone with the start of the installation of three acres of glazing on its exterior.
Described as being equivalent to the size of nearly 50 tennis courts or – coincidentally – 177 double decker buses, the façade is predominantly made from recyclable glass and aluminium.
HFD said the glazing will offer 'market-leading' G and U values in a boost to the project's sustainability. HFD is targeting an Energy Performance Certificate (EPC) rating of 'A' and BREEAM 'Excellent' standard.
Made of almost 40% recycled material, the glass is said to have a low iron content to ensure it is the 'clearest and most colourless available', making use of natural daylight. The glazing will be installed using a monorail system to erect the panels – the first time this technique has been used in Scotland.
In the wake of Covid-19, HFD Group recently announced a series of 'enhanced' design features focused on hygiene, health and wellbeing, removing many of the building's 'touch points' and using technology to simplify occupiers' experience of the building.
Set for completion in next year, a large section of 177 Bothwell Street has been pre-let to Virgin Money, while HFD Group's serviced offices business will occupy 65,000 sq. ft. in the building.
David Shearer, MD of HFD Construction said, "The Covid-19 pandemic caused a temporary halt to construction – a decision we took early to protect the health and wellbeing of our workers and contractors. Despite that challenge, we have made significant progress with the construction programme following our return to site and have been working closely with our supply chain to ensure the safety of everyone involved."