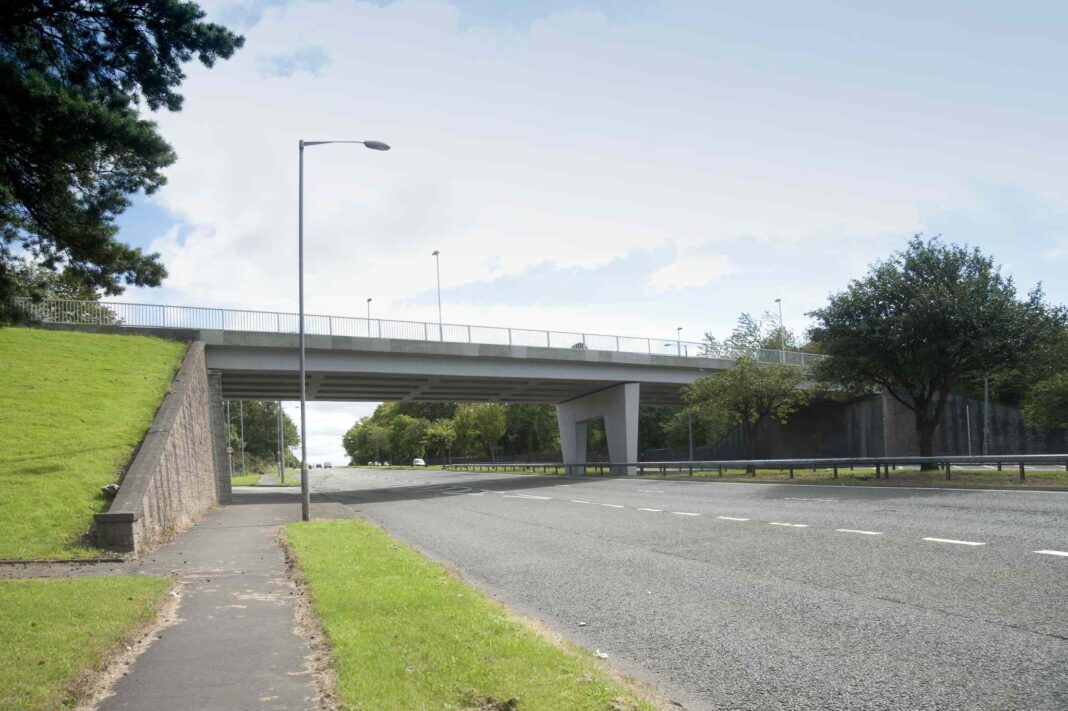 The availability of effective concrete repair and protection systems is vital to the upkeep of bridges. Jamie Squires, product manager at Sika, looks at a solution he says not only reduces bridge refurbishment times, but also increases a building's lifespan due to long-term performance.  
REINFORCED concrete bridges are designed to maintain their service and function over long periods of time. However, their traffic–bearing purpose and invariable location near water, means they are exposed to many aggressive influences during their lifespan. These include loading and vibration, extreme weather conditions, the presence of chlorides in de-icing salts and cycles of freeze and thaw, plus airborne chlorides in marine environments.
Modern bridges are built predominantly in reinforced concrete and are generally designed with a service life expectancy of more than 100 years. But when subject to corrosive elements both natural and manmade, it is perhaps unsurprising to learn that recent building surveys carried out in Europe and North America revealed that the majority of existing bridges already exhibit some significant degree of degradation and are in need of substantial and often urgent, repair and refurbishment. 
Showing the stress
Whether built from concrete, cast iron or stone, long-term exposure to the elements and traffic-based wear and tear could lead to a number of issues. If not addressed sooner rather than later, these invasive phenomena could prove costly and possibly even dangerous in the long-run. Age-related issues in bridges include thermal stresses caused by temperature extremes; fire damage resulting from traffic accidents and leading to structural integrity; and surface erosion triggered by concrete elements' water submersion. 
Water ingress is among common causes of deterioration in concrete structures of varying type as it can lead to chloride and carbonation of the reinforcing steel, resulting in the surface becoming spalled or cracked. Galvanic, sacrificial anodes represent an effective and sustainable long-term solution to the debilitating effects of chloride contamination, transforming the refurbishment of bridges and other concrete-based structures. Currently, repair standards and advice notes dictate exposed concrete reinforcement should only be treated using grit or water blasting methods to remove rust and clean the reinforcement to a suitable surface standard. However, in the repair of bridges and buildings in large suburban areas where carbonation is more prevalent, an alternative repair system is considered on environmental and safety grounds – and this is where anodes score highly over grit and water blasting. 
How the system works
Galvanic, sacrificial anodes, such as those contained within Sika's Galvashield system, comprise a zinc core encased by a small, cementitious shell which can be installed within repair sites to prevent incipient anodes developing, or outside the repaired area to protect the reinforcement in chloride – infused concrete. The anode is quickly and easily fastened to exposed steel reinforcement in repair sites or cored and grouted holes within concrete, yet outside the repaired area. Once installed, the anode's zinc core corrodes sacrificially to protect the surrounding rebar.
Energy efficient repairs 
Galvanic anodes offer a cost-effective alternative in the treatment of chloride-contaminated structures. It takes a lot more energy to grit or water-blast corroded steel which requires a plethora of equipment as well as heavy electricity and water usage, and protection sheeting. There's also the question of sustainability. 
Grit needs to be produced and later recycled, or disposed of as contaminated waste. With the Sika Galvashield galvanic, sacrificial anode system, the reinforcement can be hand or mechanically prepared by wire brush or abrasive paper. The corrosive damage doesn't have to be eradicated to the same level as if using grit or water-blasting, as the galvanic anode will control future corrosion.  
Clothing and certification
Unlike the extreme protective clothing that is required by the grit and water-blaster operatives, anode system installers use the same protective equipment as for handling the concrete repair systems. Also, operatives using the grit and water-blasting methods need official training and certification to use the equipment. Sika Galvashield installers simply require basic training at its training academy. The Sika Galvashield galvanic, sacrificial anode system is better for resident and operator, and a considerably quicker, safer and more cost-effective way of treating reinforcement in carbonated concrete.
Unique to Sika
As well as supplying the anode, unlike other manufacturers, Sika provides repair materials and coatings as part of its Total Corrsion Management (TCM) package. Once repairs have been carried out to all parties' satisfaction, the repair system is guaranteed for up to 20 years.
Like roads, rails, water and gas utilities, bridges are a vital part of the world's infrastructure. Therefore, no bridge should be too far in the search for a long-term, sustainable solution to a major cause of corrosion when it comes to the upkeep and repair of these intrinsic transportation links. With the Sika Galvashield galvanic sacrificial anode system, the answer is already here.