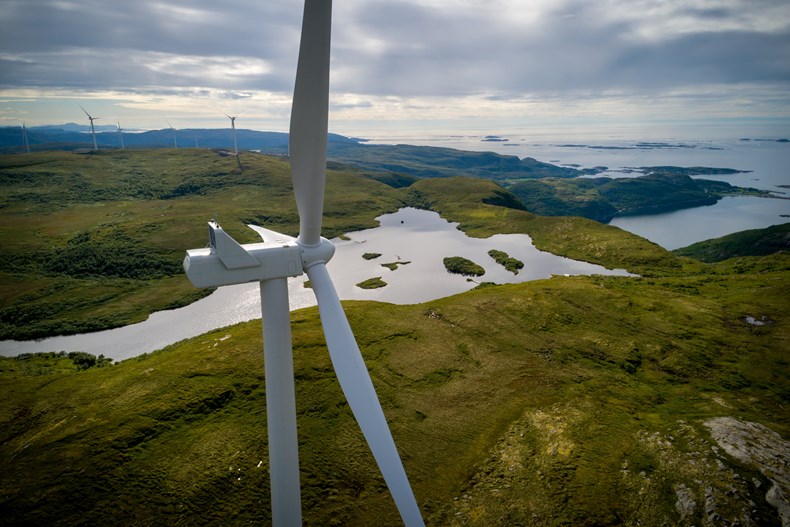 VESTAS has been confirmed as the contractor to supply wind turbines for the UK's largest onshore wind farm.
SSE Renewables, the developer behind the £580 million Viking Wind Farm in Lerwick, confirmed that Danish firm Vestas will supply the 103 turbines for the 443MW remote island project.
As part of the contract, Vestas will enter into a long-term agreement to service the wind farm when operational – with the ambition to establish a Shetland-based service organisation providing high quality employment opportunities supported by an apprentice programme.
SSE Renewables said that the Viking Wind Farm will harness the 'excellent' wind conditions in central mainland Shetland to produce almost 2TWh of energy each year – enough to power almost half a million homes annually and reduce carbon emissions by half a million tonnes each year, the firm added.
Construction of the wind farm is expected to commence this month (August) and stretch across a four-year timeline, with the developers anticipating it to support around 400 jobs at its peak.
Turbine deliveries and commissioning will begin in the first quarter of 2023 ahead of the expected wind farm completion in 2024, SSE Renewables confirmed. Once installed and operational, the firm anticipates that up to 35 highly skilled, full-time local employment opportunities.
Paul Cooley, director of capital projects at SSE Renewables, said, "This contract represents another significant milestone for our Viking project. We are delighted to be working with Vestas again with whom who we have a significant track record of project delivery. The optimised V117-4.2MW machines provide the durability and performance that we require to ensure that Viking delivers to its full potential. Viking will be the largest onshore wind farm in the UK by output and will bring significant economic opportunities to Shetland and beyond including the ambition by Vestas to establish a Shetland-based service team providing high quality employment and apprentice opportunities."
Nils de Baar, president of Vestas northern & central europe, added, "We are pleased to continue our cooperation with SSE Renewables, an excellent partnership that dates back 20 years. The Viking project creates a highly competitive business case for our customer and sends a strong signal for economic growth and green recovery in Shetland, the UK and beyond. It is an honour for us to contribute to the success of this landmark wind project."