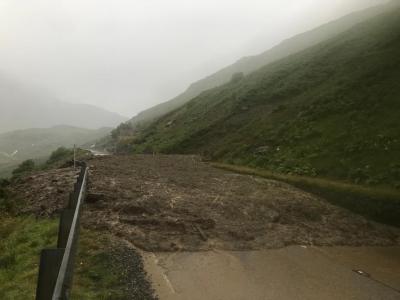 A clear up operation is underway following a large landslide which blocked the A83 and Old Military Road at multiple locations on Tuesday (August 4).
BEAR Scotland said that its operations teams have been mobilised at both ends of the A83 and Old Military Road to begin work to clear the debris with specialist equipment.
The firm said that approximately 1,500 tonnes of debris is thought to have reached the A83, with 2,000 tonnes of material washed onto Old Military Road. BEAR added that the debris included 'large car-sized' boulders. In total, the firm said that 6,000 tonnes of debris was moved with the weather.
The debris fell from around 200 metres above the carriageway, after up to 100mm of rain fell in Argyll – resulting in what BEAR said was a 'fan effect' down multiple water channels.
BEAR added that recently installed landslip mitigation catch-pits, built to prevent such landslips, caught around 2,000 tonnes of debris material from one of the areas affected by the landslip.
All traffic is currently being diverted via the standard diversion route via the A83, A82, A85 and A819 while clear up works continue.
Eddie Ross, BEAR Scotland's north west representative said, "Yesterday's heavy rain caused a large landslip high above the road which reached the A83 and OMR roadside at multiple points, bringing significant amounts of debris. Our teams have mobilised at both ends of the A83 at the Rest and OMR and have begun the initial clear-up of the debris.
"Further assessments need to be completed by geotechnical specialists of the hillside and both roads to check for any further concerns, and until these checks and the clear-up is complete the A83 and OMR will remain closed. In the meantime, Argyll remains open for business and we encourage road users to follow the diversion route in place for motorists.  Western Ferries are also running additional sailings for their Gourock to Dunoon crossing to accommodate road users.
"Please check Traffic Scotland for most up to date travel information."