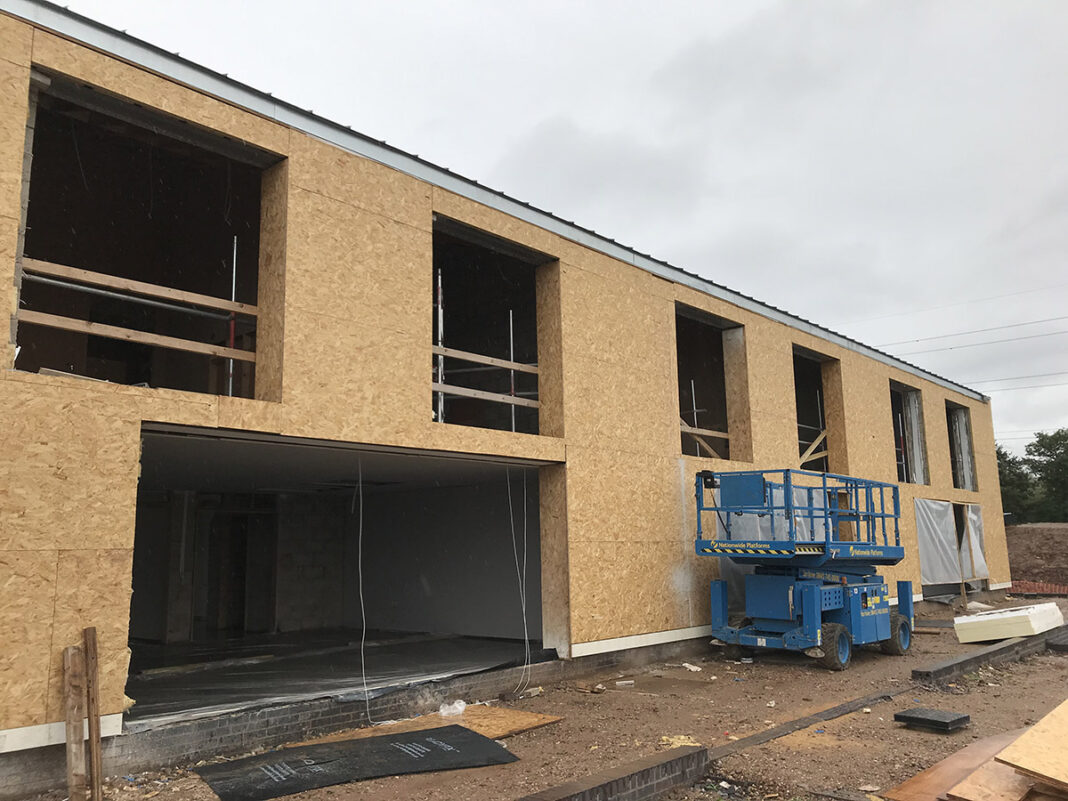 By Richard Allen, sales director at timber panel manufacturer MEDITE SMARTPLY
THE Climate Change (Scotland) Act 2009 sets the target of reducing CO2 emissions by 80% by 2050. It is possible, but it won't be achieved without some active work on behalf of the construction industry: about 45% of UK CO2 emissions currently come from construction.  
In Scotland, building standards work hard to embed sustainability, and the standards are steadily getting higher. As the operational performance of buildings increases, the environmental impact of the materials used in their construction become more significant. Everything including the use of raw materials, transportation, manufacturing resources and emissions generated must be considered.
Perhaps in response to this, but also thanks to an overall society steadily growing in environmental conscience, recent years have seen a marked resurgence in the use of timber frame construction all over the UK. In Scotland, timber frame construction currently accounts for around 75% of all new homes.
When properly managed, timber is arguably the only 100% sustainable construction material, simply because with sustainable forestry practices there are at least as many new trees planted as harvested; the first step to greener construction products and greener construction overall.
From a CO2 saving perspective, a typical timber frame house saves on average four tonnes of CO2 compared with an equivalent masonry house. An important green credential for timber products is their embodied carbon. As long as wood does not burn or rot, the carbon contained with it never leaves, so a sustainably built timber frame house can be a significant carbon store. 
MEDITE SMARTPLY has been a pioneer of the sustainable timber industry in Europe, with all specialised timber panels produced essentially as by-products of sustainable forest management. However, the main focus in construction sustainability at present is on the impact of the building when it is in use. So much focus has been lavished on the innovation of this sustainable timber into products that are able to actively save contractors, developers, and eventually building owners energy emissions and money. 
Higher-specification timber frame housing is in fact easier to produce. It's possible to create thicker and better insulated walls, all the way up to Passivhaus standards.
The level of innovation in terms of comfort and efficiency in timber frame is high, and is improving every day. For example, SMARTPLY PROPASSIV is a structural OSB panel with integrated vapour control and air barrier properties especially for use as structural sheathing in timber frame structures.
Airtightness is engineered into the substrate for a vast reduction in energy usage and cost. Specialist surfacing technology from SMARTPLY provides an integrated vapour barrier with consistently high vapour resistance over the entire surface, which eliminates the need for additional Air and Vapour Control Layout (AVCL) membranes.
Timber frame and offsite construction are also seemingly natural partners on the road to more sustainable building. Innovations in the scale of timber products have allowed products, such as SMARTPLY ULTIMA OSB4 and SMARTPLY MAX FR (fire rated) OSB3, to be manufactured in panels of up to 2.8-metres wide and up to 7.5-metres-long, and in the case of SMARTPLY ULTIMA, up to a maximum thickness of 40mm. This makes them ideal for offsite construction, whereby entire sides of an apartment, home or school can be sheathed offsite and then craned into place, with much reduced disruption to the surrounding environment and much less waste. 
It's been recognised that the waste generated on traditional method construction sites is at least 10% of all materials delivered, due to damage, loss and over-ordering. This could actually be up to 30% of the total weight of building materials delivered to a building site in some cases. In the case of over ordering, materials could very well end up in landfill still in their packaging.
Timber frame construction creates overall less waste in its production than either brick, plastic, concrete or steel, however by combining this with offsite methods, the waste savings have even greater potential as sections of buildings are produced to precise requirements, only using exactly what is needed.
Of course, alongside the positive sustainability credentials of timber frame construction, there is also the cost. 
It costs around 5% less to build a timber frame house compared to using traditional masonry. This may not seem like a lot, but over large development projects, 5% can be a lot of money- and significant after a globally halting event such as the recent coronavirus pandemic. The build time is also around 30% faster, meaning savings on labour and a much quicker return on investments for developers.
The coronavirus crisis has no doubt put us behind in our sustainability efforts this year too, but surely this is a renewed incentive to make every effort to increase the sustainability of our construction projects going forward? We have all the knowledge and all the products to be able to move forward in construction again, with sustainability a priority. Let's do the right thing!