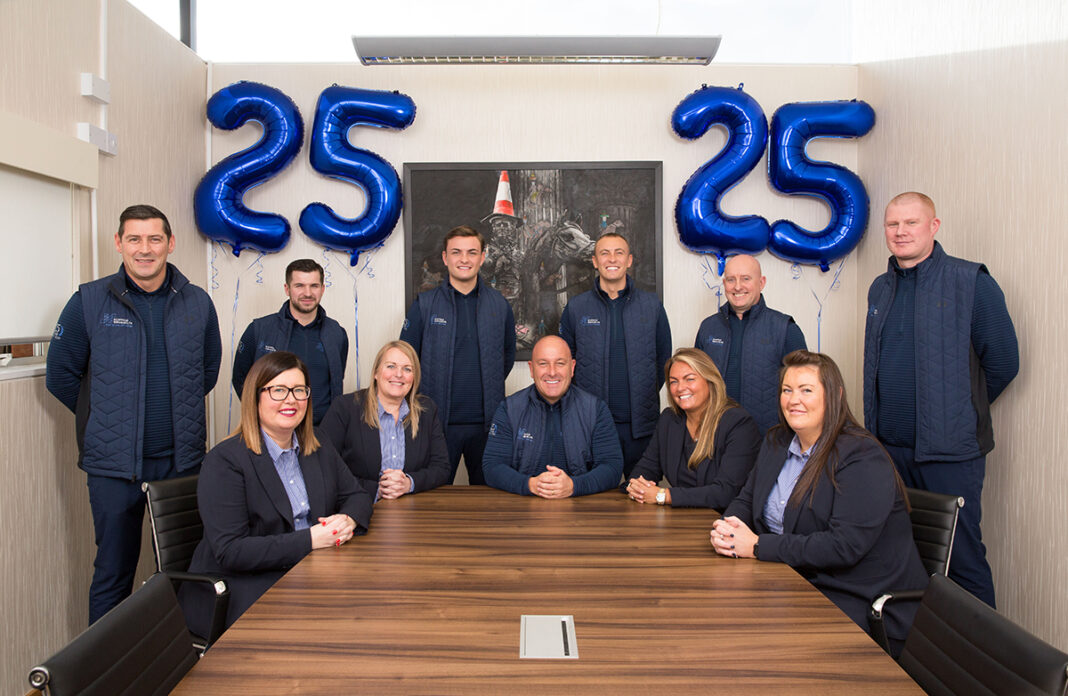 Craig Quirie speaks to JR Scaffold Services founder John Horne as the company marks 25 years in business by embarking on a poignant fundraising challenge
WITH the country still coming to terms with the impact of Covid-19, it may not seem like the best time to be celebrating a major milestone. But for one company, the current circumstances have merely provided more opportunities to continue embracing the ethos upon which it was founded.
John Horne founded JR Scaffold Services, a division of Paisley-based JR Group, 25 years ago. Along with wife Annemarie, he has built the business up to the point where it now employs around 60 people and carries out scaffolding projects across Scotland and the north of England.
JR Scaffold Services works with a number of housebuilders and registered social landlords, and also creates specialist design structures for large scale projects.
Like most companies, the Covid-19 pandemic has meant a change of plan in recent weeks. With most construction sites in Scotland closed, the operation has been busy gathering protective visors for NHS staff and using its fleet of vans to collect and transport meals to the most vulnerable.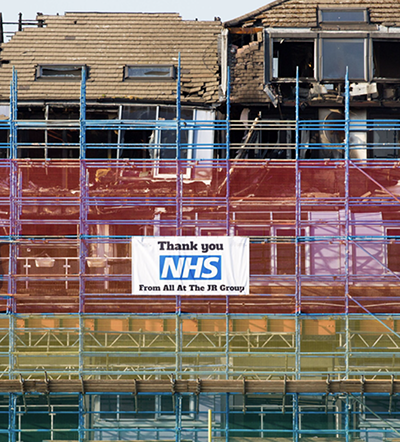 48-year-old John told Project Scotland that charity is 'why we are where we are today'. Supporting worthy causes comes naturally to the firm – and for good reason.
At the start of this year, John set a fundraising target of £50,000 for the Emmie Smillie Charity Foundation. The charity was founded in honour of Emmie Smillie, who passed away in 2015 following a battle with cancer. The Smillie family has played a key role in the success of JR Scaffold Services because it was in 1995 that Emmie's father, Andy, offered to donate part of his AS Scaffolding yard in Glasgow to John – an act which proved crucial in helping the business become established. 
The two met whilst John was playing football part-time with Hamilton Academicals and working as a scaffold sales rep. Training just twice a week, he made use of his work's membership at a local hotel gym. It was there he built a relationship with Andy, who he says has since been a "mentor, an ear, and someone to look up to".
Fast forward to 2020, and John said that he believes the JR Group is on its way to becoming a £50 million turnover business. Part of the expansion is down to the appointment of former CCG managing director Gary McGregor in 2016. At that point, John and Gary became business partners and created an additional construction division, forming JR Construction (Scotland), which Gary heads up. The group also boasts a further division, JR Specialist Services, which delivers joinery packages for housebuilders. 
John revealed that Gary's knowledge of social housing and commercial acumen, combined with JR's reputation, made for the perfect match and the overall group now employs over 100 people.
Working together in partnership is something John encourages. He insists that he sees his team as family and believes strongly in loyalty. Some employees have been with the business for up to 20 years, with John adding that they are there for each other 'on and off the park'.
"Trust is a massive thing," John explained. "There's a time where they'll call me to tell me stuff that they don't have to, like for example maybe they want to take a van to move a settee for family – things that they don't need to ask, but do it out of respect."
The firm's many clients over the years include the University of Glasgow. John revealed, "We won the contract in there and kept it for 20 years. We met some great people, worked in some great buildings and have some great stories such as water coming in and heading towards paintings worth millions of pounds," he recalled.
The 25th anniversary also coincided with the business being awarded its largest ever contract – a £1 million order for a development of 195 new homes in Erskine. 
Looking to the future, JR Scaffold Services is now set for an increased level of projects after the company acquired NASC membership, following an auditing process. 
John said the accreditation is something they have wanted for a while and believed that the 25th anniversary was a good time to go for it. He explained that acquiring it means that they can go for 'big projects' that, without the membership, they wouldn't have been able to get over the first hurdle.
In the meantime, John is determined to reach the target of £50,000 raised for the Emmie Smillie Charity Foundation, with a charity ball organised for December. 
"We thought it would be a good year, and we still think it will be a good year – I don't like to look back, I always look forward and once the dust settles we'll hit the ground running again and try to get back to normality, in a sensible way," he said.