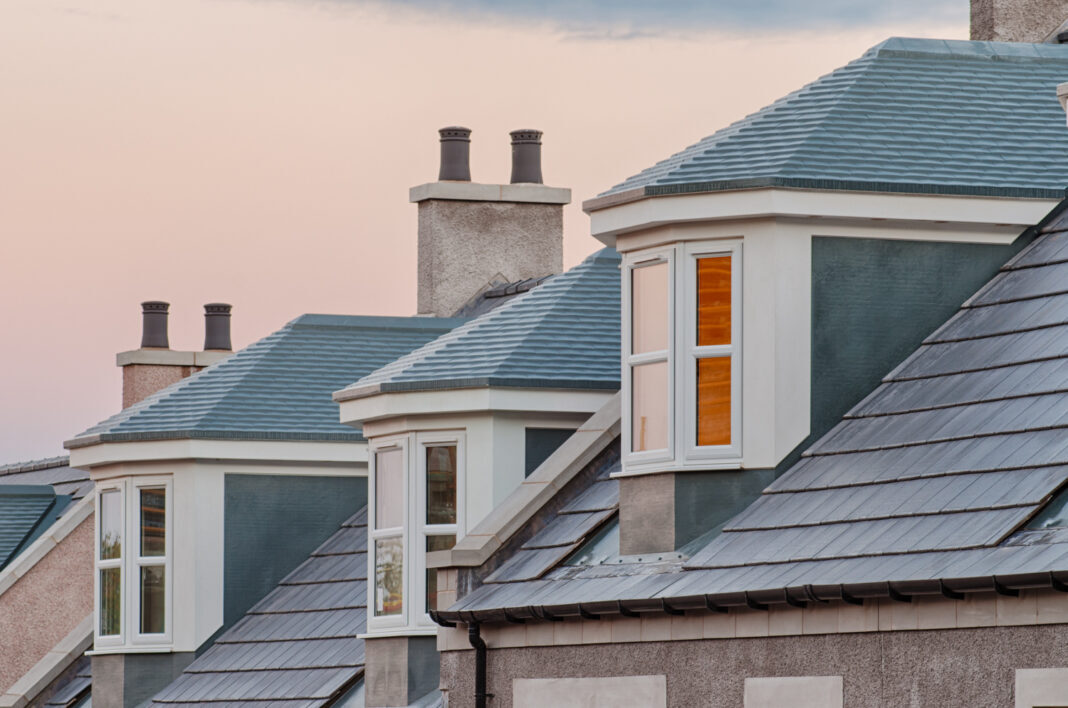 A roof can speak volumes on the character of a building and the people inhabiting the premises. It is why roofing solutions must be selected carefully to create a design which delivers on both aesthetic and function. With individual products key to crafting a picture-perfect roofing structure Kevin Bohea, MD at Stormking, gives insight into how the smallest flourish can add kerb appeal and value to the building and for its owner.
ROOFS are a core element of every house, present on any traditional or modern home across the nation. The distinguishing aspect of a roof, which transforms it from a house into a home, is always evident in the detail; the extra, often bespoke appeal that reflects the personality of the home and homeowner. 
Beauty needn't come at a cost however, as there is a way to obtain the best of both worlds in terms of aesthetic and function. 
Boasting a whole host of benefits such as high durability and long-term savings, GRP roofing solutions can achieve the desired aesthetic without the level of maintenance that comes with traditional materials, including stone and brick. 
But what do these details look like? And how can they add value? 
Looking up: Chimneys
To put it simply, a house isn't a home without a chimney. To attain this aesthetic, lifelike chimneys made from GRP can be made to look indistinguishable from the ground, enabling the image of a home to be achieved. 
Chimneys made from GRP, such as those supplied by Stormking, can be produced in any stone, brick or even a rendered finish to perfectly complement the surroundings; a prerequisite for the majority of planning applications. 
GRP brickwork, for instance, can be matched to the style and colour of brick on any building. In terms of new builds, manufacturers can also collect bricks from the same batch as the house is built from. They can then cut them down into brick slips and bond them onto a GRP core, to create a lightweight chimney which is quick to install and maintenance-free. 
It is also worthwhile to select a BBA approved GRP chimney solution that can be used in a wide range of applications and is compatible with flue systems. 
Looking out: Dormers 
As well as being a visually striking addition to a roof, dormers serve a very practical function. Dormers can be a way of creating natural daylight in roof conversions, and can be utilised in three-tier townhouses where there is a restriction on the roofline height. This is an ideal solution in situations where greater living space within a roof area is required, especially for the comfort of the homeowner. As with GRP chimneys, dormers made from this material are available in a range of designs or colours depending on the type of building, providing a flexible, lightweight solution to maximise light and space in roofing structures. 
 The final detail: Coping stones 
Coping stones are another way to add texture to a roof. On terraced properties, coping stones can be used to break-up a series of roofs, and can also be installed on parapets to give the design a real edge. 
As with GRP dormers and chimneys, coping stones are available in a plethora of colours and sizes. But these little flourishes serve more than a visual purpose; they can be an alternative to heavier stones which are a hazard if they should fall from a roofline. 
An alternative to their traditional counterparts, GRP coping stones are quicker and easier to install, and are far more robust and long-lasting. GRP coping stones do not require any cementing or pointing-in, which isn't the case for traditional solutions. 
It is the cementing and the pointing-in which can fail on the roofline and can therefore be costly and time-consuming to repair. 
GRP solutions are famed for being robust and maintenance-free after they are installed. If they do become damaged after installation, an aftersales service team can attend the home and provide an unseen repair.
When it comes to creating the perfect roof for any house, it is always worth including the extra details which can transform a house into a home, with greatly improved kerb appeal. 
GRP roofing solutions are one answer to attaining that flourish, hitting the mark on aesthetics and more practical factors such as speed of construction, durability and maintenance. Roofs can be a thing of understated beauty, yet they must also be functional. In doing so, real value can be added to the home, and the homeowner can rest assured their roof will last whatever the weather, for many years to come.