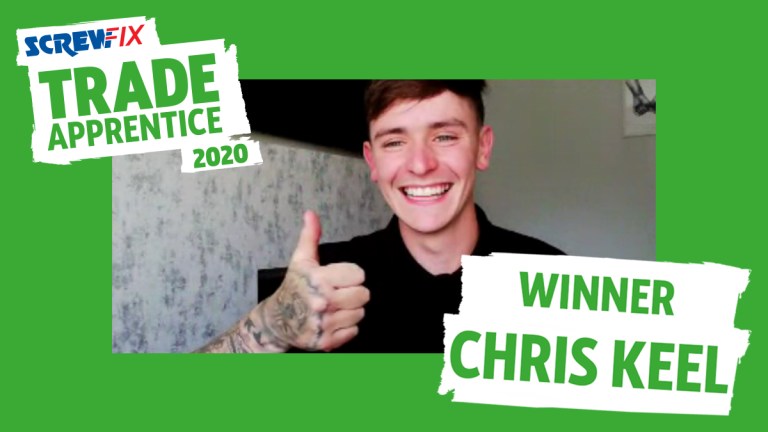 A joinery and carpentry apprentice from Glasgow has been named as the winner of the Screwfix Trade Apprentice 2020 competition.
Christopher Keel, who works for Glasgow-based firm City Building, pipped nine other finalists to the award. Judges commended the 21-year-old's 'outstanding' confidence, positive approach and the way in which he has overcome adversity.
Alongside the title of trade apprentice of the year, Christopher also took home the 'ultimate trade bundle' worth £10,000. The bundle includes £5,000 worth of tools, a £3,000 training budget and £2,000 worth of technology.
Christopher said, "I was absolutely speechless when I found out that I'd won. The other finalists were all so talented so it's such an honour to be given this title. I want to use this success as a platform to encourage more individuals into the trade – it's such a worthwhile career and an apprenticeship can change your life for the better!"
Danielle Sweet, Screwfix spokesperson, added, "We have such a worthy winner in Chris. He demonstrates everything we look for in this competition – professionalism, ambition and a desire to raise awareness amongst others about the benefits of apprenticeships and a future career in the trade. This year we received over 1,400 entries, and Chris impressed us with the way he has picked himself up after several knock backs, his drive to build his own business and run his own Ltd company, as well as his future ambitions. Chris has a promising career ahead of him, along with our other worthy finalists.
Dr Graham Paterson, executive director at City Building said, "We are extremely proud of Chris and everything that he's achieved this year. It's fantastic to see that even during these challenging times, our workforce is still hard at work and dedicated to improving their skills. I'm looking forward to watching Chris continue to develop and complete his apprenticeship with us next year. Undoubtedly, he has a bright future ahead of him as a joiner and I'm sure he will continue to excel throughout his career."