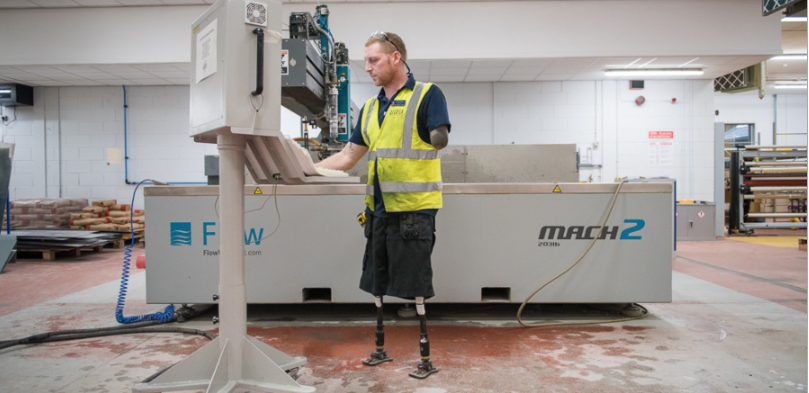 GLASGOW Caledonian University (GCU) has been awarded a grant by the Forces in Mind Trust (FiMT) charity to evaluate a potentially 'life-changing' employment training initiative for injured veterans in Scotland.
The programme being analysed by the university is run by Scotland's Bravest Manufacturing Company (SBMC), a social enterprise of Royal British Legion Industries in Renfrewshire. The firm offers a range of employment and volunteer opportunities in the manufacturing sector to Scottish ex-service personnel – particularly those who experience physical or psychological challenges as a result of their service.
Funding has recently been secured to take on a Scottish Qualifications Authority (SQA) trainer to boost the vocational skill development and employability support offered through the programme.
The GCU research team will now conduct an independent evaluation of the impact of attaining a recognised SVQ level of qualification on long-term job prospects, confidence levels, work readiness, employability, and on mental health.
Shirley Morrison-Glancy, project lead and lecturer in occupational therapy at Glasgow Caledonian University, said, "The research team at GCU are absolutely delighted to be involved in such a vitally important project. The programme that Scotland's Bravest Manufacturing Company is proposing, enabling our valued ex-service personnel to gain accredited skills, has the potential to be of great benefit both socially and economically to many veterans and their families. We are hopeful that our evaluation will enhance the evidence base and support a widened access in the long-term."
GCU veterans and armed forces champion, Jim Castle, said he was delighted that GCU was collaborating to help change the lives of veterans and their families. He commented, "I commend the work that is being done by Scotland's Bravest Manufacturing Company. I have had the pleasure of seeing their facilities and the opportunity to meet the excellent staff and the fine servicemen and women who benefit. Their work fits very nicely into GCU's Common Good agenda. It came as no surprise to me that Shirley and her team are collaborating and I wish them well in this important joint venture."
Charlie Wallace, Scottish Veterans commissioner, said, "Scotland's Bravest Manufacturing Company has quickly become a stand-out example of social enterprise in Scotland and I was delighted to hear their news. This important and timely FiMT award will enable SBMC to take the next step in its journey, by employing an on-site SQA approved trainer to deliver recognised qualifications and working with Glasgow Caledonian University to assess and evidence the impact of their innovative model."