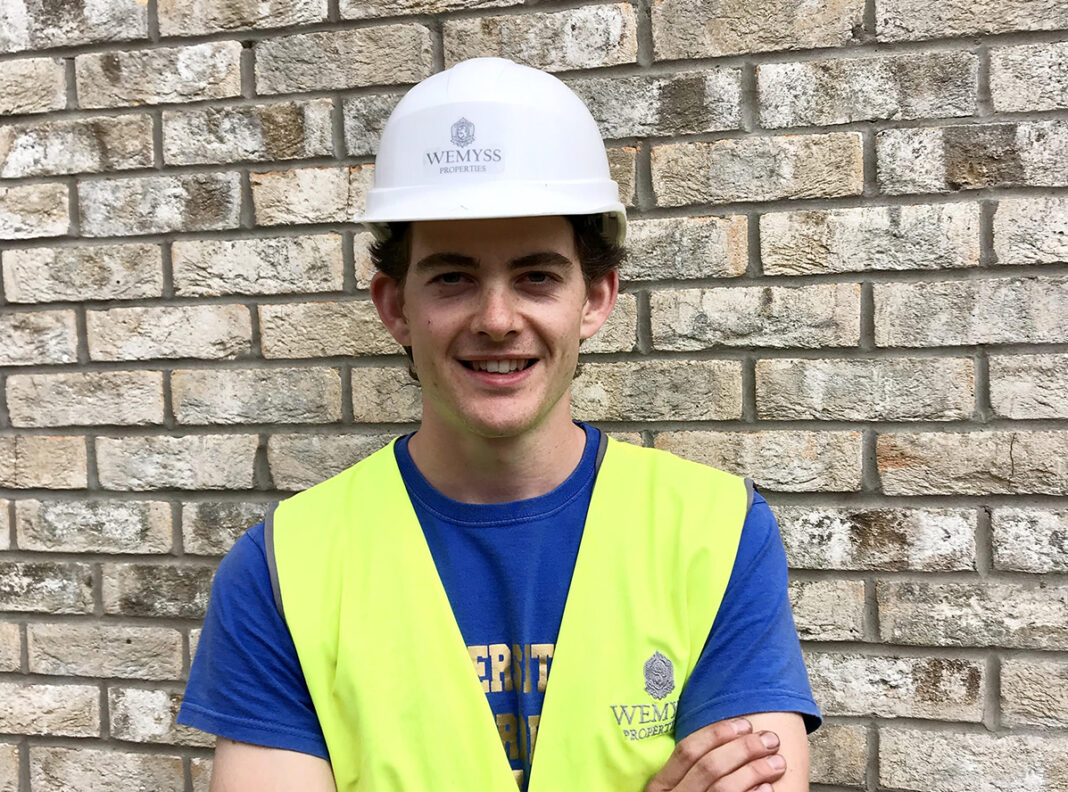 By Seumas Thomson, a development assistant for Wemyss Properties
FROM an early age, I was always interested in the world of property and construction. I loved playing with Meccano and initially thought I would follow a career in architecture. As I moved through secondary school and studied more business-related subjects like economics, I began to envisage how my interest might take a turn into the development and property investment side.
Fast forward to an undergraduate degree in accountancy at the University of Aberdeen followed by a Masters in real estate. My plan was coming together and I knew I had a good combination of skills to enter the world of property development.
But I had to learn my craft. I wanted to work for a small team to allow me to get more exposure and broaden my experience, ideally based in Edinburgh. So I was delighted to get an opportunity working for property developers Wemyss Properties who have built up a solid reputation for restoring beautiful residential buildings and creating tailor-made, unique new-build properties
I started with Wemyss in January this year as a development assistant and my role was to identify residential property investment opportunities through finding and visiting suitable sites and liaising with the owners. Being part of a small team gave me direct access to the senior team, including managing director Matthew Atton. In this way I gleaned a huge amount of knowledge, even in a matter of months, and was thoroughly enjoying my role.
Then Covid-19 hit and everything changed. The construction industry was essentially placed on pause during lockdown and I, like many others, was furloughed for 10 weeks.
I had mentioned to Matthew that I had my green card from the Construction Skills Certification Scheme that allows me to safely work as a labourer on construction sites.  Fortunately for me, Wemyss Properties needed someone to help the contracts manager to prepare an Edinburgh development site, ready for the subcontractors to return. This included cleaning and clearing the site and putting new signage in place in line with the construction restart plan. So I was brought back to work in a new role.
It's been a great opportunity to get first-hand experience on how a site operates and learn about a completely new side of the property sector.
Now, the entire construction industry is slowly getting used to working with the new procedures in place in response to Covid-19 and in many ways, for an industry so heavily governed by strict health and safety protocols, the sector seems to be adapting well. At Wemyss Properties, we've implemented a number of robust 'safe return to work' measures, which encompass the Site Operating Procedures set out by Construction Scotland in response to the Covid-19 pandemic.
I'm likely to remain on site for the coming weeks, working with the contracts manager to review the build programme and carry out more office-based work on site. I'm enjoying my new combined role of getting valuable construction management experience while still working on potential new developments
This opportunity for on-the-ground training and experience probably wouldn't have arisen if it wasn't for the pandemic. One day in the future I would like to manage small property developments of my own so, while it may seem strange given the severity of the crisis, it has actually given me the chance to learn new skills and get hands-on experience.
Lockdown has been a testing time for everyone but during my short placement working as a labourer, I've relished every minute of being outside, carrying out lots of manual work – not something I would have said pre-lockdown. It takes a bit of a change in mindset to adjust to this new world we are all living in, but there are definitely opportunities out there.