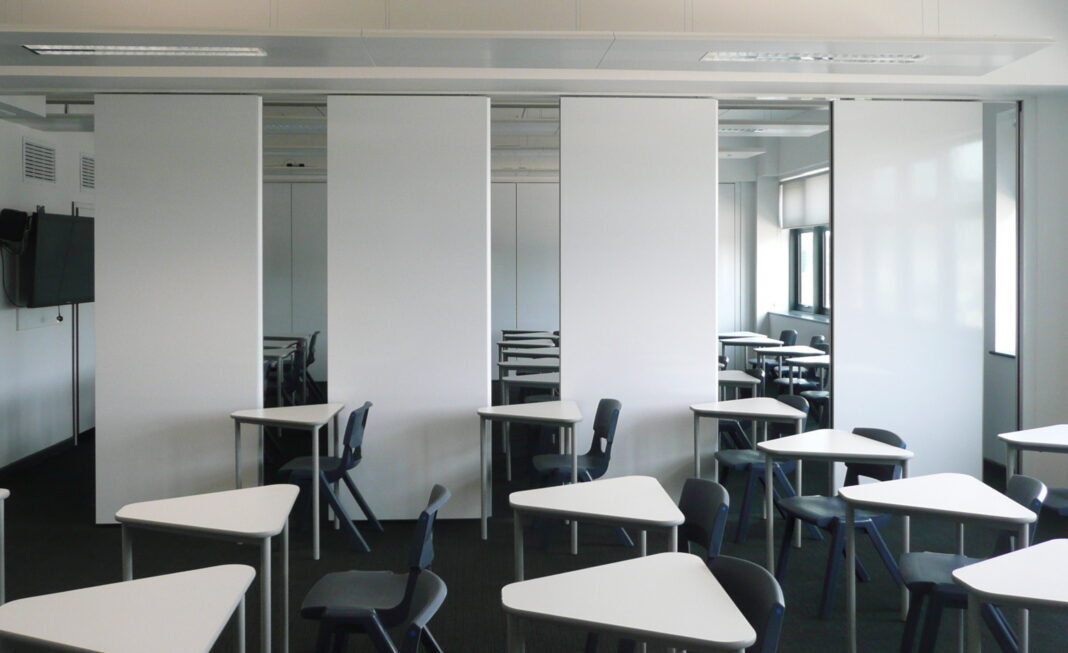 The coronavirus pandemic will eventually pass and, when it does, it will have changed the way we shop, work and teach our children. 'Social distancing' has quickly become one of the best-known phrases in society, with businesses and architectural teams already looking at ways to adapt workplaces to make them safer. But what changes can we expect? David Louden is director for Scotland at moveable wall specialist Style Partitions. Here, he explains there are some core areas where change could take place very quickly.
How will meetings be organised?
Most of us have embraced the use of technology to allow us to remain connected to each other. This has included connecting to our work colleagues, families and friends using the likes of Teams, Zoom, WhatsApp and FaceTime.
However good these platforms are, there will still be a need to collaborate and have face-to-face meetings. Workplace space planners will need to look carefully at how both existing and new office floor plans can be redesigned to allow meeting and collaboration spaces to be created that allow safe distances between the participants. The use of moveable wall systems to create flexible space will be crucial in the post-Covid-19 world. Systems which allow spaces to be quickly and safely reconfigured will be a cornerstone of this redesign process. 
Recent advances in technologies have seen automation replace manual handling in the deployment of moveable wall systems within the workplace. Meeting or training rooms can be reconfigured at the touch of a button, or the turn of a key. Heavy, manually operated systems have been replaced by new lightweight, high acoustic elements which use motorised carriers to move the panels into and out of position. In addition to speed and ease of use, the automation removes the risk of virus transfer that is present in the manually operated variant.
How will office design adapt?
Traditional office floor plans may be redesigned to reduce the number of people in an office at any given time, with more flexible working practices that proved to work during lockdown being adopted more broadly. 
State-of-the-art, contactless access control technologies will be used for access and egress from buildings, negating the need to touch door furniture. Motion sensors will replace light switches reducing the risk of contamination. Taps which produce boiling, sparkling or chilled drinking water will see kettles in staff canteens disappear. 
The recent trend for back-to-back, bench-style workstations is likely to be replaced by a more retro 90s-style workstation, where the user is cocooned in a space protected by screens separating them from others.
How will flexible space within school estates help in providing a safer learning environment?
There is no doubt that school closures have helped reduce the spread of the virus within the community, but it is also clear that without a vaccine in place there can be no completely safe reopening. However, school closures are having a devastating impact not just on the educational development of young people but also on the mental health of the nation. Some parents struggle with balancing home schooling and their own home working commitments. 
Aiming to balance safety with the impact on families and the economy, school managers are looking to reduce social contact by putting children in the smallest groups possible.  A typical school design might have two classrooms back-to-back, each with a capacity to teach 30 students. Based on a typical classroom of 55-60 sqm, to space students out using the recommended 2,000mm you would only be able to accommodate 12-14 students in each class.
By replacing the dividing wall with a moveable wall and opening up the space, you could bring that number up to 28-30 making it possible to have the class taught by a single teacher.
Style Moveable Partitions is a specialist sub-contractor operating nationally through four regional offices, and a London showroom. Offering an exciting and cost-effective range of solutions, Style can assist architects and designers in the creation of safe, flexible spaces which meet the new requirements for social distancing. Additionally, our automated ranges reduce physical contact and minimise the risk of contamination arising from the reconfiguration of panels. The flexibility built into our products allows space to be easily reconfigured when distancing requirements are relaxed.