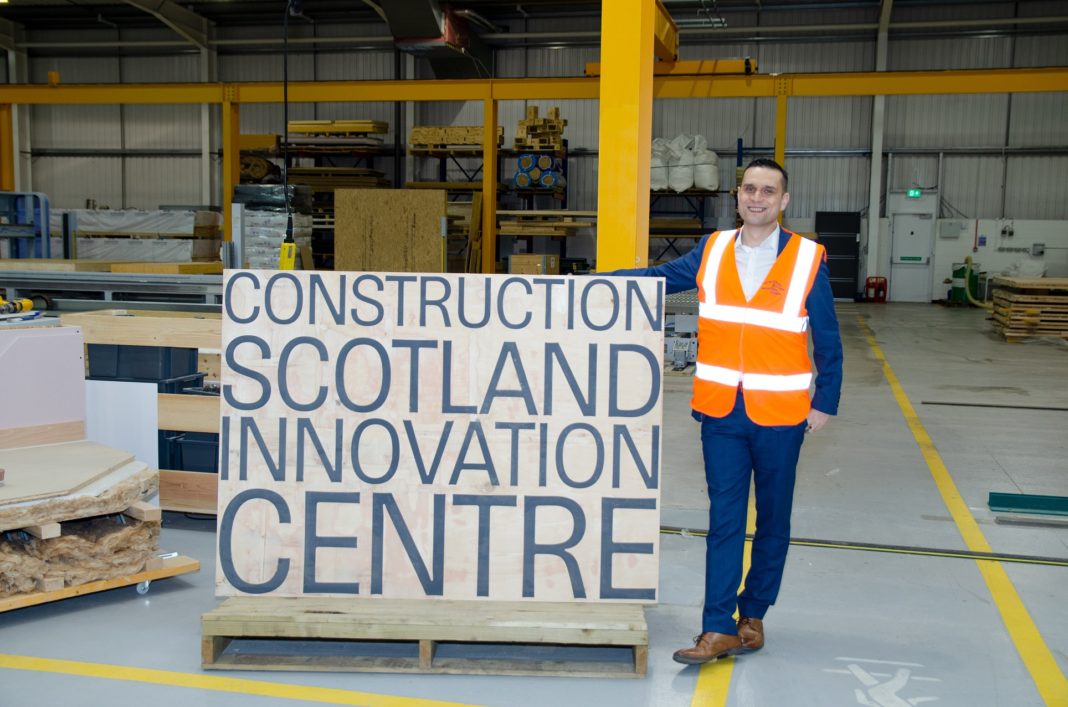 By Douglas Morrison, director of operations and future skills, Construction Scotland Innovation Centre
AS the construction industry is facing unprecedented challenges during the current coronavirus crisis, we are all having to rapidly adapt our way of working in order to mitigate the impacts of this universal threat.  
Our response to this immediate threat is to ensure the health of our workforces, reduce the financial impact on businesses, many of them SMEs, and also to protect the future delivery and operation of the nation's critical infrastructure, housing and wider built environment assets.  
But I also think we have an opportunity to learn during this time, and take note of just how quickly our abilities to change and adapt can help us to tackle more longstanding challenges.  
The construction industry has been facing a period of significant change for some time now. Construction Scotland Innovation Centre (CSIC) is here to support industry look to the future and do things better to build resilience – and that includes tackling our housing shortage through cleaner, safer and more productive building techniques, like offsite construction.  
By embracing new techniques in controlled factory environments offsite, or near-site, we can enhance pre-manufactured value. Moving more to offsite construction can also deliver financial and sustainable improvements that lead to longer term inclusive growth.  
Offsite offers the opportunity to build stronger collaborative partnerships between clients and contractors, where risk and reward is shared, innovation is encouraged and we build flexible, capable teams who can together, deliver a sustainable built environment that meets customer demand and needs. 
We have been somewhat slower than other countries to adopt offsite techniques, with only 5% of construction in the UK using this method compared to 12-15% in Japan and 20% in Sweden.  
However, the good news is that, with nearly half of construction industry employers expecting to use offsite techniques within the next five years, we have a unique opportunity to harness the UK's innovation capacity in this respect.  
That is why here at CSIC, together with an expert UK-wide network of project partners, we have launched a major training programme to help grow best practice and skills in offsite construction.  
The Offsite Ready programme, which is being led by CSIC and delivered in partnership with MOBIE (Ministry of Building and Education), CWIC (Construction Wales Innovation Centre), Edinburgh Napier University, COGC (City of Glasgow College) and COYO (Class of Your Own), was developed in response to research which has shown that offsite construction can increase productivity and reduce costs and timescales compared with traditional methods.  
Key to this is improving the quality and consistency of training in offsite construction and a skilled workforce that can deliver the required change. 
The Offsite Ready project, which is funded by the Construction Industry Training Board (CITB), offers a range of free-to-access online learning resources and training events intended to build capacity in the UK education and skills system, and ensure colleges, universities and training providers are well placed to respond to the growth in offsite construction in the UK.  
A series of collaborative events and online modules, aimed at employers, training providers, contractors and educational bodies, will be delivered by MOBIE across England, by Construction Wales Innovation Centre (CWIC) in Wales, and by CSIC in Scotland.  Providing a recognised CPD opportunity, the programme delivers the latest resources to best teach the practice of offsite construction, for both those new entrants who are currently studying and will enter the industry, and also for existing employees and will provide opportunities for them to upskill. 
The flexible training modules will ensure the project outputs are accessible 'anytime, anywhere' and are available to book and download from the Offsite Ready project website. The range of topics covered in the programme include Design functions, Procurement functions, Cost management, Project and site management, Onsite logistics and assembly, and Follow on and upstream trades.  
We have set ambitious targets to help drive the change needed in the built environment and our aim is that as many as 500 training professionals will receive the accredited training across the UK through the train-the-trainer programme.  
With the demand for offsite set to increase, the Offsite Ready skills programme is an enabler for the change we need. It will help to deliver a skilled workforce that is innovative, dynamic and globally competitive by increasing our capacity, delivering cost savings, offer greater efficiency and support the industry to get to net zero carbon emission. Offsite will strengthen our industry. The time to embrace it is now.