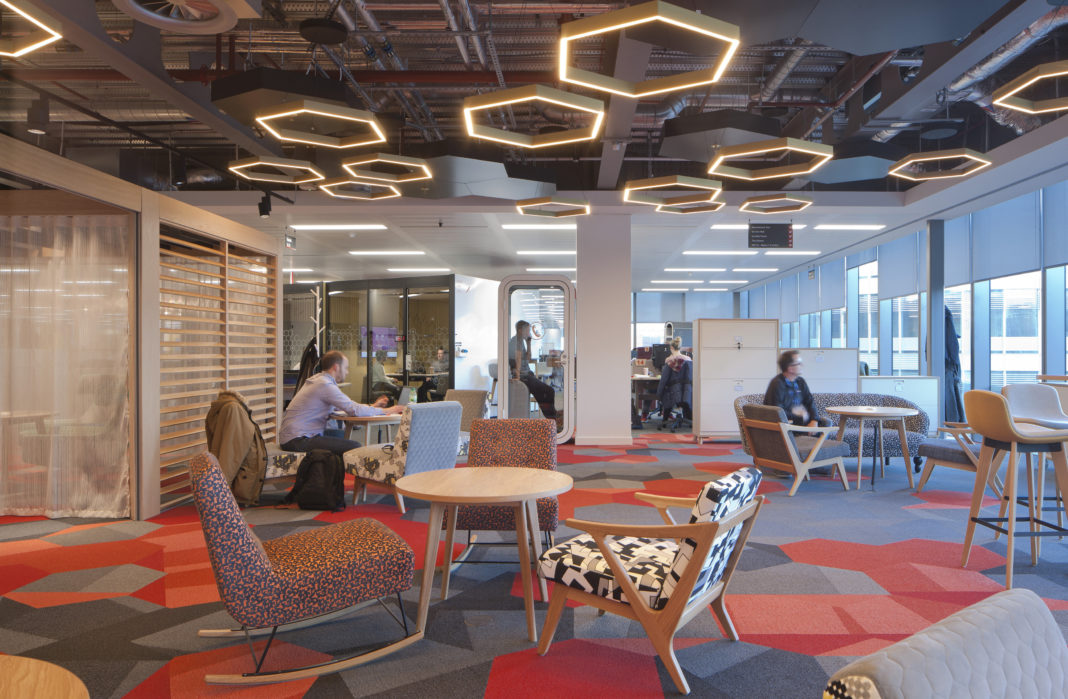 By Bruce Kennedy, architect director at BDP's Glasgow studio
As a designer of workplaces, I'm fascinated by the adaptability of millions of people around the world as they embrace the transition from office to home working, and by the growing debate as to whether or not it can, or should, be reversed when the current crisis recedes.
The dominance of face-to-face contact is being challenged by the evidence of human resourcefulness when we are compelled to collaborate at a distance.  Perhaps, as we emerge from this human health emergency, we will be more disposed toward curtailing travel to and for work in response to the health emergency facing the ecosystem that sustains us.
These first decades of the new century have witnessed the emergence of dominant evolutionary forces acting on the culture of work – issues like equality, diversity and inclusion.   Whilst Millennials and Gen Z are widely credited with championing these values, in truth the swing away from a culture of work rooted in bias, gender inequality, oppressive hierarchies, and inflexibility, is a welcome cross-generational shift mirroring wider societal progress.
As high streets and shopping centres are finding to their cost, we exercise choice over how and where we choose to spend our leisure time: we are not afraid to vote with our feet to seek-out engaging environments that support the lifestyles we aspire to follow.  It's no surprise then, that we are increasingly unenthusiastic about working for employers who consider regimented desks, flat lighting, colourless meeting rooms, and tea points offering instant coffee, adequate to meet our human needs.
As architects, we set the direction for the design of progressive education environments. We respond to consultation that tells us how we should design schools, and engage with pedagogical changes dictating the design of universities. Our designs fuse learning, research, and social spaces into a seamless whole. This supports a lifestyle of learning and work together, rather than discrete activities separated by place and time.
Students emerging into the world of work from these new educational environments expect workplaces to offer a similar fusion of work, personal development, flexibility and social connectivity, in spaces that are not mono-functional but offer choice.
Young people now look for role models from their own generation – Greta Thunberg and Malala Yousafzai – as enablers of environmental and societal change: it's no surprise then that they will not accept business as usual in the workplace when progressive movements are defining new values for companies.
A recent report by Oracle concluded that a sense of kinship, resulting in a feeling that they work in an inclusive and diverse workplace, is now more important to a younger generation than pay and benefits.
According to research by student accommodation provider Liberty Living, Glasgow and Edinburgh are highly rated on atmosphere, amenities and transport links helping them retain 51% of new graduates, more than any other UK city.  The expectations of this valuable workforce must be considered by workplace developers and designers if the spaces they offer are to attract and retain the best talent for employers who will purchase or lease them.
BDP is supporting progressive clients like Barclays, Google, AstraZeneca and PwC to deliver workplace interiors, buildings, and public realm that respond to the climate emergency, reflect their values, are an overt expression of their commitment to Corporate Social Responsibility, and that create people-centered places that support productivity and wellbeing.
New workplaces offer spaces that mimic cafés and hotel lobbies, supporting casual meetings and touch-down for clients.  They incorporate running tracks, rooftop parks promoting wellbeing and bio-diversity, and even urban farms that produce fresh food for occupiers.
The secret to the success of built and future developments like Google London at King's Cross or Barclays' Buchanan Wharf is, in part, thanks to the recognition that high-quality, active public realm softens thresholds that can divide isolated workplaces from common space, integrating the places in which people work with the wider city that sustains the balance of their waking hours.
The need to work from home, to maintain social distancing, causes us to reflect that we are essentially social animals – at our most effective when we collaborate with others in teams, families and communities – deserving of workplaces that inspire creativity, celebrate our collective humanity, and allow us to thrive.