Research from the Alzheimer's Society estimates that the number of people living with dementia in the UK is set to rise to 1.6 million by 2040. It means demand for specialist dementia care facilities will increase. However, the varying nature of the condition prevents a one-size-fits-all approach when it comes to creating a safe environment for patients. Construction Specialties (CS) has worked with architects and end users on several dementia care projects. Kate Waterston, UK sales manager at CS, looks at considerations when designing dementia care facilities.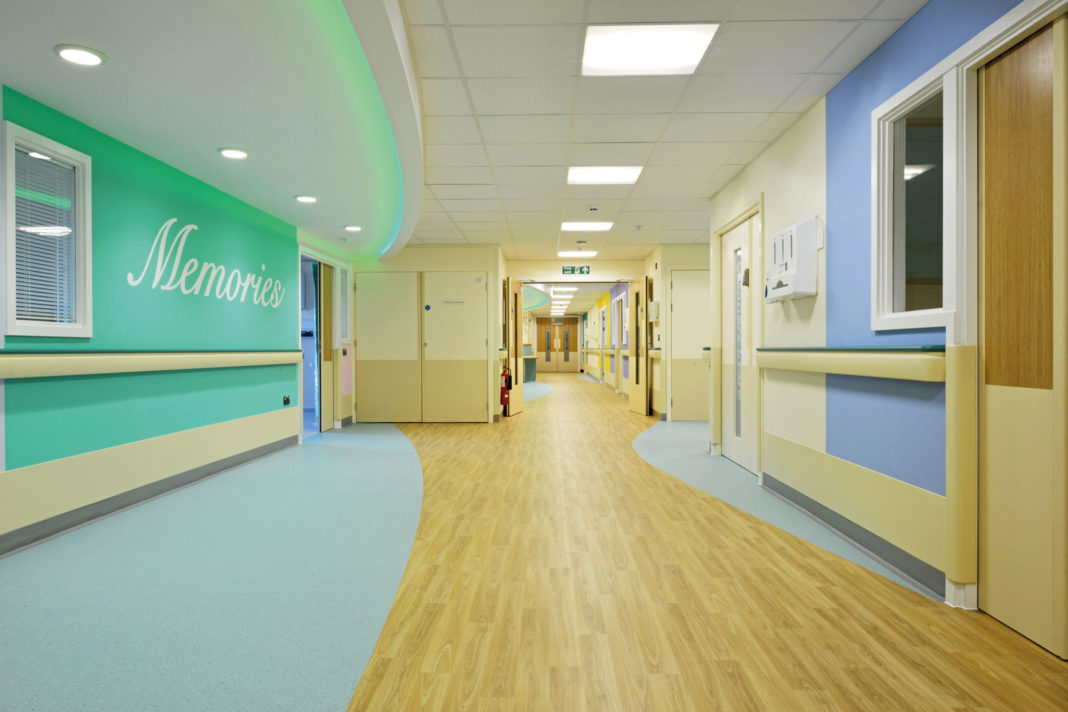 Compassion
Understanding the patient's condition and state-of-mind is crucial in providing effective dementia care. The same patient-focused approach should be used in designing dementia care facilities, whether residential care homes or designated hospital wards, to ensure they maximise patients' comfort, safety and encourage independence.
Memory loss and cognitive dysfunction can be disorientating and confusing for the patient. Seemingly simple cognitive tasks, such as interpreting changes in floor colour, carry an element of risk and apprehension. Many elderly dementia patients will also be suffering from other age-related conditions, such as failing eyesight and physical frailty. All these impairments should be taken into consideration when designing their living spaces.
Wayfinding
To people with dementia, buildings can be as difficult to negotiate as a maze, potentially triggering a sense of loss or disorientation that is extremely upsetting. Wayfinding is a strategy devised to help vulnerable residents navigate a building safely.
A simple layout is the most important factor for successful wayfinding, and an open plan design is easier to navigate, providing an unobstructed view. Furthermore, by analysing a person's route through a building, key points where decisions have to be made (i.e. doorways, corners) can be identified. They can then be linked together using a variety of stimuli, such as signage, distinctive landmarks or architectural features, to aid navigation.
Colour can also be used on doors and 'feature' walls to distinguish building zones and levels.
Colourful influence
Colour differentiation helps to highlight interior elements that need to stand out, such as handrails or bathroom doors. Handrails, in particular, should be highly-visible, as they provide physical and psychological support for dementia patients and aid navigation.
The BS 8300 code of practice and Approved Document M recommend 30 points of difference in Light Reflective Value (LRV) between the handrail and the background wall colours to make them easily distinguishable by blind and partially-sighted people.
Conversely, colour can be used to help divert dementia patients from accessing certain areas, such as staff rooms, cupboard or utility room doors. This can be easily achieved by using the same colour for doors and surrounding walls to blend them in.
Creating a homely appearance in dementia facilities should be balanced out with the need for achieving a durable, hygienic and low maintenance finish. Impact-resistant wall protection sheet and panel systems offer a simple and effective method of protecting a building's fabric and are available in a wide selection of colours and finishes to help create a non-institutional interior environment. Any wall protection elements, such as corner guards, bumper rails or door protection kick plates, which are required for high traffic areas, should be specified to blend in with the wall colour to make them more discreet.
Calm and quiet
Dementia patients are easily overwhelmed and confused by noise and surroundings. A quiet environment, with calming surroundings, is best. Avoid stripes, which can be very disorientating, and large patterns. Dementia patients can also become confused by speckled carpet, trying to pick up the apparent pieces of fluff. This can be quite dangerous for people who are physically frail and liable to fall.
Revisiting the past
Reminiscence therapy is a popular therapeutic treatment in dementia care. It improves communication between fellow patients and their carers. As dementia generally affects short-term memory, reminiscence therapy encourages patients to use their long-term memory, and recall stories from their past. The use of imagery on interior walls and doors is proven to reduce stress, as well as promote wellness in dementia care and mental health environments. The Oakwood Unit for West Berkshire NHS is an example of how supportive imagery can improve patient wellbeing. This dementia care unit was furnished with a selection of artworks celebrating the culture and history of Reading, which have become conversation pieces that spark engagement between elderly patients, visitors and staff. The imagery used on doors was incorporated within CS' Acrovyn by Design Bespoke Wall Coverings for added durability and ease of maintenance.
Wandering with purpose
In recent years, dementia units have been designed to facilitate patients with a tendency to 'wander'. To give patients a destination to focus on, dementia care units include communal areas, for example at the end of corridors, to provide residents with somewhere to walk to and encourage independent movement. Colourful and interesting wall coverings used in these areas can help to draw residents' attention.
A facility that is designed to protect as well as engage its residents will go a long way to providing comfort and wellbeing. CS has a wide range of high-performance impact protection and handrail solutions to help achieve that outcome.